Anna Faris on Skin Cancer, Jergens, and Beauty
Anna Faris: How Sun Damage Made Me Change My Ways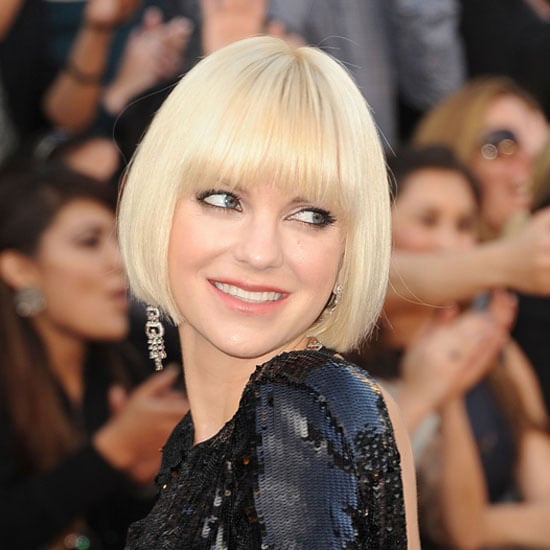 How can you not love Anna Faris? She made us laugh in films such as The House Bunny, Lost in Translation, and the Scary Movie franchise, and now there's something else to love. Anna is partnering with Jergens to help raise funds for the Skin Cancer Foundation as the face of the beauty brand's Places You'll Glow campaign. Anna admits she hasn't always practiced safe sunning in the past, but after a makeup artist called her out on it, she's changed her tanning-bed ways. To see what Anna had to say about her role in helping to fight skin cancer, along with her favorite backstage-beauty tip, just keep reading.
BellaSugar: I see there is a program where consumers can go online and share their Glow stories. Tell me a little bit what that's about.
Anna Faris: People can log on to Jergens.com and they can see my Glow story. It's sort of a photo journal about how I use the product [Natural Glow and Protect Daily Moisturizer With SPF 20] and how much I love it. They can then upload their own photos, and when they do, Jergens donates $2 to the Skin Cancer Foundation. So it's a really easy and fun way to help a great cause.
BellaSugar: Have you ever had a really bad sunburn before, or are you one of those people who has practiced safe sunning?
AF: No, I was terrible about it for years! I used to lay out all of the time and I would go to the tanning booth. I had a makeup artist tell me that she was seeing a lot of sun damage in my face, and that really scared me. So I started using more products with SPF, I stopped tanning, and I started using the Jergens Natural Glow products.
BellaSugar: Switching gears, you have been in so many different movies and you've played so many different characters. Which in particular have you enjoyed the most?
AF: It was always fun to go to work when I was doing The House Bunny because that was such a vivacious, voluptuous look: big hair, big makeup, and a crazy wardrobe. I also loved my character in my upcoming movie, The Dictator, where I have an androgynous look about me. I wear a short brown wig and blocky clothes; that was really fun for me, as well. Just being able to transform into a character is one of the many things I really love about my job.
BellaSugar: What's your favorite red-carpet moment where everything came together?
AF: I really loved The House Bunny premiere. It was such a special night for me in a movie that I felt so passionately about. I wore a gorgeous Marchesa dress, and my whole family was there.
BellaSugar: In all of your years that you've been working in the business, what are some of your favorite beauty tips you've picked up?
AF: I think for me the biggest thing was make sure your eyelashes are curled because even on my sleepiest days, it makes me look like I'm awake and present!