Anthropologie Has New Ineke Ruhland Perfumes
Why You Should Be Curious About Floral Curiosities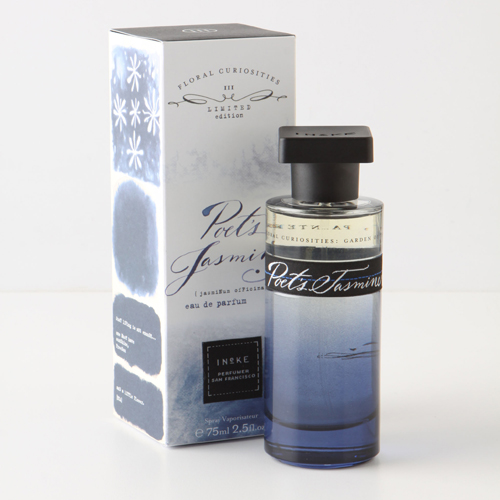 Perfumer Ineke Rühland's latest collection, Floral Curiosities ($68 each), is a four-fragrance meditation on unique botanical essences, from the hypnotic perfume of datura to the sleepy beauty of poet's jasmine. It's a fascinating but highly wearable series from one of Anthropologie's rising stars, so to find out which Curiosity is likely to leave you satisfied, just keep reading.
Angel's Trumpet
What it's like: Brugmansia (aka Angel's Trumpet or, as a hallucinogen and poison, datura) is a night-blooming flower with a distinctive fragrance. Ruhland's created a central floral accord that perfectly captures the scent of the blossoms, which is then overlaid with a smoky scent reminiscent of lapsang souchong tea.
Who'll like it: Fans of big, romantic florals of the vintage variety. This is the freshened up, modern-day successor to the sexy fragrances of the late 1940s.
Scarlet Larkspur
What it's like: This fragrance smells like maraschino cherries soaked in cognac; it's flirty and fruity but has bite.
Who'll like it: If you love fruity florals but you're ready to graduate from candied perfumes designed for teenagers to something more adult, you should definitely give this one a sniff.
Poet's Jasmine
What it's like: A heady, narcotic jasmine that's not heavy or monolithic, this fragrance goes on to develop a soft plum blossom scent before drying down to a powdery violet that floats just above your skin.
Who'll like it: Jasmine addicts who need a warm-weather scent, and fans of violet pastilles.
Briar Rose
What it's like: This one is a changeling of a fragrance; although it opens with several different layers of rose scent, its dry down is full of the scent of almond husks and oud, the hypnotic incense beloved in Saudi Arabia and much of the rest of the Middle East.
Who'll like it: People looking for a pretty, wearable way to try oud, and those who grew up adoring Nantucket Briar and their mother's Youth Dew body powder.