Astronaut Naoko Yamazaki to Go to Space
Women Go to Space, But Newspapers Talk Makeup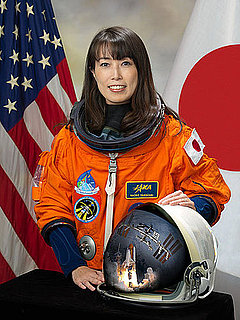 Something unprecedented is happening on Monday: four female astronauts will be orbiting Earth, setting a new record for the most women in space at the same time. Americans Stephanie Wilson and Dorothy Metcalf-Lindenburger will be joined by Japanese astronaut Naoko Yamazaki on space shuttle Discovery; American Tracy Caldwell Dyson is already on a Russian capsule heading for a six-month stay at the space station. Cool.
Not so cool: one newspaper has decided to take an "Outer Space . . . For Girls!" viewpoint on Yamazaki's journey. To see what this has to do with beauty, keep reading.
This is the first space voyage for Yamazaki, who will be only the second Japanese woman to enter outer space. Unfortunately, a story in The Daily Yomiuri overlooks her master's degree in aerospace engineering and instead speculates on her grooming routine. (Heaven forbid a woman look less than glam while fulfilling a historic space-exploration mission.)
In addition to her primary mission, Yamazaki has other things to keep in mind. As space activities are shown for all the world to see via the Internet and other media, many female astronauts still make a point of putting on makeup.
The story goes on to discuss what cosmetics she may want to pack. (Eye shadow is allowed in space; loose powder is not.) While there's nothing wrong with packing lipstick, it seems ridiculous to focus on zero-gravity primping instead of Yamazaki's considerable accomplishments. She hasn't brought up her grooming routine in interviews; instead, she's discussed her hope to inspire young women to pursue science careers.
Maybe she will pack lipstick, maybe she won't. Thing is, it shouldn't matter. "Any task performed by astronauts can be done irrespective of gender differences," Yamazaki has said. Let's hope future news profiles hear what she's saying and leave out the lipstick speculation.
Source: NASA