Attractive Women Discriminated Against in Traditionally Male Jobs
Being Pretty Could Mean Workplace Drama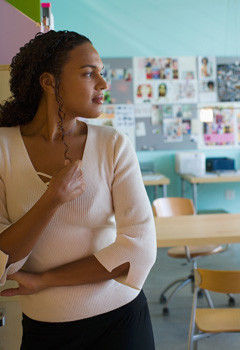 Beauty may be in the eye of the beholder, but according to a recent study published in the Journal of Social Psychology, having good looks can actually be detrimental for women. When it comes to applying to more traditionally "masculine" positions like director of finance and mechanical engineer, beautiful women were found to be discriminated against.
"In every other kind of job, attractive women were preferred. This wasn't the case with men which shows that there is still a double standard when it comes to gender," said Professor Stefanie Johnson, author of the study and professor at the University of Colorado Denver.
Studies have shown that being traditionally "beautiful" may come with its advantages, like more positive performance evaluations and higher salaries. However, we obviously haven't come to a point where education, experience, and personality rise above. And almost everyone heard about the Citibank employee who complained of harassment for being "too pretty." Have you ever experienced any forms of discrimination regarding physical appearance in the workplace?