Audrey Hepburn's Favorite Beauty Products
5 of Audrey Hepburn's Favorite Beauty Products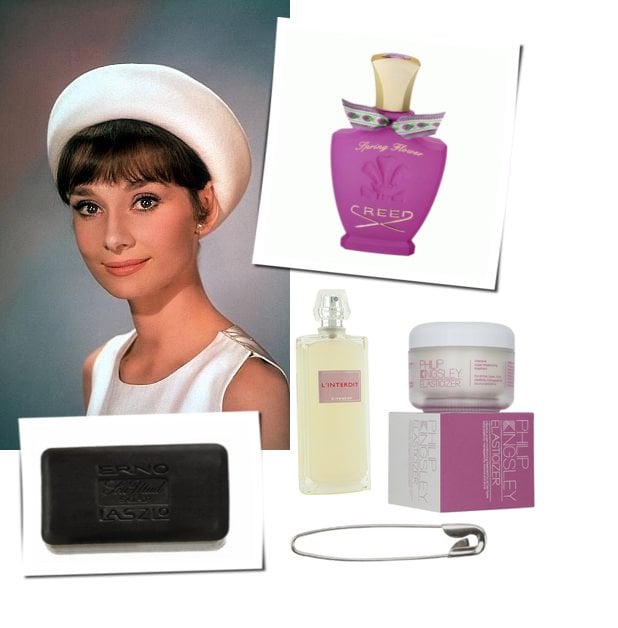 Poised and elegant, Audrey Hepburns's beauty regimen was actually quite unfussy. Audrey, who would have turned 82 this week, was known to use Estée Lauder products, and her signature look featured bold brows, separated lashes, and neutral-toned makeup. So celebrate Audrey's birthday in style by checking out a few of her favorite beauty products:
Safety pins: To create her signature doe-eyed look, her makeup artist, Alberto de Rossi, painstakingly separated each of her mascaraed lashes with a safety pin.
A once-private fragrance: Creed's Spring Flower ($130—$350) was originally made in 1951 specifically for Audrey Hepburn. A fruity floral, the scent became available to the public in 1996 and features notes of peach, melon, and apple at the top, rose and jasmine in the middle, and ambergris and musk at the base.
Her signature scent: Givenchy L'Interdit Eau de Toilette Spray ($84) was created in 1957 by Hubert de Givenchy for his muse Audrey Hepburn. It was released to the mainstream in the '60s, and is now formulated with Bulgarian rose, jasmine, pink pepper, orris, and tonka bean.
Go-to soap: Erno Laszlo Organic Sea Mud Soap ($40), which is 97 percent natural, was an Audrey favorite.
Styling product: After meeting Audrey in 1974, stylist Philip Kingsley wanted to create something that would help keep her overly styled hair looking great, and that's how Philip Kingsley Elasticizer Pre-Shampoo Treatment ($45) was born. She was such a fan, it's said she had tubs of it shipped to her regularly.