Avon and Cosmo Frizz-Free Revolution Tour 2010
Banish Frizz and Get a Free Blowout!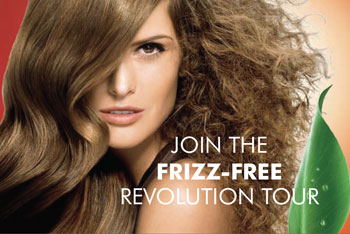 Frizzies got you down? No need to fret. Avon has partnered with Cosmopolitan to offer up free blowouts during their five-city Frizz-Free Revolution Tour. The beat-the-heat service will feature the beauty brand's new humidity-busting Lotus Shield ($12), a leave-in treatment that keeps frizz from happening.
You can also swing by to get tips from Avon's Global Stylist Advisor, Tippi Shorter (who's worked with stars like Alicia Keys and Rihanna). Or, simply stop by the glass-encased salon on wheels to receive a sample of the new antifrizz product. Find out if the tour is coming to a city near you when you read more.
Tour Schedule:
Houston: July 19, 11 a.m. - 9 p.m.
Galleria Mall, 5085 Westheimer Road, Houston
Miami: July 24, 11 a.m. - 9 p.m.
The Whitelaw Hotel, 808 Collins Avenue, Miami Beach
Atlanta: July 28, 11 a.m. - 9 p.m.
Atlanta Station
Philadelphia: Aug. 3, 11 a.m. - 9 p.m.
Walnut Street between 17th Street & 18th Street
New York City: Aug. 5, 11 a.m. - 9 p.m.
The Early Morning Plaza, 59th Street and 5th Ave (morning)
Union Square (afternoon)