Badger Bug Balm and Sunblock Review
Let's Test How Natural Body Care Holds Up in the Tropics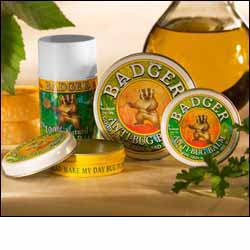 The first time I went to Belize, I returned with an impressive number of mosquito bites and ant stings — the latter of which took a good seven months to fully disappear. This time, I vowed, would be different! Because I am becoming a total hippie, I didn't want to use bug repellent with DEET. A friend who lived in Costa Rica recommended Badger Anti-Bug Balm ($10), which promises to repel insects with oils of citronella, cedar, lemongrass, rosemary, and geranium.
I bought a stick, and much to my delight, the stuff worked — even during treks through the rainforest. During a 10-day trip, I had only four mosquito bites and no sand fly nibbles. While I wouldn't say the balm was akin to Chanel N°5, it smelled more pleasant than OFF or ever-cloying Skin So Soft. This little Badger was full of win.
I'd also bought Badger's SPF 30 for snorkeling adventures. Chemical sunblocks destroy the already-endangered coral reef, so I went with a natural sunblock that uses zinc oxide. Did it work as well as the bug repellent? To see the tell-all picture and find out, read more.
Oh, Badger sunblock. How you failed me! It was unpleasant from the start: the overwhelmingly greasy feel, the white stripes that didn't want to go into my skin, the leftover sheen on my skin, the stains that won't come out of my clothing. But hey, a few inconveniences are worth protecting the coral reef, right?
Good thing the reef was protected, because I basically wasn't. Unfortunately, Badger's "water-resistant" formula was unable to handle much time in the Caribbean. While on a snorkeling tour, I stayed under our boat's canopy and wore a long-sleeved shirt to protect my skin from the sun. I reapplied the sunscreen frequently before and after short bursts of snorkeling. Badger promises 40 minutes of water resistance, but it just didn't hold up — as you can see from the first sunburn I've had in more than two decades.
For the rest of the trip, I applied Badger SPF and then wore a t-shirt while swimming. Because of the clothing and knowing to reapply at least every 20 minutes, I avoided further burns. Still, I was extremely dissatisfied in Badger sunblock's performance in the water. In sum, if you're planning a Central American adventure anytime soon, go for the Badger bug juice but find an alternative sunblock if you're going near the water. Now, if you'll excuse me, my peeling back and I are going to go drown our sorrows with a piña colada.