Bare Escentuals Blind Casting Ads
Bare Escentuals Blindly Casts Its Fall Campaign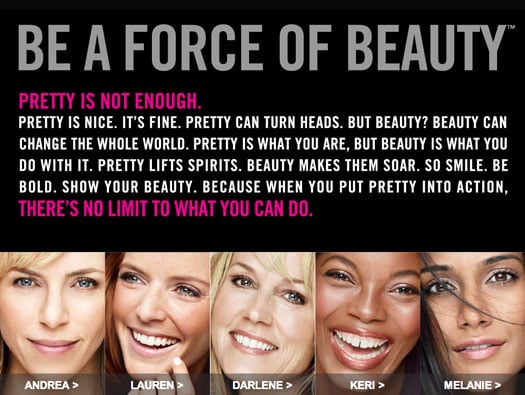 For Bare Escentuals' latest campaign, dubbed Be a Force of Beauty, executive chairman Leslie Blodgett and her team didn't look to celebrity spokesmodels to participate in the brand's ads. In fact, they didn't even look at the models to be featured in the campaign. In an approach pretty much unheard of in traditional advertising standards, the beauty company instead chose to run a blind casting call.
"We wanted to pick women based on what they stood for," Blodgett explained. "We thought, 'Are they people we want to spend time with? Do they have a voice, and do they have something to say?'" It all started with 271 women — a pool of models and actresses, (so how bad could the results really be?) — and an online questionnaire. To see more about how it all went down, just keep reading.
The process: Based on those questionnaire, the list was subsequently narrowed down to 78, and then down to 25, and finally to the final five. At one point, Blodgett says, "We were in another room listening [to the candidates being interviewed] through an old speaker box. It was kind of old-fashioned. We all had to be very silent and listen carefully — and take lots of notes."
What they were looking for: As Blodgett simply and eloquently puts it: "Someone who's a Force of Beauty takes it to the next level and sees that you can make change happen. They're unapologetic for who they are. They don't make excuses."
The final 25: "After the 25, we got nervous," Blodgett confesses. "We thought, 'What if there is no diversity in the women we've chosen?' It was a risk!"
Blodgett's reaction on meeting the winners: "The women that ended up getting chosen are so different. We are thrilled with the women from a personal level and the beauty that they project," says Blodgett, adding, "They are accomplished, and they like themselves. They're good people." Among them? A firefighter, an environmentalist, and a mechanical engineer.
Stay tuned for more from Blodgett, including a great tip from her on wearing a monochromatic look, as well as more details on the upcoming cold-pressed, compact eye shadows.