Beach Bag Essentials
From Beach to Bonfire: 11 Essentials to Transition From Day to Night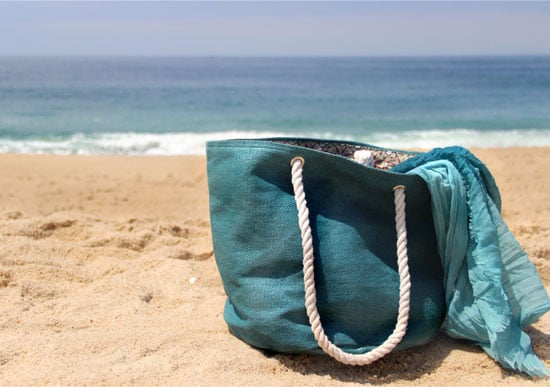 Alexis Wolfer, author of the popular blog The Beauty Bean, is partnering with POPSUGAR Beauty to bring you her favorite trends, beauty tips, and how-tos in a series of nine posts.

Summer is all about effortless beauty. It's about clean, fresh, dewy skin (even if the "dew" is more accurately labeled "sweat") and quick and easy hairstyles that don't require time spent under the heat of styling tools. In an effort to spend as little time as possible primping and pampering and as much time as possible basking in the Summer sun and splashing in the ocean surf, prepping for a day at the beach is dependent upon packing the perfect beach bag that can seamlessly transition you from day to night without having to run home in between. With these 11 beach bag essentials, you'll be able to go from beach to bonfire quickly, easily, and (most importantly) beautifully!
Baby wipes: First up after a day in the sand and surf: cleaning off the salt, dirt, and grim! Place a few baby wipes in a plastic bag to keep them moist, and use them to wipe yourself clean from head to toe at the end of the day!
Spray bottle with conditioner and water: Fill a small spray bottle one-third of the way with your favorite hair conditioner and the rest of the way with tap water and shake vigorously to combine. At the end of the day, spritz wind-blown and salt-saturated hair with the mixture to help make detangling and styling easier. Planning on braiding your hair or putting it up in a topknot? Then saturate hair with this spray. Want to leave your hair down? Then use spray sparingly (just enough to make combing easy) to prevent hair from either being weighed down or appearing greasy. If hair is naturally thin or oily, avoid spraying near your roots.
Wide-toothed comb: Wet hair is up to 10 times weaker and more prone to breakage than dry hair — and that's not even taking into account the damage caused by sea salt — so it's essential to treat tresses especially carefully after a day at the beach. A wide-toothed comb will get the job done most gently, but still make sure to comb carefully.
Sarong: A sarong is the epitome of a multitasking beach bag essential. Wear it as a cover-up over your bathing suit, use it as a beach blanket to keep your things sand-free, and wear it as a maxi skirt in the evening. Just make sure it's not too sheer to wear sans bathing suit!
Clean top (and a bra, if needed): Try to pack a top that will stay wrinkle-free even when rolled up at the bottom of your beach bag. Wear it with your sarong/maxi skirt for the perfect bonfire outfit.
Denim jacket or lightweight sweater: Ocean nights can get chilly, so be prepared.
Plastic bag: There's little worse than a wet bathing suit getting all of your dry clothes damp. (OK, there is a lot worse, but you get the idea!) Keep a plastic bag in your beach bag, and you'll have a place to safely keep your wet things.
Bronzer: Not only can you use bronzer to add sun-kissed color to your face, but you can also apply it to your legs to conceal veins and cellulite, pat a bit on your eyelids as an eye shadow, and brush it over tan lines to make them considerably less noticeable.
A cream or gold eye shadow with shimmer: Pack either a pot of shimmery shadow or a creamy eye shadow pencil with shimmer to use as a luminizer. Dab a bit on the inner corners of your eyes, on your collarbone, on the tops of your cheekbones, and anywhere else you want to either add a bit of glow or draw attention.
Tinted lip balm: It not only helps to hydrate lips chapped from a day spent in the sun but also adds the perfect amount of color and sheen for a night spent sitting around a bonfire. Plus, you can dab a little on your cheeks too for a pop of color and a bit of dewiness.
Water-resistant mascara: Just a couple of quick swipes can help to make your eyes look bigger and more awake! Pick a water-resistant formula for longer-lasting wear.