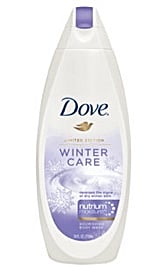 Winter reality check: Skin loses more than 25 percent of its ability to hold moisture in the Winter, leaving you with dry, not-so-touchable skin (so not ideal for prime snuggle-weather). Seeing as there's plenty of Winter left, Dove® Winter Care Body Wash is here to S.O.S. (Save Our Skin)!
Dove® Winter Care Body Wash reverses the signs of dry Winter skin. How? We're glad you asked. Dove® Winter Care Body Wash cleans and cares for dry Winter skin like no other regular body wash. It is specially formulated with NutriumMoisture™ technology to nourish deep down to help heal dry skin and minimize roughness and flaking, leaving your skin cuddle-ready.
Check out the skin-saving body wash from Dove® here.