Beauty Aid Japanese Candy
Can This Candy Make You Prettier?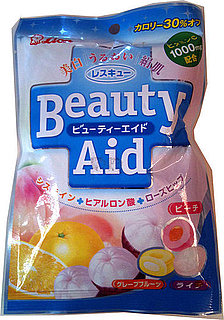 Japan is a land of magical candy — just check out the best-selling soy sauce-flavored Kit Kats to see how different Japanese treats can be from American ones.
Then there's Beauty Aid, shown here. It promises to make you look prettier through the power of fruity hard candy. I'm sure you'll be shocked — shocked! — to discover that these kitschy candies are mostly sugar, which is highly unlikely to do much for your hair or skin. Flavor-wise, these were nothing to write home about. But if candy puts a smile on your face, perhaps Beauty Aid can make a person prettier after all.