Beauty Biography of Frida Kahlo
Bella Donna: Frida Kahlo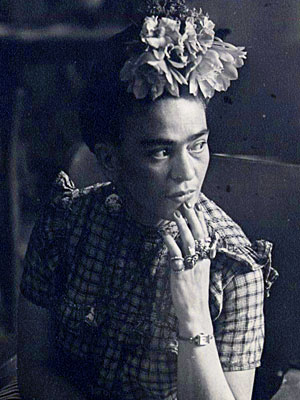 While many women dash to electrolysis or maintain a standing appointment with a waxer, Frida Kahlo proudly— and beautifully, we might add — skipped out on hair removal treatments. In fact, when she was photographed for the cover of French Vogue in the late 1930s, she wore her signature braided hairstyle, red lips, and a unibrow. This unconventional beauty was famed for her artistic talents, and her legacy is stronger than ever.
To find out more about Frida, keep reading.
Magdalena Carmen Frida Kahlo y Calderón was a Mexican painter known for vibrant use of pigments, expressions of her personal life, and most of all, her self-portraits. She began to paint after surviving an accident that left her confined to her bed in a body cast. As is the case with many female artists of the past century, Frida's work was not widely recognized until after her death. In the past 10 years alone, she has been immortalized on a US postage stamp, in the film Frida as portrayed by Salma Hayek, and even in a Google Doodle.
To get Frida's signature hairstyle:
Part your hair into pigtails and braid a colorful ribbon into each.
Wrap them like a halo around your head and secure them with a bobby pin.
Make sure to add colorful flowers (silk if you want them to last all day).