Beauty Biography of Jean Harlow
Bella Donna: Jean Harlow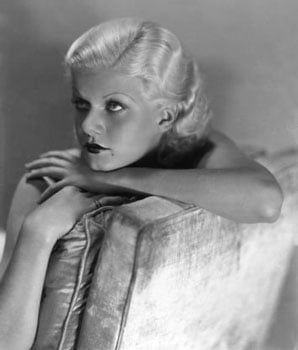 Born Harlean Harlow Carpenter, Jean Harlow will forever be known as the original platinum blonde. In fact, so popular was her flaxen hair, women of the '30s rushed to lighten their own locks in droves. While Jean apparently denied that she had her hair colored, word is that Max Factor was responsible for bleaching her hair to her signature shade. It's also been said that a harsh mixture of peroxide, Clorox, ammonia, and soap flakes were used to achieve the desired lightness.
The actress started out doing bit roles, but eventually became a superstar after appearing in Howard Hughes's Hell's Angels. Hughes even held a contest, offering up $10,000 to the beautician who could re-create Harlow's famous color.
To learn more about Jean, and to see more images of the actress, just keep reading.
Jean was also known for her cleft chin, deep-set icy-toned eyes, and ivory skin — so light, in fact, that she put her house on the market because she couldn't enjoy the pool due to severe sunburns she'd received. Jean's kewpie doll lips, youthful appearance, and penciled-in brows also became part of her signature beauty look.
While Jean died of renal failure at the young age of 26, her legend lives on. Successor Marilyn Monroe counted Jean as one of her idols, and most recently, the bombshell actress was portrayed by Gwen Stefani in 2004's The Aviator.