The Beauty Bus Brings Joy to People Who Need It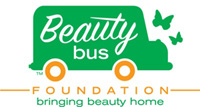 Earlier, I asked if you brake for beauty buses, and most of you said you did. Here's another reason you will want to: the Beauty Bus Foundation. This kind of beauty bus operates a bit differently than most. It's a nonprofit organization that provides free in-home treatments like haircuts, manicures, and facials to chronically and terminally ill clients. They even offer up the same services to primary caregivers, too.
The Beauty Bus Foundation was created by two women whose cousin and sister, Melissa, was terminally ill. Before she died at the age of 28, she found great pleasure in receiving at-home beauty treatments while she was ill. Recently, OPI announced it will sponsor the First Annual Beauty Drive in LA, an event including beauty stations, a silent auction, and hair show, in which 100 percent of the proceeds raised will go directly to the foundation. Want to help out but can't get to the West Coast to participate? Head to the organization's website to find out how you can get involved.