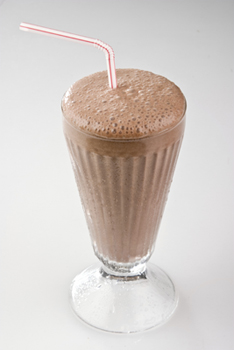 A few weeks ago, I made a New Year's resolution that I would give myself a jump-start to healthier eating by kicking it off with a five-day detox, which consisted mostly of vitamin-packed shots in the morning, chocolate-flavored protein shakes for breakfast, and lemon-dressed salads for lunch and dinner. When all was said and done, I came out of the detox six pounds lighter with smoother, brighter skin and an enlightened attitude.
But have I been keeping up with my promise to stay on the healthier end of the culinary spectrum? While I have gained a few pounds back, I'm definitely more conscientious about what foods I eat. Am I perfect with all of my choices? No way. But have I been focusing more on portion control and balance? You bet. Check out what I learned when you read more.


Start on your day off: I began my detox on Monday at the beginning of my workweek, but if I had to do it over, I would have started on a Saturday or Sunday to allow myself some time to adjust to different eating habits. Plus, by day two I was pretty pooped, and having a day or two to rest up at home would have made the change in diet all the more seamless.
Budget beware: Looking back on it, the brand of detox I chose, while effective, was roughly about $40 a day. That's not insanely over-the-top expensive, especially in San Francisco, but it's definitely no bargain, either. The lesson learned is that perhaps one doesn't need to rely on prepackaged kits to come out of a detox effectively.
Be prepared for the days after: The day after my detox, I raided the fridge like mad. Whatever I could get my hungry little hands on was devoured. If only I had planned my release back into the "normal" eating world with a little more forethought, I would have fared a whole lot better.
Have realistic expectations: While I would have done anything to make it go away, acne doesn't disappear overnight. It doesn't disappear in five days, either.
Say cheese: Be sure to take a picture all throughout the process to track your progress. (See mine below.) You'll be surprised at how much can change in just a few short days; not only in your skin tone, but your attitude as well.