Beauty Product Packing Tips For Beach Trips
4 Beach Beauty Tips From Montauk's Surf-Style Authority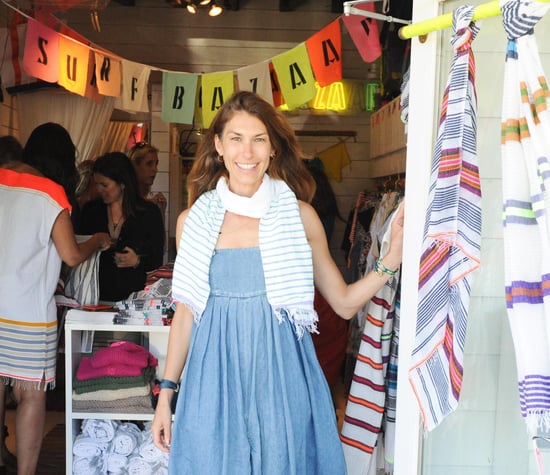 Bethany Mayer knows a thing or two about looking good on and off the beach. The owner-designer of the Surf Bazaar boutique, located within The Surf Lodge, spends as much time on the sandy beaches and revered waves of Montauk as she does putting together her clothing line and working on collaborations with designer Rachel Comey and artist Max Snow. So who better to turn to for tips on packing for beach vacations and how to take care of your hair and skin once you're there? Here are our favorite tips from Mayer.
1. Organic oils to moisturize with are a must, but coconut oil is a secret problem solver. Mayer explains, "I will get coconut oil, which actually hardens up when it gets cold. So when you're traveling it doesn't leak all over your bag. But it's pure coconut, so you can warm it up in your hands and it turns into an oil. It smells great; it's great for the skin, gets you in the mood for the tropics."
2. Keep your face hydrated with lightweight mists over heavy moisturizers. Mayer has a few favorites, including rose water spray. "It's really hydrating for the face instead of a lotion. I don't like a heavy lotion, and it's very refreshing. I've also become addicted to Caudalie. I'm obsessed with it now. They have a face spray that's also moisturizing."
3. Putting on sunscreen isn't the only way to protect your skin on the beach. "I tend to use natural zinc-based sunscreen on face, shoulders, and chest always. I will use Shiseido sticks for my face because they have a tinted version. I also use Badger sunscreen or California Baby for my kids. I try not to stay in the sun. The rest of my body I either try to cover up with fabric like cotton, so I'm cool but not fully exposed to the sun."
4. Embrace your beach waves! Mayer tells us, "I don't brush my hair, and I kind of let it go crazy and throw it up in a bun. Your hair looks best after a day at the beach. It gets lots of volume, so I will just put some Moroccan hair oil in."
Like what you see? Be sure to check out Mayer's beach vacation packing tips, too.