Beauty Rule to Break: Strictly Following Skin Tone Recommendations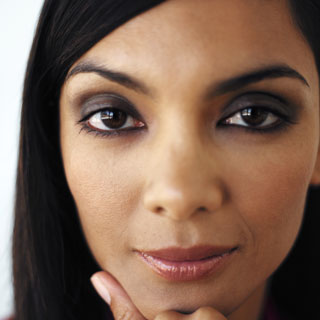 When it comes to beauty rules, we hear a lot of advice, some of it conflicting. Cool-toned people should only wear cool tones, except when their lipstick should have orange undertones instead of blue. Warm-toned people should prefer gold, except that silver looks equally pretty on most. It can be extremely confusing, but if you've put yourself in the narrow confines of a certain shade spectrum, now's the time to break out of it. To find out why it's OK to break this beauty "rule," just keep reading.
Color and undertones are both way too varied and complicated to be absolute: It's all about balance. Sticking with just one color undertone can sometimes look flat and even boring. Keeping things in line with your own tones can be a good general guideline, but using it as a hard and fast rule is a bad idea.
The truth is that when you see a color that appeals to you, you should always try it on: It may not work out, but at least you'll know, and you won't be cutting yourself off from the possibility of wearing something that you love. Plus, a little opposing tonality can be nice sometimes, like when you need to brighten up around your eyes, or when you've been sick and your complexion looks sallow.