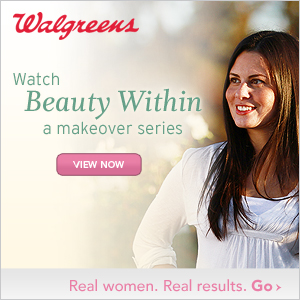 Whether it's your first night out with your hubby after becoming a mom, a first date with a special beau, or an interview for your dream job, Walgreens knows the importance of these special moments.
That's why Walgreens has created Beauty Within, a web series that brings us real beauty stories from real-world women like us. With the help of a team of beauty experts, these women learn tips and tricks to unleash their radiant inner beauty, all while sharing their special moments with us and the rest of the world.
In addition to Beauty Within, Walgreens is also running a special Toss and Turn Heads sweepstakes, which will award one lucky winner and her best friend with a trip to NYC and a makeover with a professional makeup artist.
Click here to learn more about Beauty Within and also enter to win the makeover of a lifetime for you and your best friend!