Before and After Makeover From Gucci Westman
Before and After: How to Wear Makeup For the Perfect Picture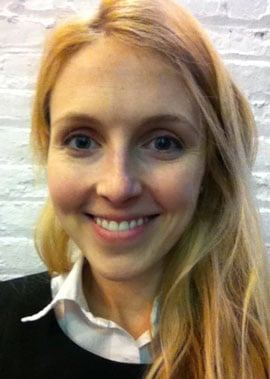 I've sometimes wished a professional makeup artist was on hand for a consultation before my photo was taken. The opportunity for that to actually happen arose this week, when Revlon's Global Artistic Director Gucci Westman volunteered her makeover services. Gucci, who's worked with the likes of Cameron Diaz and Kim Kardashian, walked me through the steps she used to get my visage ready for the camera. She shared some beauty tips — and revealed how she's prepping to survive another Fashion Week — just before a portrait session with photographer Michael Fine began.
I presented Gucci with a relatively bare face, which you can see at right.
To read Gucci's tips, and to see the results of her hard work, just read on.
Gucci got to work with her Revlon PhotoReady products, starting with primer. She never skips that essential first step. She said of primer's virtues, "Everybody's kind of catching on to the idea of perfecting your skin, and how important it is. It's not actually that difficult. You'll see a big difference in how your skin looks, and you actually don't need as much foundation."
She moved on to the foundation, a mousse applied with a brush, and a sculpting blush. As for my eyes, which she touched up with volume mascara and a creme gel liner, they weren't overly dramatic. Gucci contends it's best to look like — well, yourself — in photos. Gucci said, "I think it's better to look like an enhanced version of yourself, not a masked version — ever. It's always better to be just enhanced."
What is the advice Gucci doles out most often? "Match your skin properly to your foundation," she said. "Don't overdo it with the blush. And always avoid a shimmery bronzer — always." She's also an advocate of frequent exercise to keep your skin looking great. With New York Fashion Week looming in two weeks, she's taking that advice personally. Gucci said that she and her Rag & Bone designer husband, David Neville, are doing lots of exercise this month, as well as abstaining from any drinking, as a serious cleanse before the coming shows.
Gucci put the finishing touches on my makeup, and Tim Nolan generously touched up my hair. I was ready for Michael Fine's lens — and here are the results!