Before and After: Nice 'n Easy Foam Color Review
Confessions of a Hair Color Virgin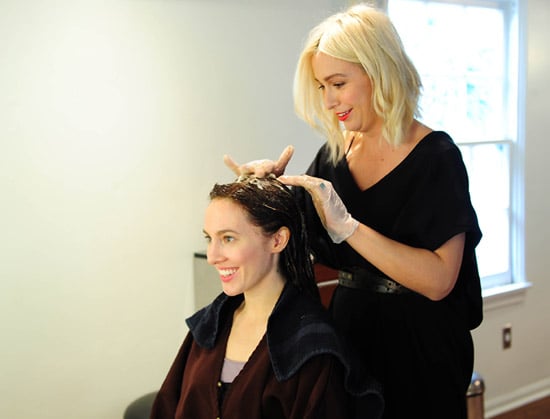 Having colored my hair dozens of times as a teenager, I'm no stranger to unusual hues. Pink, red, purple, black, green (OK, that last one was a mistake) — I've worn it all. That was then. This is now: virgin, natural brown hair that hasn't been colored in years. And as it turns out, upon close inspection, the "natural blond highlights" I'd thought were peeking through were actually gray. I wanted to dye.
Enter Marie Robinson, one of the top colorists in the country. She has a popular salon in Manhattan, she's done the color for stars like Anne Hathaway and Rachel McAdams, and she's also the color director for Clairol. So who better to turn to for help? Keep reading to see the before-and-after photo.
Clairol flew me from San Francisco to Los Angeles, and Marie and I met at the chic Chris McMillan salon in Beverly Hills (that's where A-listers and the well-heeled come for precision cuts and color). But while some clients were spending hundreds of dollars on highlights, Marie was using Clairol's Nice 'n Easy Color Blend Foam on me — which costs less than $10 a box. "I actually like your natural color," Marie said as we discussed our dream hue. "We'll just give it a little boost." We settled on Lightest Golden Brown.
As she massaged the foam through my hair (no drips!), Marie revealed some of her tips for coloring at home. Some of the best, paraphrased:
When choosing a color, don't rely only on the model on the front of the box. Instead, look at the pictures of hair to accurately predict the end result for your current shade.
For first-timers, stay within a shade lighter or darker than your current color. Leave drastic changes (going platinum blond if you're a brunette, for instance) to the pros.
Rub the foam into your head for even coverage of any roots. Otherwise, you could miss the hair closest to the scalp.
But back to the hair. It didn't take long for the color to process, and after a quick rinse and blowout, I had shinier, brighter hair with nuanced color. The grays had faded away. And most importantly, it all looked natural. (See the before-and-after shots.) Marie said I'd be able to go three months before needing a touch-up, but when the time comes, it'll be so nice (and easy!) to get it right at home.