Before You Were Hot — Interview With Anne Ichikawa and Melissa Walker
Bella Interview: Before You Were Hot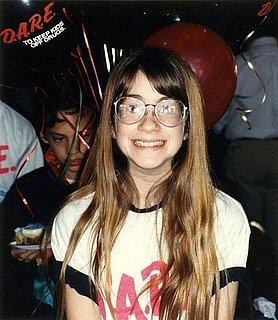 In junior high, would you have imagined that this endearingly awkward girl would grow up to be a model? That's exactly what happened, and Before You Were Hot has the proof. Former ELLEgirl editors Anne Ichikawa and Melissa Walker started the site to look at the ugly ducklings who later became swans. Readers (such as this DARE graduate) submit geeky photos along with the stories behind them. "Being 'hot' isn't about looking like Angelina Jolie," Ichikawa says of the project. "It's all about how you feel about yourself and being comfortable in your own skin."
We talked with the duo to find out more about their inspiration, what current trends are unlikely to age well, and more. For the Q&A (and to see the "now" shot of the girl in the photo), keep reading.
BellaSugar: How did you two come up with the idea?
Melissa Walker: Looking through a box of old photos, I found about 20 pictures that were ripe for a site like this. I talked to Anne, and she admitted to having the same kind of stash. We thought it would be fun to create a space to share the awkward years.
BS: How did you manage to make the site fun, not mean-spirited?
Anne Ichikawa: A lot of it is due to the description that is submitted with the photo. Everyone has such a self-deprecating, but good humored, view of their past awkwardness — it makes it really easy for everyone to relate with and share in the experience. And really . . . bad perms are funny!
BS: Do you know anyone who escaped adolescence without going through an awkward stage?
MW: Some people were always cute kids, but no one escaped at least one laughable trend. (Oversized '90s tees, banana clips, perms, and the ever-necessary braces and retainers come to mind.)
BS: So many of the photos involve awkward trends like mullets and spiral perms. What trends of 2010 do you suspect might not age so well?
AI: So hard to tell when you're in the moment! But I'm going to go with self-tanner, hair extensions, and multicolor dye jobs. In terms of fashion, those open-toed boots are already totally suspect.
BS: Do you have any favorite celebrity ugly-duckling-into-swan stories?
AI: When we were on the CBS Early Show, they showed a pretty geeky photo of George Clooney as a kid wearing huge glasses and sporting a bowl cut. We think he turned out pretty OK.