Behind the Scenes With Anthropologie's Beauty Buyer
Behind the Scenes With the Woman Responsible For Anthropologie's Beauty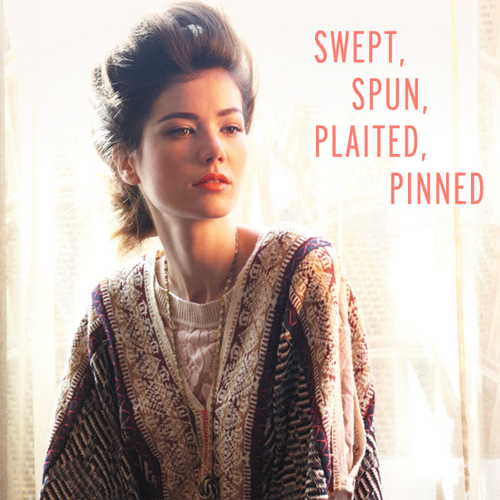 Anthropologie's gorgeous parade of fascinating finds and easy luxuries is what makes it such a beloved institution. And if, upon picking up a bottle of singularly beautiful fragrance, you've ever wondered where it all comes from, here's your answer. Anthropologie's beauty buyer, Melissa Green, let us pick her brain about everything from finding the next big thing to making sure brands are unique but still fit with the company's aesthetic. It's a fascinating view on how the products you love reach the shelves, so check out what Melissa had to say.
BellaSugar: What's your process like for sourcing new collaborators?
Melissa Green: There are so many potential collaborators out there. Partnering with Ineke Ruhland on Floral Curiosities was a no-brainer since we were already carrying her line, and after a long chat at our home office we realized we not only shared a similar aesthetic but also an appreciation of mixing art, literature, and fragrance. I look for partners who are experts in their field, but who are also perhaps not as well known on a broader scale. The independent, niche category is blossoming and I want to support that. I like to be able to introduce our customers to something or someone new versus something they have seen before.
BellaSugar: How do you ensure that a brand's packaging and overall aesthetic will meet Anthropologie's high standards and mesh well with the rest of the curated collections?
MG: From the get-go, before we head into a partnership, the brand identity and the company background have to fit into our aesthetic — nothing too slick, modern, or flashy. There always has to be a touch of the unexpected, like the snippets of prose inside the cartons of Floral Curiosities, or the tiny illustrations that peek out from back of the glass bottle. I always encourage tactile touches, like the ribbon around the neck of the bottles of Floral Curiosities that is embroidered with the scent names.
BellaSugar: What do you look for in a fragrance brand that lets you know it's special and makes you want to spotlight it?
MG: Unique, nostalgic, and surprising are a few words I always try to link with a fragrance I am considering. "Unique" is like a Strange Invisible Perfumes collection, which employs both a refreshing way of hand-distilling fragrance as well as employing botanical essences free from synthetics. "Nostalgic" is like our Le Labo collaboration where the scents hark back to the early days of perfume, and "surprising" is like Strange Beautiful's Richly Perverse Nail Perfume, where this intoxicating fragrance of leather and violet is beautifully melded with a clear polish for your nails.
BellaSugar: What's your favorite part of being a buyer?
MG: I love meeting new people and finding out what has inspired them to start their lines. The stories are always varied, but the passion is always the same. But I just love beauty products, period. And I am fascinated that there are endless ways to put new twists on old standards. I still get excited when I find a new brand, and if I can't try it right away I'm antsy until I can get my hands on it. Whether it was my training as a beauty editor or just an innate love of products, I need to test out all aspects before I can make a call on a line.
BellaSugar: What would you say is the most difficult part of curating Anthropologie's beauty collection?
MG: It's often hard to edit myself — there are so many great products to choose from. For example, I can't always take in a full line, and need to pick and choose the hero products among them. I wish I could bring everything in but there's just not enough space in each store.
BellaSugar: How do you see the industry changing with regard to smaller brands and limited-edition scents?
MG: I definitely see a shift towards smaller brands and limited-edition scents. Not to say that the big lines or celebrity fragrances will fade away — certainly not — but I do see customers seeking more of the niche brands that can appear to have more of an authentic approach because the brand is the perfumer/the perfumer is the brand. I think it helps establish a personal connection with the fragrance and I think we're all seeking a little more quality in our investments these days.
BellaSugar: Have you had a favorite or most exciting discovery so far?
MG: As Fabrice Penot of Le Labo tells me when I ask him what his favorite scent in our "By the Creators of Le Labo" collection is: "That's like asking someone to choose their favorite child. It's not possible!" And I agree. Each discovery has its own story and I love nurturing each one in our assortment. I think if I didn't find an element of surprise or excitement in each one I wouldn't be procuring the right products for our customer.