BellaSugar Interview With Dior Makeup Artist Ricky Wilson
Holiday Makeup Tips From Dior's Celebrity Artist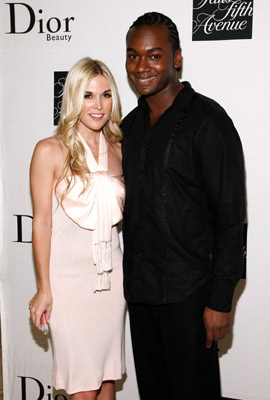 Dior just got into the ecommerce game with its new online store, and the company gave a small party for editors in NYC on Wednesday night to celebrate its launch. Their celebrity makeup artist, Ricky Wilson, was on hand to showcase the items now available for purchase online, and I managed to snag a few minutes of his time to ask about his tips on holiday makeup. He also shared about the products his long list of famous clients, like Leighton Meester, Elizabeth Banks, Aisha Tyler, and Tinsley Mortimer, keep sneaking out of his kit. For our Q and A, keep reading.
BellaSugar: How do you recommend getting a look holiday ready?
Ricky Wilson: The first thing I say is to get a decent foundation that's not too heavy. You don't always have to go with the traditional red lipstick. I think everyone has seen that when it comes to holiday makeup. A lot of eyeliner, false eyelashes, 10 coats of mascara, and a deep charcoal eye is really where it's at this holiday. You also really want to make sure that you control the shimmer, because you don't want your face to end up resembling a Christmas ornament — and that's what a lot of women do when it comes to holiday makeup. You can use the Dior Shimmer Star in Amber Diamond, and you can dust it on the top of your cheekbones; you can dust it underneath your brow bone, as well as a little on the bow of your lips to create a fuller pout. Keep it simple. Glowing.
BS: And what's the best way to go from day to night?
RW: Always lashes! Black waterproof liner coupled with liquid eyeliner, and the introduction of contour. I like to contour with Dior's sculpting powder. It's beautiful in the daytime, and I use it a lot for the red carpet — it really looks perfect, but you don't end up looking like you're performing. My favorite shade is the number 32, and it just gives you this beautiful sculpted cheekbone. It's not orange, so it's not like a bronzer. It's just really soft and natural. I love contouring for evening, I love the addition of more eyes, I love the addition of false eyelashes, but I don't love the "put on more face makeup." A lot of women have a tendency to do that, and what I always say to women is: "The more makeup you have on, the more it's going to need to be maintained. When you're out in an evening setting, you don't have every five seconds to look at yourself, so you want to keep that in mind."
BS: Are there any makeup trends you're loving at the moment?
RW: We've been talking about Black Swan, so we've been doing ballet-inspired makeup, which isn't something that we've seen. I love it because ballet makeup is all about lines and structure and being perfect. Ballerinas have to be perfect in anything that they do, so ballet-inspired makeup is perfect. It's invisible; it's clean, yet you can also go a little bit stronger with the eye. And you can also wear a red lipstick successfully — if you do it the right way.
BS: What products do your celebrity clients request?
RW: A lot of my clients always love Dior. Today I had two celebrities take things out of my kit! Diorshow mascara and Skinflash is something that I always have to give them. Now with the introduction of Rouge Dior — the other rouge colors were great, but this color range is sick. It is gorgeous. Today I gave Sheryl Lee Ralph the 752 red lipstick, and she loved it. I'm constantly giving these people things out of my kit. The new Ecstasy mascara I can't really keep. The great thing is, I love working with Dior because they have so many great things in different categories. They're not just known for their mascara; they're not just known for their skin creams. So when I take out my kit and I pull out my Dior stuff, I know that my client is going to trust me. She's going to breathe, she's going to relax because they don't know who you are, they just get a recommendation. An agency calls you! They're really picky.
BS: What does Leighton Meester always ask for?
RW: The Dior two-color eye shadows and the Diorshow mascara — like, a lot of it!