BellaSugar Interview With Niecy Nash
Niecy Nash Talks Decadence, Confidence, and More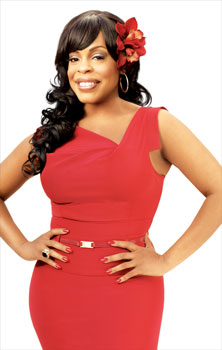 Have you ever met someone that has so much going on, you don't even know where they get all the energy to do it? Niecy Nash is that kind of person. As a celebrity panelist for The Insider and host of Clean House, Niecy's schedule is jam-packed. She's also planning on coming out with her own line of floral hair accessories, and she's busy raising funds for the World Toilet Organization.
During our talk we also covered one of my favorite topics, beauty. To see what the quick-witted actress had to say, just keep reading.
BellaSugar: With your show Clean House, what are some of the most interesting things you've seen as far as beauty goes?
Niecy Nash: The episode that was the most decadent for me was when I did Sheryl Lee Ralph's house. She played the mom on the TV show Moesha, that starred Brandy. When I went into her house, honey, she had eyelashes from all around the world — not to mention a hair collection that could rival any beauty supply store in the world. I was so happy. She had potions. She had lotions. She had anything you could think of. I did not want to leave her little vanity area. It was decadent and I loved every minute of it.
BellaSugar: How has the show changed your beauty stash habits?
NN: My show has taught me how to keep the things that are important to me at an arm's length. And how to store things so that they don't look like clutter.
BellaSugar: From all of the shows you've been on, what are a few of your favorite makeup tips you've learned along the way?
NN: We spend so much money on our hair, and we destroy it by sleeping on a cotton pillowcase. Sleeping on silk really protects the hair.
BellaSugar: How do you stay so fresh-faced and vibrant when you're constantly on the go?
NN: My secret weapon of choice is concealer, honey. It conceals the fact that I haven't been to sleep. It conceals the fact that I've stayed up all night helping one of my kids with a science project. It conceals a lot.
BellaSugar: What advice do you have to give to younger women when it comes to beauty?
NN: I would say to anyone, you don't have to follow the trends. Sometimes, you're your own trend. Because at the end of the day, what resonates, what makes women the most beautiful, is confidence. And you don't want you to do anything that someone else is doing that would make you feel uncomfortable in your own skin. Confidence is beautiful. It's sexy, and it resonates more than anything else.
BellaSugar: What do you think people would be surprised to learn about you?
NN: That it was never my intention to be a funny girl. I wanted to be a very serious actress. I wanted to do only dramas — something that was going to have me fall and cry and get beaten with a stick. I never wanted to be a funny girl. That was never the plan.
Photo courtesy of Niecy's partnership with Clorox and the WTO