Benefit Cosmetics Hello Flawless Liquid Foundation Review
Benefit Debuts Its First Liquid Foundation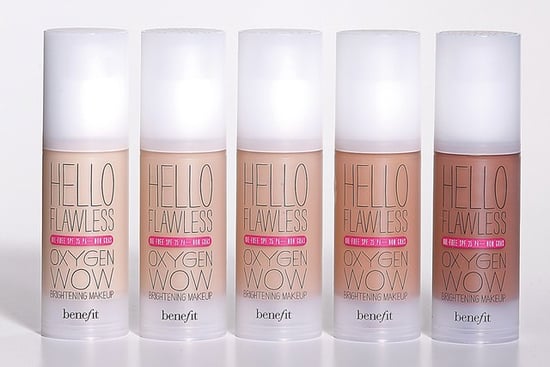 Benefit has always stuck to powder-based foundation, but no longer. After four years of research and development, the brand is premiering its first liquid foundation, and we got to be among the first to try it out. Our biggest takeaway: this is not your average foundation. To see what it's all about, check out our review below.
The new stuff, Hello Flawless Oxygen Wow liquid foundation, has the highest wide spectrum sunscreen protection possible, clocking in at a formidable 25 PA++++. It also comes in nine colors that correspond exactly to Benefit's already-popular Hello Flawless powders, which makes getting a color match especially easy for current Benefit fans. Plus, the variety of shades means that there are matches for deeper skin tones, too. The texture is very light, so you get buildable coverage alongside a more natural look, too.
From playing around with it a little bit, we have a couple of admonishments, though. First off, we recommend going in to get your color matched at a Benefit beauty bar; with so many shades, it can be hard to tell exactly which one will work best for you. And second, use a foundation brush to apply it. The liquid texture means that this isn't really a sponge-on foundation, and applying with your fingers won't look as smooth. Hello Flawless hits US counters in March and will retail for $34.