Benefit Cosmetics Stay Don't Stray Primer Review
A Tale of Two Bellas: Reviewing Benefit Cosmetics Stay Don't Stray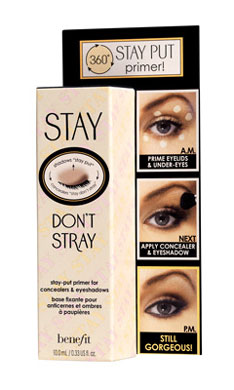 For one of us, it was the best of times, for the other, it was the worst of times. (Well, not that bad.) Two members from Team Bella had two very different experiences after trying the new Stay Don't Stray ($24), the new paraben-free multitasking primer from Benefit. This moisturizing pre-makeup, which also includes vitamins C and E, is applied on both the under-eye area and lids to give concealers and eye shadows long-lasting, crease-free results. But one Bella's delight was another Bella's blight. Find out why when you read more.
Bella A: When I look to a primer, my three main requirements are that it's easy to blend, helps to keep my makeup from sliding, and doesn't cake or crease. Sorry, Benefit, I do love your products, but this time around, the Stay Don't Stray was a disappointment, only meeting the first expectation. While I appreciate the fact that a little goes a long way with this primer — just a tiny pump applied to the back of your hand and dotted on the under-eyes and lids will do — on my skin, the product seemed to clump and pill.
Once I worked through it, blending it in and applying shadow, liner, and concealer on top, I will say that my makeup had a nice glow, and I was satisfied with how the primer evened out the tone on my lids. By the end of the day, however, while I did not experience creasing or caking, my eye makeup was dull and faded.
Bella B
I don't use primers frequently, so when I do, my lazy arse doesn't want to mess with multiple products. Stay Don't Stray wins me over by handling eyelids and under-eye skin in one fell swoop. I applied it after moisturizing my under-eye area, and here's where I think application technique is important: I dabbed it on lightly instead of swiping it on. Generally, I don't have many problems with concealer slippage, but Stay Don't Stray kept everything firmly in place — which helped a lot when I used a powder concealer. My one beef is that it's available in only one beigey color. In theory, you'll cover it with shadow or concealer, so it won't matter. Still, I can't see this being a go-to product for women with dark skin. Overall, though, I was pleased enough with this primer to recommend it for special occasions when you really don't want your makeup to budge.