Benefit Eye Wanna! Maggie Eye Shadow Collection Review
You'll Really Want Benefit's New Eye Wanna! Shadow Palette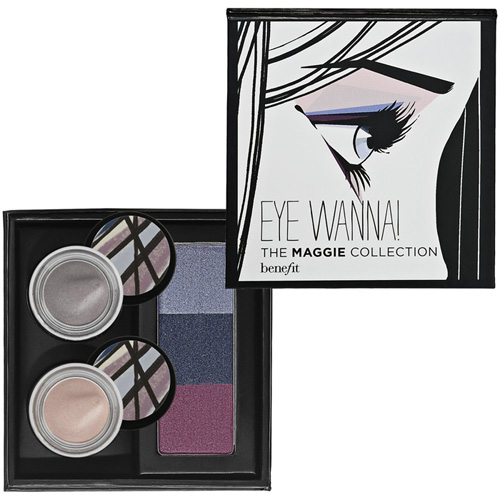 Benefit is queen of clever product packaging, so it's no surprise that its new eye color collection is cute and smart as can be, with cover art from Barcelona-based artist Pietari Posti. "Eye Wanna! is for gals who have it all — and wanna shimmy all night long," says Maggie Ford Danielson, the collection's creator. "[It'll] take you from work mode to party status." I tried Eye Wanna! ($36), so to see who I'd recommend this palette for, just keep reading.
If you're fond of cool-toned eye shadow shades, or have blue eyes, Eye Wanna! is a good collection to try. On my dark blue eyes, a combination of Skyline, the slate-blue shadow, and Static, the silvery gray cream shadow liner, was really pretty for evening. And if you have a fair to medium-deep skin tone then Airbrush, the pink cream shadow, is a gorgeous shade to smudge across your lids for day wear, too.
I had my sister, who has green eyes and is medium skin toned, try the shades out as well, and the combination that worked best for her was Deco, the aubergine shade, with Airbrush used as a liner. This duo, since it's a little warmer, would probably also work best on brown and hazel eyes. Inked, the navy hue, is good for layering on to go from day to night as well, although on very fair skin, it looks a little vampy.
If both of us had to pick one thing we like best overall, though, it would have to be that it comes with three predesigned color combinations, so you don't have to guess about layering the shades if you're not in the mood to experiment. Benefit products almost always have excellent instructions, and this one is no exception. You'll get pretty, straightforward looks with advice on how to take it from day to night without a lot of confusion or hassle. And that alone is worth the $36.