We've made it: it's finally the month when Spring turns into Summer (woo-hoo!). As usual, we're sharing the must-have beauty items we're buying and using during May. We've tried and tested all the latest grooming goods from hot-pink lipsticks to beachy shower gels and candy-inspired fragrances. Everything you need to prep for Summer awaits you, below!
Viktor & Rolf Bonbon Eau de Parfum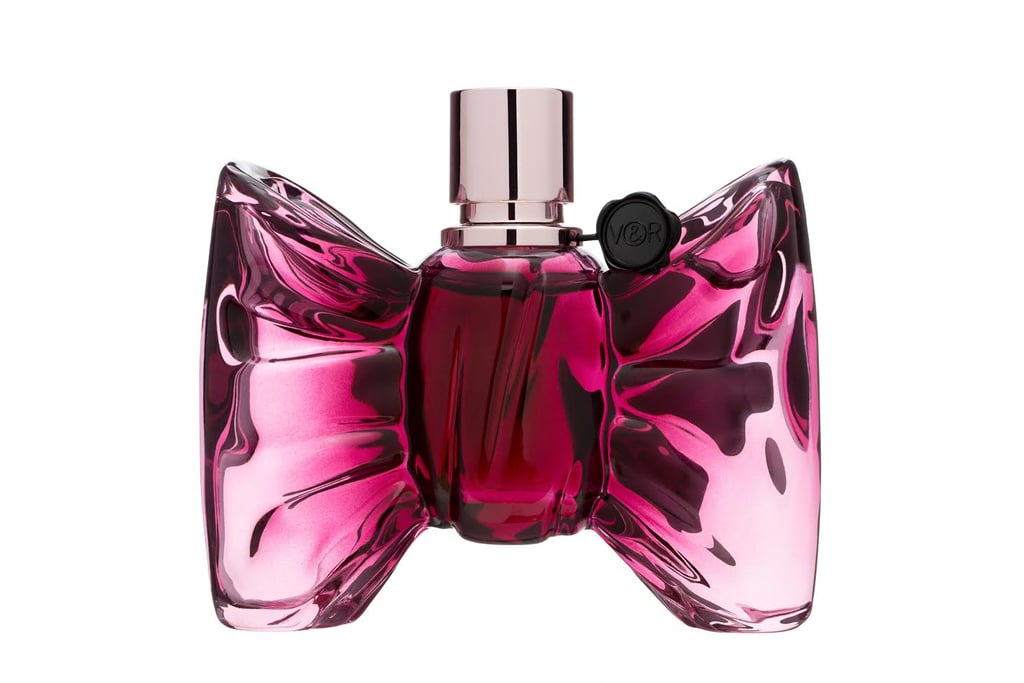 If you're already a Viktor & Rolf Flowerbomb fan, you're going to flip for the Amsterdam-based design duo's new scent, Bonbon [1] ($115-$165). First, I can't wait to decorate my vanity with the chic pink, bow-shaped bottle. Second, the sweet-yet-spicy scent is an upbeat fragrance to add to my Spring beauty wardrobe. The strongest note is caramel, followed by citrus, peach, jasmine, and cedarwood. Yum!
—Lauren Levinson, beauty editor
Zelens PHA Bio Peel Resurfacing Facial Pads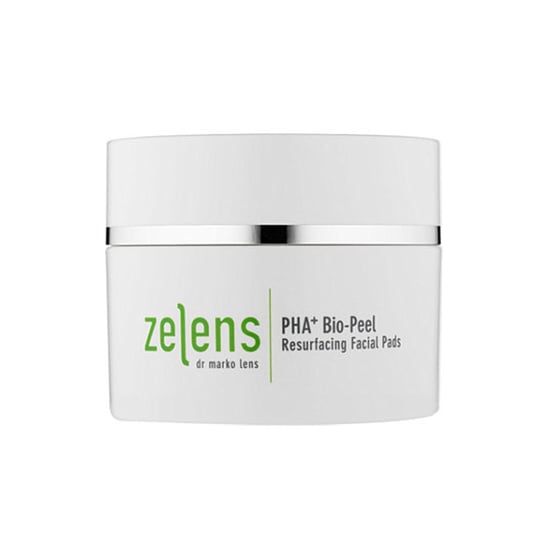 Every woman needs a little AHA — alpha hydroxy acid — in her life. It does for the skin what buffing does for wood floors: breathes new life into your complexion, helping you to look more radiant and, by default, more youthful. If your skin is congested or looks worse for the wear, you probably need to include more AHA in your regimen.
Zelens PHA Bio Peel Resurfacing Facial Pads [2] ($95) don't burn the skin like some peeling pads do, because in addition to the AHA, these include PHA (polyhydroxy acid), a less severe skin resurfacing ingredient. And don't fret: your skin won't shed in sheets. Instead, it gently eats away those dead skin cells, revealing a brighter complexion by the next morning. In a week's time, you'll notice your pores appear smaller and that the tone of your skin has improved too.
—Kirbie Johnson, Beauty Reporter
Escada Born in Paradise

I collected Escada's limited edition Summer fragrances when I was in my early 20s, but it's been a few years since I've been tempted by the tropical, fruity fragrances. However, I'm clearly going through a bit of a nostalgic period, as this year's offering, Born in Paradise [3] ($45-$75), is calling to me. It's the perfect hot-weather scent, reminding me of beach vacations and fruity cocktails.
— Gemma Cartwright, UK Editor
Tom Ford Eye and Cheek Compact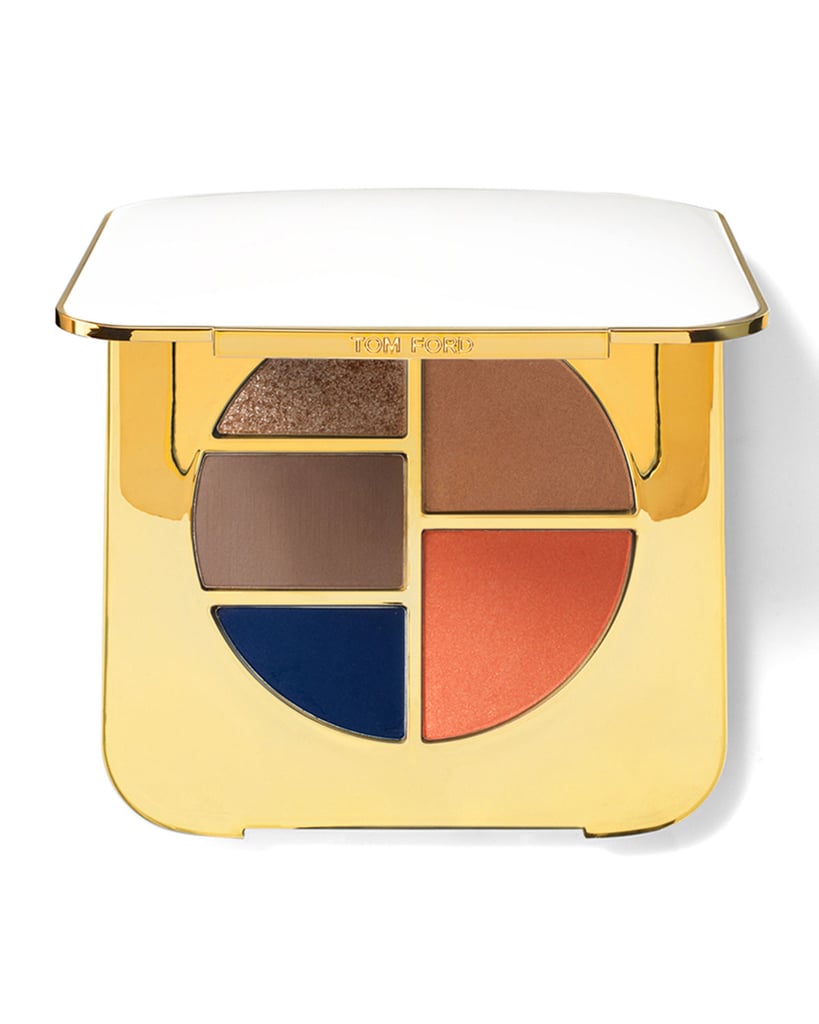 As a fashion designer, Tom Ford has a great eye for what women want, and all I'm craving this month is this Eye and Cheek Compact [4] ($95). It's got bronzer, blush, and three shadows including a metallic and bright royal blue. That's everything you need to translate your demure work beauty look into a sultry happy-hour palette. It would also make a gorgeous Mother's Day [5] gift . . . not that I could find the strength to part with it.
—Jessica Cruel, assistant editor
Ahava Velvet Cream Wash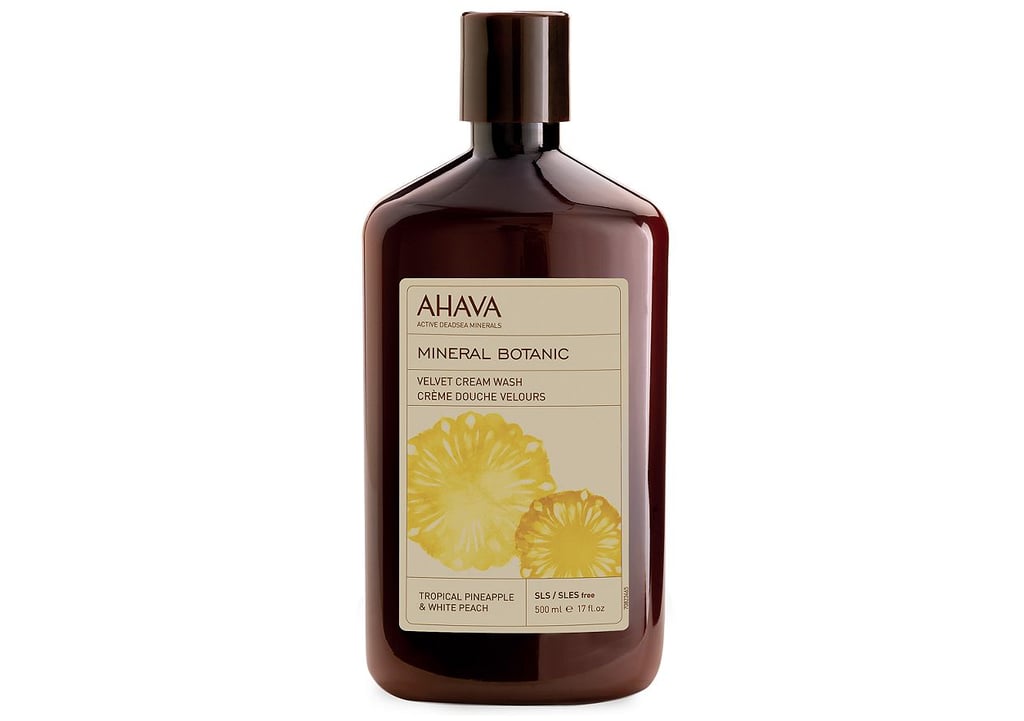 In preparation for the warm weather, I've switched out my old shower staple, peppermint body wash, for Ahava's Velvet Cream Wash [6] in Tropical Pineapple and White Peach ($23). The wash features real white peach and pineapple extracts and smells fruity and sweet, which makes it easy to pretend I am taking a shower on a tropical island instead of in my tiny apartment.
—Aemilia Madden, editorial assistant
MAC Playland Casual Color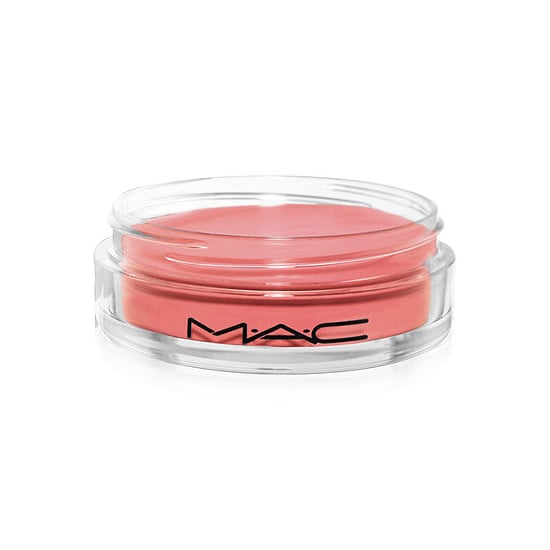 MAC is no stranger to products that explode with color, and the brand's Playland collection is no exception! Casual Color [7] ($21) is the two-in-one lip and cheek formula that packs a punch, blends easily, feels like velvet, and is enriched with vitamin E — i.e., it's perfect for Summer!
—KJ
Monu Cleansing Balm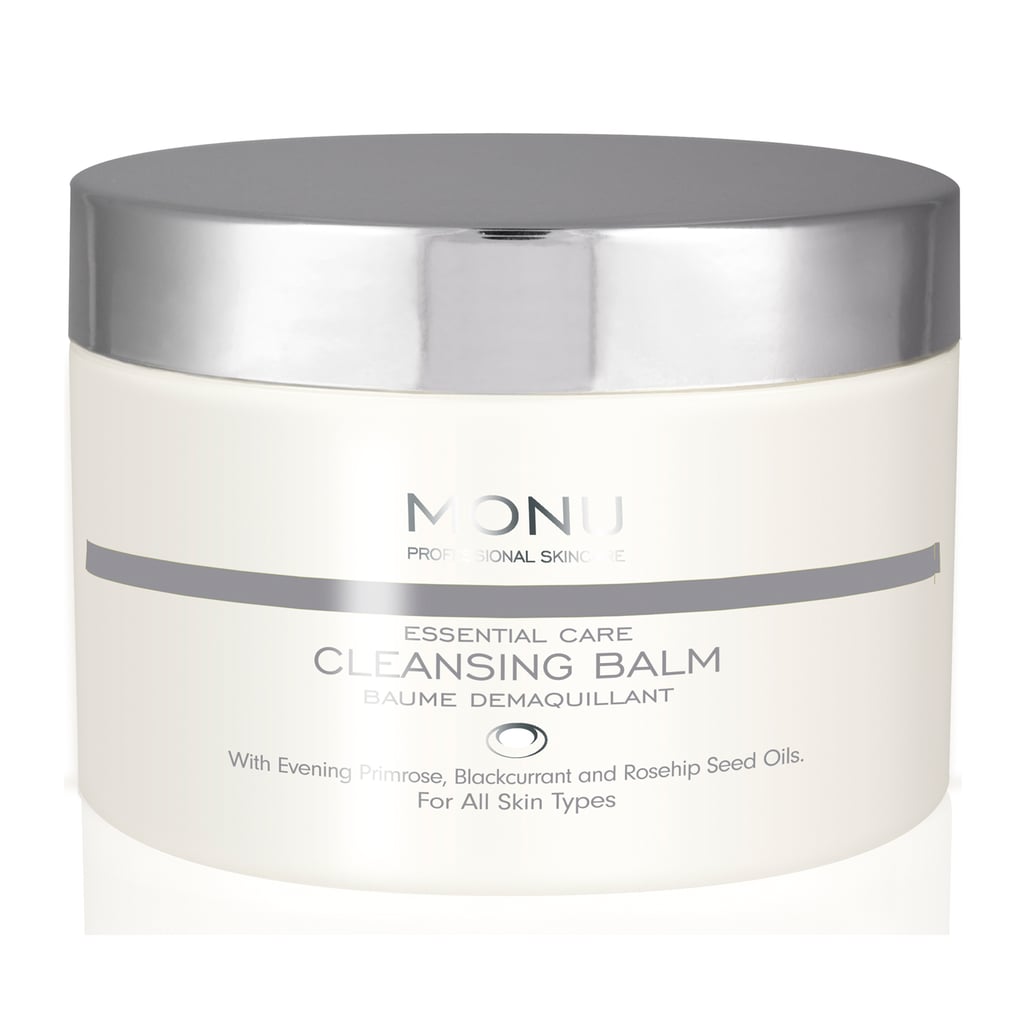 My skin has been extra dry over the last couple of months, so I switched out my usual foaming cleanser for this rich oil-based balm [8] ($70). It feels incredibly luxurious and smells divine, but what I really love is how soft and melting the formula is. There's no need to warm this in your palms like some rival products. It goes onto the skin like a dream and removes every trace of makeup and dirt. The tub is also huge, making it a much better value for money than you think!
— GC
Thymes Rosewood Citron Rollerball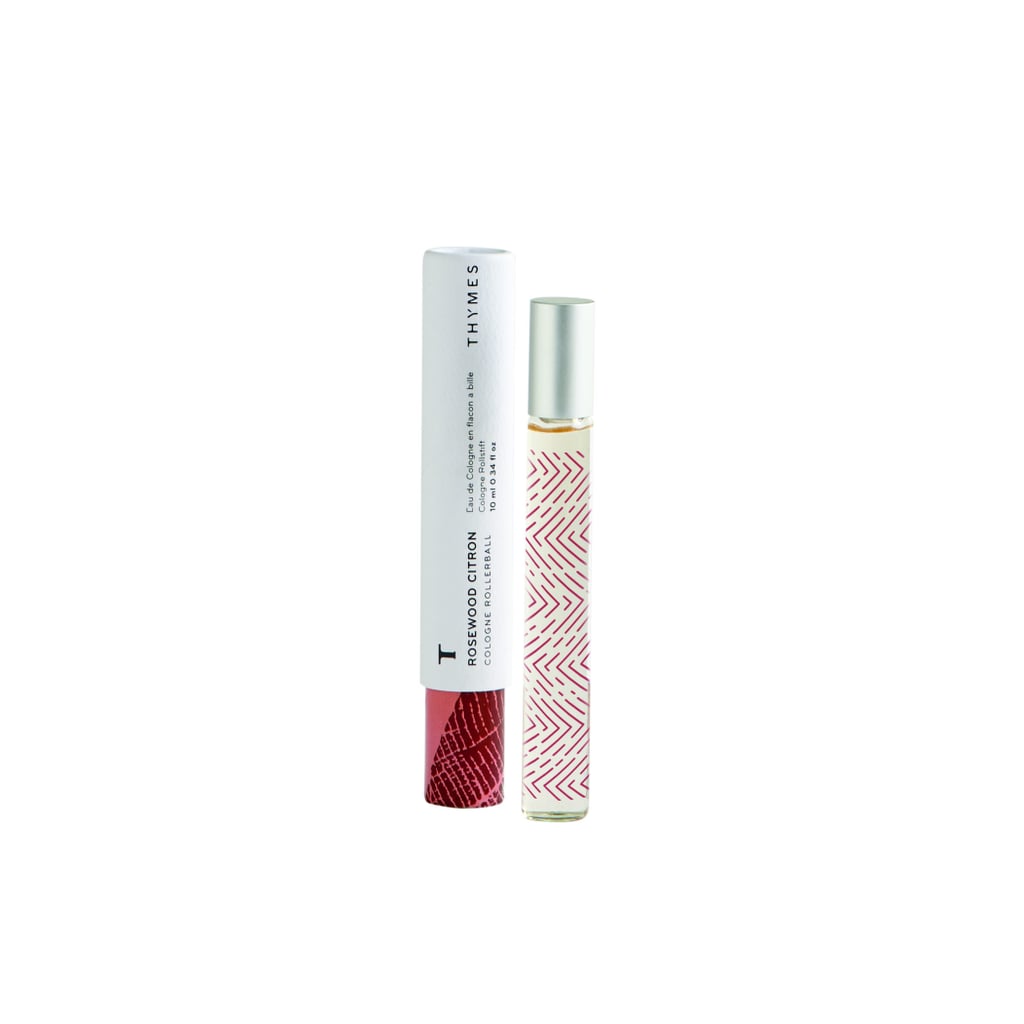 Citrusy scents seem to draw my attention the most, especially at this time of year. My new favorite is the Thymes Rosewood Citron Rollerball [9] ($19). I rub a bit on my wrists, behind the ears, and behind the knees for a faint scent that carries well into the afternoon. Summer may not be here quite yet, but my nose will never know the difference.
— JC
GHD Eclipse Styler
I've finally found the magical hair iron to smooth out my curly strands when the humidity starts to amp up. The GHD Eclipse Styler [10] ($245) may be pricey, but it's worth it. It contains a three sensors in each plate that allow the hot tool to maintain a heat of 365°F. This number is low enough that it won't sizzle your strands but hot enough that you need not go over each piece multiple times (thus frying your locks). Bonus points for the fact that it goes into sleep mode after 30 minutes. —LL
Tarte Not So Slick Blotting Papers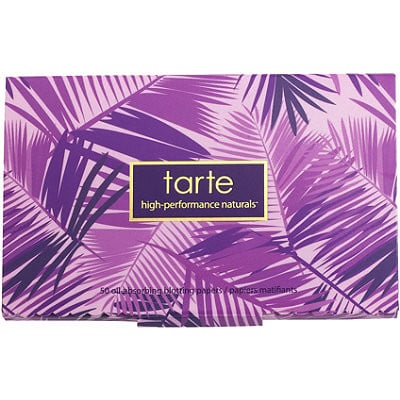 I love warm weather, but during the Summer I always get a little freaked out about my shiny skin ruining every single picture. Luckily, I found this handy little package from Tarte. The Oil-Absorbing Blotting Papers [11] ($10) fit in my purse, so I can carry them everywhere all season long, plus they're infused with green tea extract to soothe my hot and unhappy skin.
—AM
Robin McGraw Revelation 30 Day Kit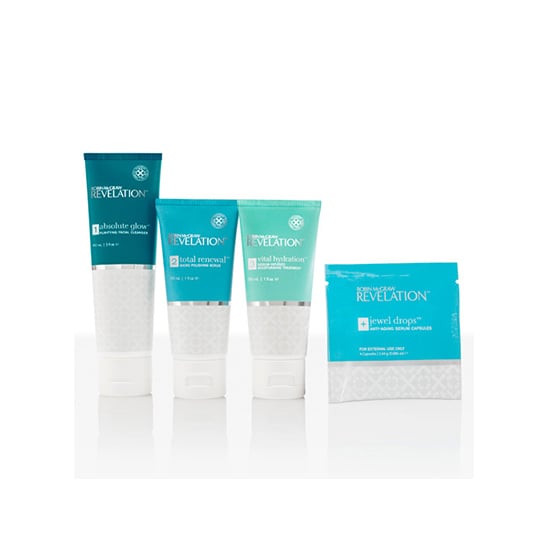 If your mom is nuts about her skin — and she's passed that characteristic off to you — give her a gift you will want to use too: Robin McGraw's Revelation Kit [12] ($40) for Mother's Day [13]. The three-step system works to purify, brighten, and hydrate the skin. My favorite product is the polish, because it's fine enough that it doesn't feel like it's scraping up your complexion, but you can actually feel it sloughing off dead skin. Plus, you'll get a bonus sample of her Jewel Drops Anti-Aging Serum Capsules.
—KJ
Goody QuikStyle Paddle Brush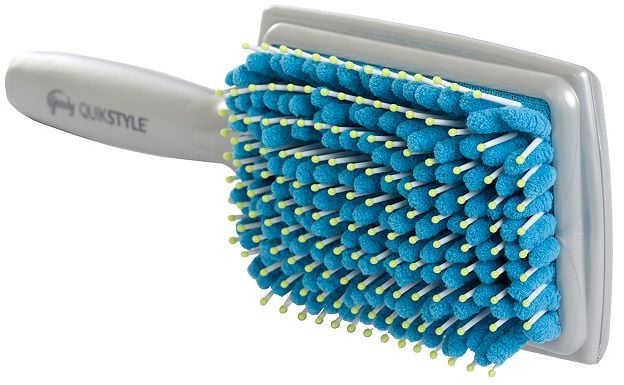 It may look a bit odd, but this brush [14] ($15) is one of my favorite beauty secrets. The little microfiber bristles help to wick away water as you blow-dry, reducing drying time. The paddle shape works really well on thick hair, and as I grow mine out it helps me to keep it smooth and sleek. By combining this with the right products and a good dryer, I've cut my drying time in half!
— GC
Deborah Lippmann Walking on Sunshine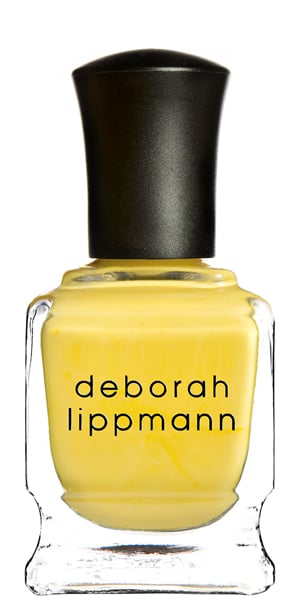 It's time to break out the brights! Deborah Lippmann's Walking on Sunshine [15] ($18) is the ideal sunny yellow for your open-toed shoe debut. I'm also wearing the hue on my nails, too (it's a real conversation starter). This yellow is not watery, so skip doing that third coat.
— JC
Laura Mercier High Coverage Concealer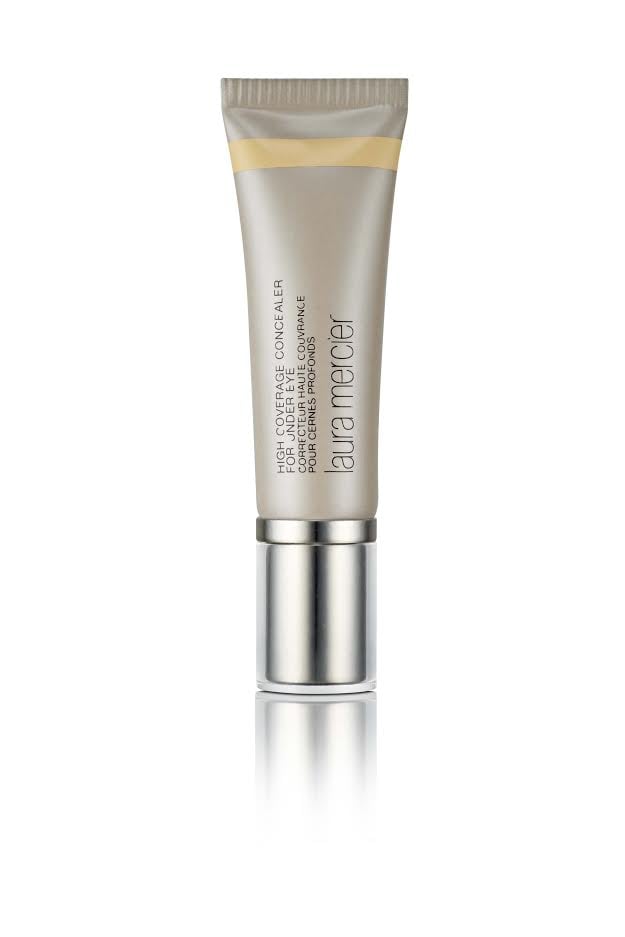 I'm always on the hunt for a good concealer that masks my lack of sleep. Laura Mercier High Coverage Concealer [16] ($28) is a multitasking highly pigmented formula that not only covers and conceals, but also depuffs. It contains good-for-you ingredients like honey, vitamin E, and fruit acid to nourish skin, and with 12 shades, you'll surely find the right color for you. —LL
House of Holland For Elegant Touch Kitty Kitsch Nails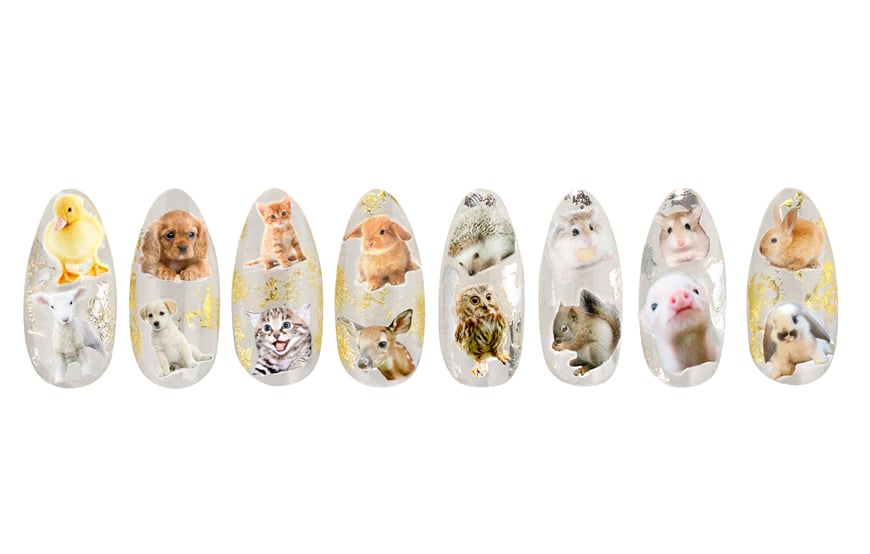 Confession time: I bite my nails. I'm not as bad as I used to be, but I still don't have the kind of strong, long nails that can take intricate nail art. So I turn to falsies for the same look, and I can't resist the kitschy appeal of these kitten- and bunny-covered talons [17] ($15). They'd look so good with Spring pastels and add a much-needed touch of fun to a look.
— GC
Bumble & Bumble The Surf Set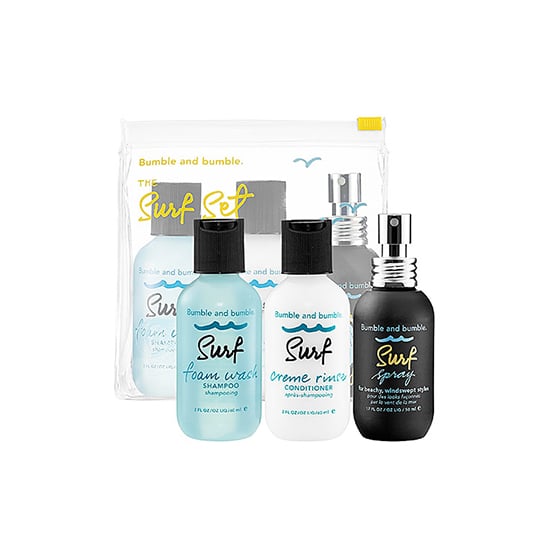 Truth be told, I don't really need to purchase shampoo or conditioner. (Perks of being a beauty reporter!) But like most of my beauty cronies know, if you're willing to go out and purchase something over and over and over again, it's considered a Holy Grail product. Bumble & Bumble's Surf Set [18] ($28) includes travel sizes of its Surf Foam Wash and Creme Rinse, which gives even the finest hair body that looks like you just washed up on shore, as well as its famous Surf Spray.
—KJ
Bourjois Bronzing Primer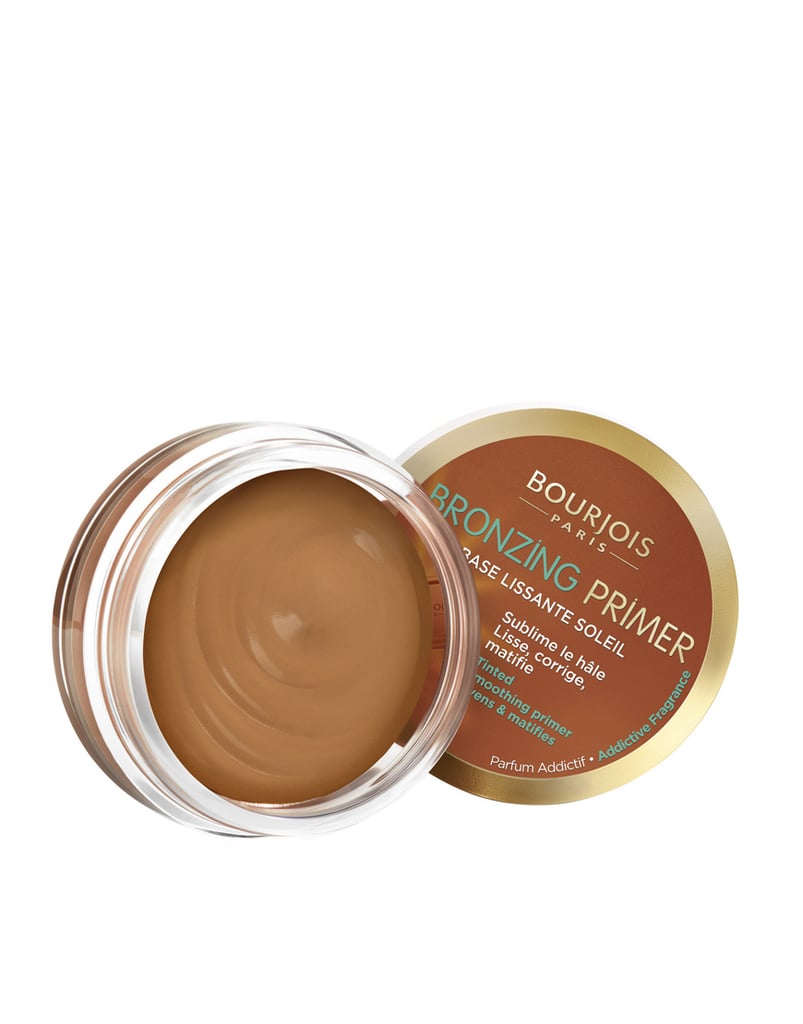 I'm very fair-skinned and struggle with a lot of bronzing products that are too heavy and orange-based for my skin. This bronzing primer [19] ($19) has a completely different approach . . . as it sits below the rest of your makeup, the result is warm and natural, not chalky and obvious. I can also mix it with regular primer to get the perfect shade on days when the full glow is a little too much.
— GC
CK One Color x Dev Lipstick in Kiss It!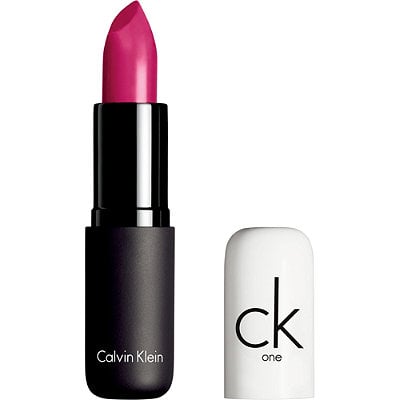 Every woman needs a power lipstick. You know, that go-to shade for a first date or important business meeting. This CK One Color x Dev Lipstick in Kiss It! [20] ($16) is my confidence-boosting lip color for Spring. The pink shade was inspired by Dev's single by the same name.
— JC
Aveeno Positively Radiant Makeup Wipes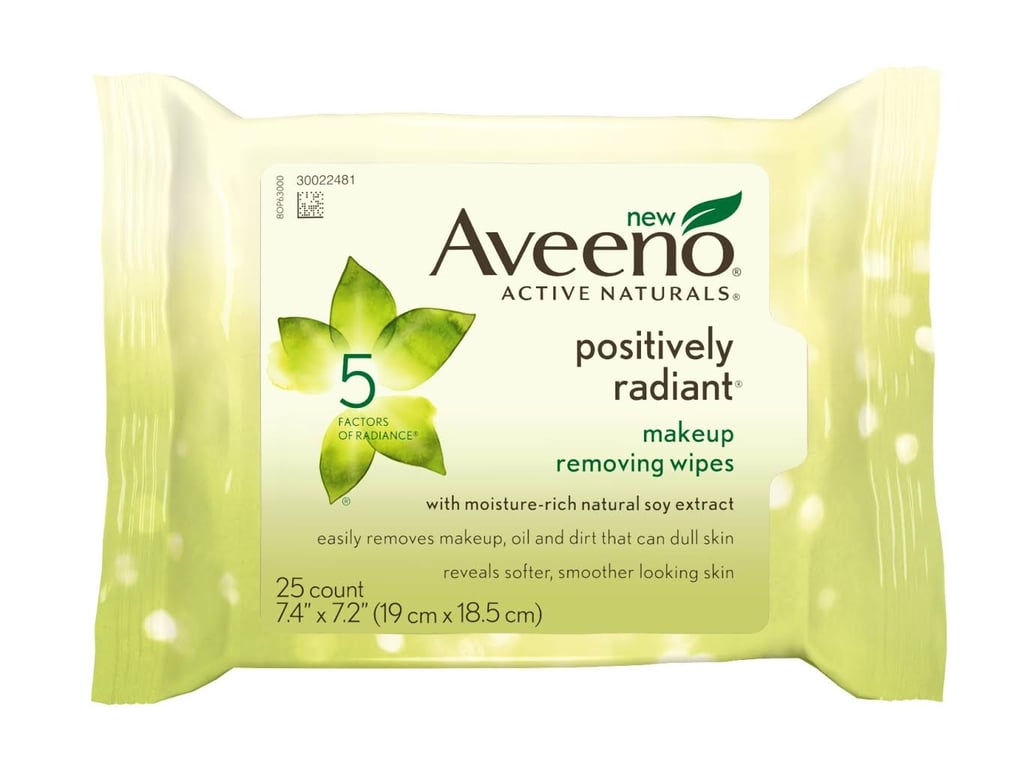 Summertime means I'm going to be feeling pretty lazy — but not so much so that I won't clean my face. When I don't feel like washing it, I'm going to grab one of Aveeno's new Positively Radiant Makeup Wipes [21] ($8). Each contains Aveeno's signature soothing, brighting soy complex. The fresh and fruity scent also makes them a desirable pick for a post-workout wipe. —LL
Alterna Bamboo Beach Summer Ocean Waves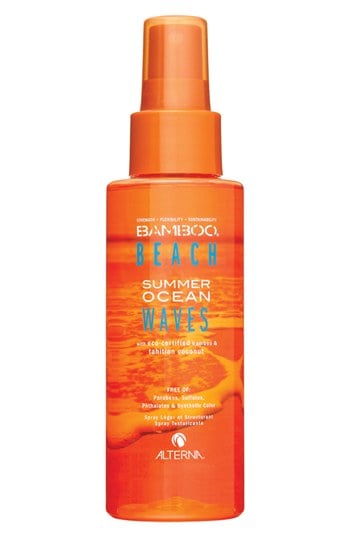 As a California girl, the only thing I love more than a day at the beach is the way the salty ocean spray gives me effortless natural waves. Trying to re-create the look at home has been tough, until I came across Alterna's Bamboo Beach Summer Ocean Waves [22] ($20). Not only does the spray make my hair look ultratextured and wavy, it also protects my locks from damage caused by the sun.
—AM
Jouer Tinted Lip Enhancer in Bellini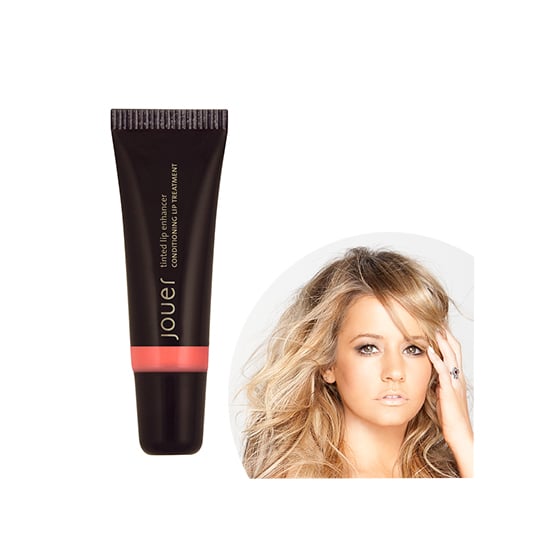 You might be rolling your eyes at this slide — because why in the world would I include a picture of myself in the must haves gallery? Well, because this, my friends, is photographic proof that anyone can pull off a nude lip. Anyone! Normally, skin-tone lipsticks look awful on me — I'm a peach and rose fan through and through. But at Jouer's Spring transformation event, makeup artist Troy Jensen [23] made me a buff believer. He applied concealer to remove the color from my lips, then added a pinch of Jouer's Tinted Lip Enhancer in Bellini [24] ($18). Because it looks pink, it isn't as intimidating a full-fledged neutral, but its transparency gives just a hint of color and a buttery, plump look. Now I'm going nude on my own!
—KJ
Oribe Shampoo For Brilliance and Shine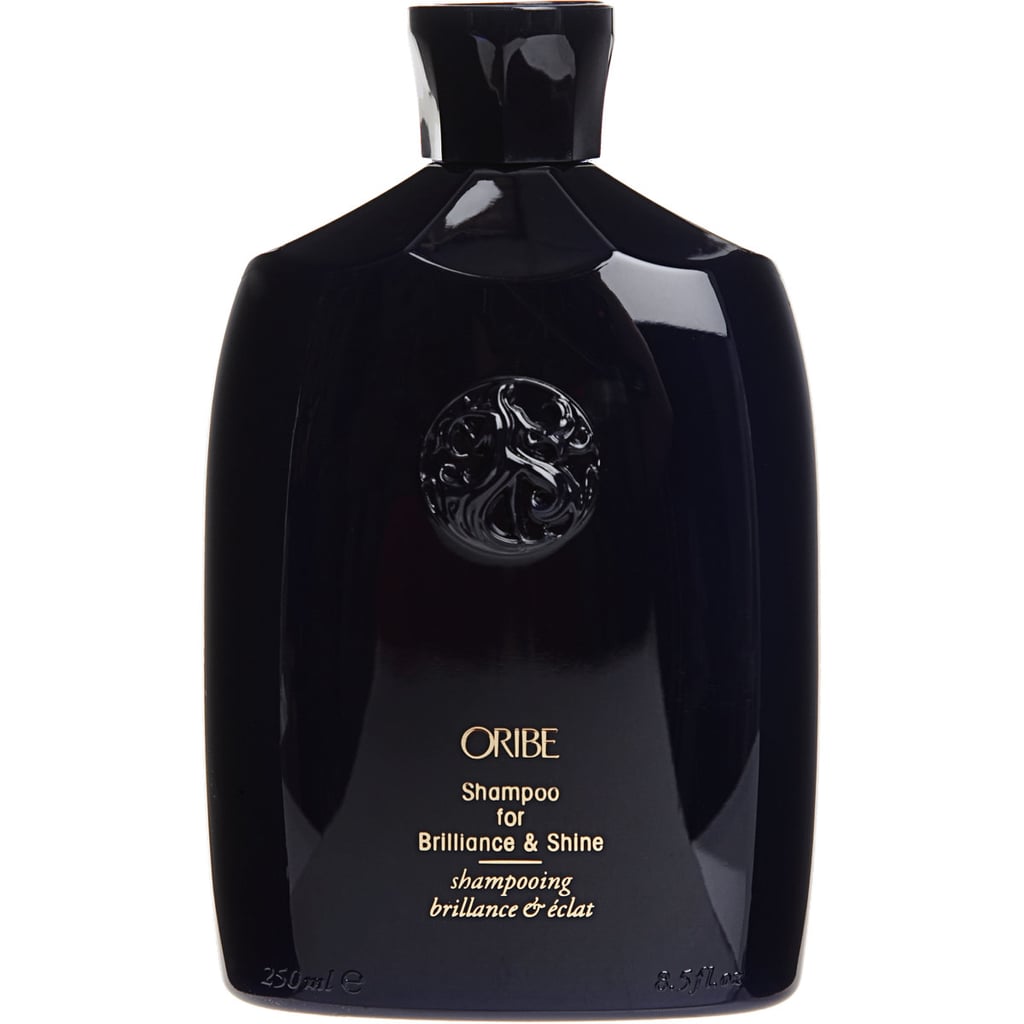 My hair was washed with this during a recent salon visit, and the moment it hit my head and I got a whiff of the beautiful scent, I knew it was something very special. It may be one of the most expensive shampoos on the market [25] ($46), but for pure indulgence (and a supershiny finish), it can't be beaten.
— GC
BareMinerals BareSkin Foundation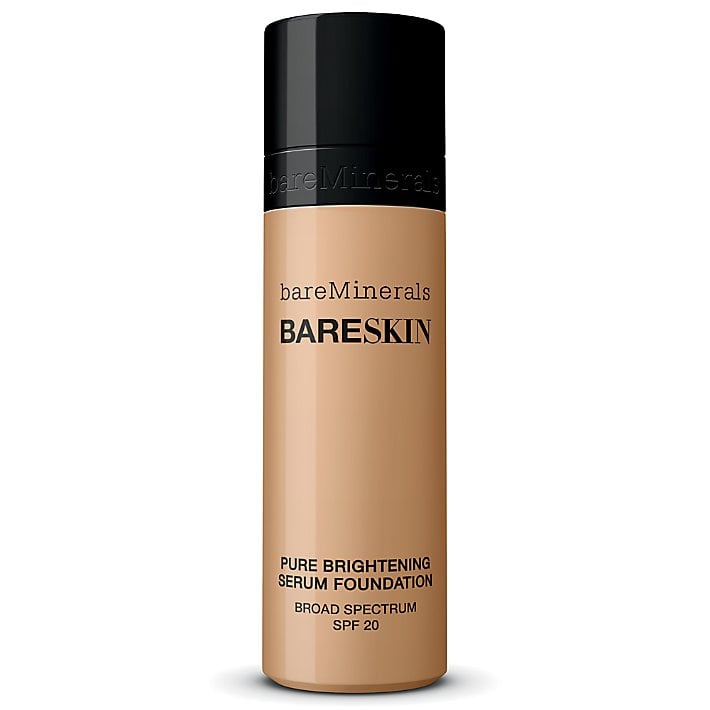 The first time I saw all the shades of the BareMinerals BareSkin Foundation [26] ($29), I did a little happy dance. There are 20 different hues to fit a wide range of skin tones from alabaster to mocha (my perfect match is Bare Espresso 19). I'm also a fan because it has sheer enough coverage for an infrequent makeup wearer like myself, but you can build it for women who prefer a heavier finish.
— JC
Julep Plié Wand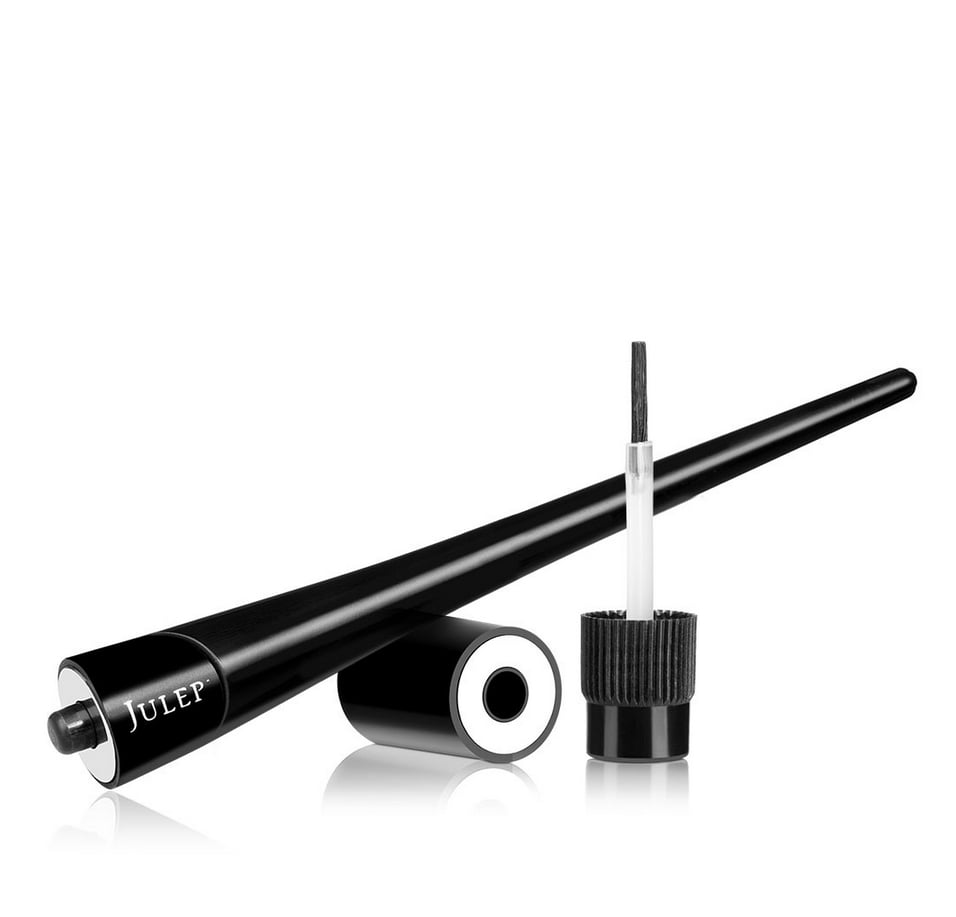 I've never been the most adept at painting my own nails. Since I am left-handed, my right hand ends up looking flawless, but when I switch sides, I always end up with nails that look more like modern art. That's why I immediately fell in love with the Julep Plié Wand [27] ($25). The simple pivoting handle makes painting much less awkward and much more accurate. Plus it's great for nail art!
—AM
Skinceuticals Resveratrol B E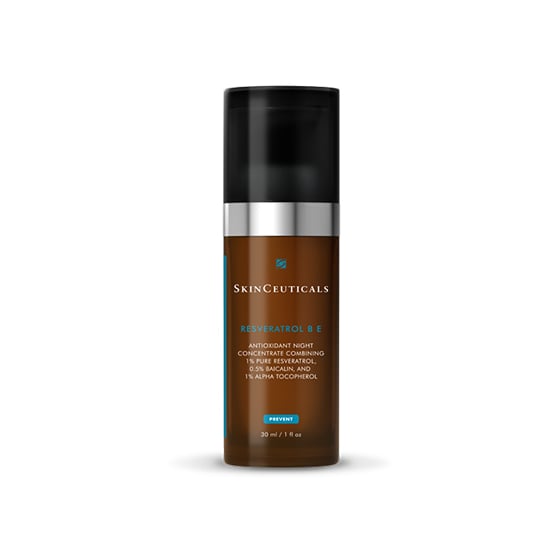 I've been using Skinceutical's Resveratrol B E [28] ($145) since I attended a presentation on the benefits of the night concentrate in early April. It's made with resveratrol, aka "the longevity molecule," which repairs the skin against free radicals — those pesky atoms in the environment we all know speed up the aging process. There are a lot of products that claim to fight against free radicals, but they rarely show extreme results. This gel-like night potion delivers! It actually helps the skin to become stronger and less inflamed, so it can defend itself against free radicals on a daily basis.
—KJ
Mary Kay at Play Bold Fluid Eyeliner in Blue My Mind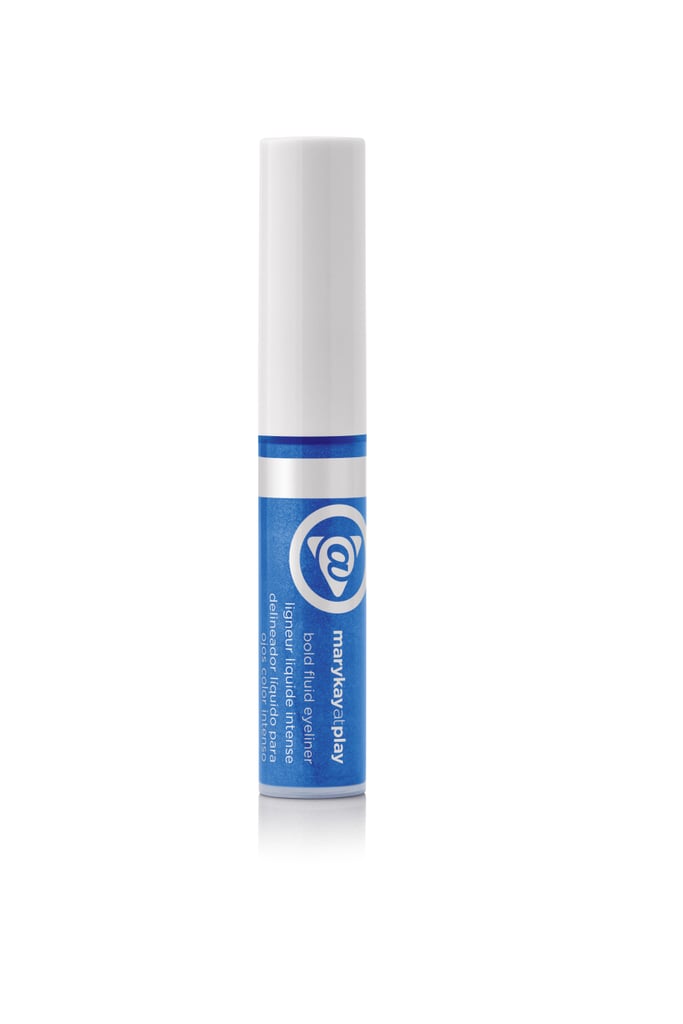 Blue eye makeup is the boldest trend for this season. For me the easiest way to wear it is with a vibrant blue eyeliner. Enter: Mary Kay at Play Bold Fluid Eyeliner in Blue My Mind ($10, available on May 16). The cobalt shade swipes on easily for a cat-eye look. Plus, it's tiny enough to carry in the smallest clutch or travel makeup bag, so you can do touch-ups on the fly.
— JC
Nars Illuminator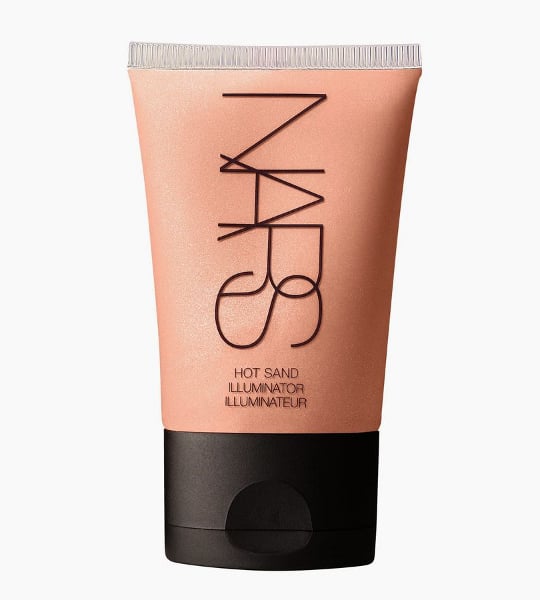 During the week, my makeup routine tends to be pretty low-key, but if there's one product that I can't get enough of, it's a great illuminator. Even on my most sluggish, tired-eyed days a little swipe of illumination makes a big difference. When I recently tried Nars Illuminator in Hot Sand [29]($30), I knew I was in love. The peachy color and golden sheen give me the perfect subtle glow, which is just what I need since I'm still pretty pale from the long Winter.
—AM