The Best Blow Dry Brush For Bob Hair
What We're Sweet On: The Perfect Blowout Brush For Bobs
As POPSUGAR editors, we independently select and write about stuff we love and think you'll like too. If you buy a product we have recommended, we may receive affiliate commission, which in turn supports our work.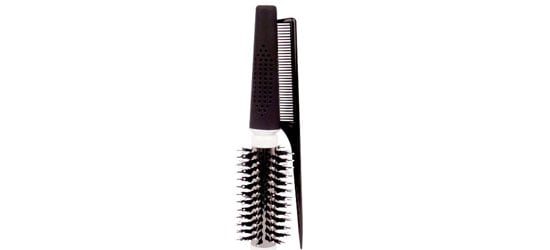 If you have bobbed hair, then you know what a pain finding a brush that actually works on your bangs, layers, etc. can be, and how long it can take to get it all to turn under the right way. Which is why this
Vidal Sassoon thermal brush ($8) is so great. It's exactly the right size; the core diameter is an inch, and the bristles are about half that, so even short hair like bangs will wrap around it. Plus, it has a flat handle, which makes turning it and keeping your grip much easier (and more comfortable, too). And the titanium core means that drying is faster and your styling is more effective. It even comes with a teasing comb, so you can add volume at the crown when you're finished. Not bad for less than $10, and a sight less expensive than a salon blowout.