Best Hair and Makeup Tips
25 Professional Beauty Tips That Promise to Make Your Life Easier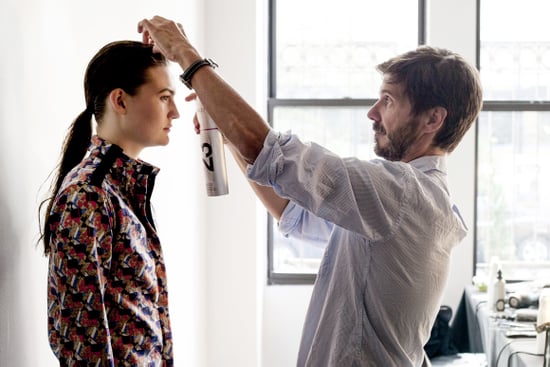 It's our job to pick the brains of the top professionals in the beauty industry, so we think it's high time to share the best tips we've heard over the years. From runway makeup artists to celebrity hairstylists, we've picked out the best of the best when it comes to tricks of the trade. Get all the beauty secrets you never knew after the jump.
Skin
1. "Neither start your day nor end your day with sugar," says Bren Lee Gomez, an esthetician and makeup artist in Los Angeles. "If you start off eating or drinking something with refined sugar, you'll be sallow and dehydrated by lunchtime and require even more sugar to keep going. If you eat sugar just before bedtime, you'll wake up with dehydrated skin."
2. "If you have sun damage and hyperpigmentation, you'll want to apply an antioxidant serum that will lighten spots and fight free radicals," celebrity facialist Kate Somerville says. "If you have oily skin, you may want to apply a toner to reduce sebum production, or try a bacteria-busting treatment serum."
3. "Your best friend if you have issues with ingrown hairs is salicylic acid," says Jamie Ahn, owner of New York's Acqua Beauty Bar. Using this or a glycolic acid regularly after every wax or shave will keep your skin smooth and clear.
4. To stop the bleeding from a shaving nick, apply a cooled-off tea bag to the cut. The tannic acid in the tea helps put a halt to the blood flow.
5. Want to change your skin? Change your diet. Eliminating dairy, caffeine, peanuts, seaweed, sugar, and soy can lead to clearer skin. Swap almond milk for cow milk, bid adieu to brie, and choose water over soda. Good-for-your-skin foods include salmon, dark leafy greens like kale, and antioxidant-rich green tea. Give it a month, and see what happens.
Hair
6. If you have a finer hair type, then stay away from a cut filled with layers. Instead, ask for a graduated style. "A little bit of graduation is good because it helps to add thickness, whereas layering takes the thickness out," celebrity stylist Ben Skervin explains.
7. "Most of the time women don't rinse shampoos and conditioners very well, so hair is [left] heavy and not shiny enough," L'Oréal hair colorist Christophe Robin explains. To avoid this, he suggests applying five drops of vinegar (mixed with cold water in a bowl) into the hair and scalp after shampooing, conditioning, and rinsing.
8. Celebrity stylist Mark Townsend suggests a few tips for flat-ironing the right way: work in two-inch sections and keep the heat on a lower setting of around 350 degrees. Not only is this gentler on your strands, but also, hair will actually style more quickly with this method.
9. Use oils (such as argan, coconut, olive, and avocado) to lock in moisture, not as a conditioning treatment replacement. If you apply oils too often, then they will merely sit on top of the hair shaft instead of penetrating it, explains Anthony Dickey of Hair Rules Salon.
10. Need a quick flyaway remedy? Swipe a dryer sheet across the offending hairs to tamp down flyaways.
11. Overdrying can result in frizz, so be sure to stop the hair dryer before the hair is completely dry to keep the frizz at bay.
12. Are you committing a major shampoo faux pas? "That myth of lather, rinse, repeat is wrong," celebrity colorist Beth Minardi says. "Those were directions that were made in the 1950s, when women washed their hair once a week or less."
13. To get beach waves sans heat, celebrity stylist Sally Hershberger recommends spritzing nearly dry hair with a texture spray. Work the product into your hair by scrunching, using your fingers to comb through sections. Next, braid the hair in different-sized plaits to achieve a piecey look, and then sleep on it.
14. "Terry cloth towels turbans are healthy-hair killers," said celebrity stylist Mark Townsend. The fabric pulls the hair, causing breakage. It can also rough up the hair shaft, exacerbating frizz.
Makeup
15. MAC senior artist Gina Bettelli's biggest tip for doing your own cat eyeliner is to have two mirrors: your bathroom mirror and a smaller hand mirror. "This way you can look down into the smaller mirror when you're drawing on the liner, and double-check the balance and symmetry by looking into a bathroom mirror from a distance."
16. Powders can work great if you know how to use them. "Try applying your powder with a brush instead of a powder puff or sponge," recommends makeup artist Adam Breuchaud. "This will allow you to set your makeup with a lighter dusting of product."
17. If you have a medium-to-dark complexion, then consider finishing off your makeup with a marigold pressed powder to avoid looking ashy. It will give you the same mattifying effect with an added glow.
18.You don't need mascara to make your eyelashes stand out, says celebrity makeup artist Mai Quynh. Just add eyeliner: "To get voluminous-looking lashes, apply dark brown or black waterproof eyeliner to the upper rim of your eye — not on top of the lashes, but in between and underneath them."
19. "If you use a lot of under-eye makeup, it's going to migrate into fine lines and wrinkles," celebrity makeup artist and Olay ambassador Bruce Grayson explains. "Mix concealer right into your moisturizer and then put them both on that way, and a little goes a long way."
20. Don't let unruly brows rule your life — spritz a brush lightly with hair spray and comb them back into place. Start at the center and work your way up and out in the direction of the hairs' growth for the best results.
21. Floriane David of Make Up For Ever Academy recommends using a fan brush to get right to the root of your mascara problems. First, apply product onto the fan brush, and then paint onto the lashes. You can also use a shaking motion to make sure you are getting the base of your lashes coated.
22. Backstage at Libertine's Fall 2013 show, MAC makeup artist Chantel Miller explained that it's easier to do eye makeup one step at a time instead of one eye at a time to create balance. So, draw eyeliner on both eyes, then move on to eye shadow, followed by a few coats of mascara.
23. It's easy to find the right place for your blush contour color by following a downward diagonal line from the middle of the ear to the corner of the mouth. It's that pocket just underneath the cheekbone.
24. When you're ready to do winged eyeliner, start with the harder eye first. That way when you move to your dominant side, you can make them the perfect match.
25. To paint your nondominant hand with nail polish, lay your stronger hand flat on a table and angle it so your arm is parallel to your body. "When you're polishing, once you put the brush down, just pull it straight. Don't try to curve it," celebrity manicurist Deborah Lippmann says.