The Best Hot Styling Tools For Every Hair Type
Which Hot Styling Tool Is Best For You? Find Out Now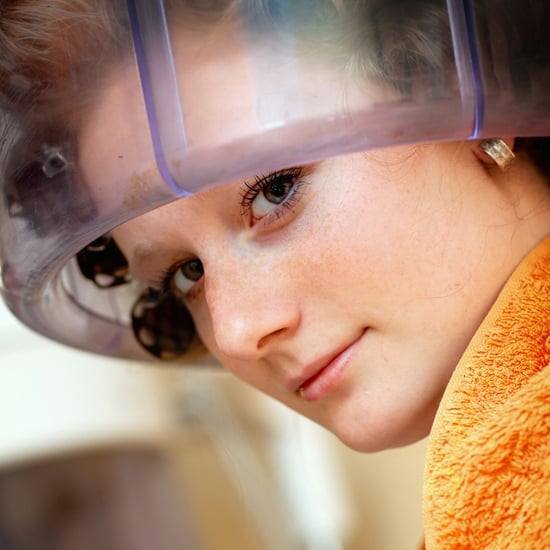 Are you constantly tripping over cords in the bathroom? Minimize the risk (and the amount of heat on your hair) by editing down your hot tool routine to one product. Get tips to achieve multiple styles on every hair type using just one tried-and-true tool when you keep reading.
If you have wavy hair . . .
Go with a flat iron, which gives you many styling options. Use it with a serum to achieve a sleek, shiny look, or enhance the waves you already have by using it as a curling iron replacement.
If you have straight hair . . .
Go with a curling iron. Use a wider-barrel iron to create loose, effortless waves on stick-straight strands, or try a smaller-barrel iron for tighter ringlets. When you want to wear your hair straight, though, skip the heat. In lieu of a flat iron, opt for a shine serum, like John Frieda Straight Fixation Smoothing Crème ($6), on damp hair to combat flyaways.
If you have curly hair . . .
Go with a blow dryer with a diffuser. If you're looking to keep your natural curls intact, don't fuss with the curling iron; reach for a blow dryer instead. Apply curl-enhancing product to wet hair, such as DevaCurl Defining Gel ($19), and then flip your head over and push curls upward using a diffuser. And for times when you want straight strands, blow your waves out with your blow dryer and a paddle brush.
If you have natural hair . . .
Go with a hood dryer. Attempting to use a blow dryer on kinkier textures might cause added frizz. Look to seated hood dryers that you can place over your hair without having to touch as a solution. To coif natural hair with or without heat, try finger-styling with Hair Rules Kinky Curling Cream ($18), or set hair in rollers for a looser curl.