The Best Makeup From the Tarte True Blood Collection
Tarte's True Blood Collection Does a Fang-Up Job
As POPSUGAR editors, we independently select and write about stuff we love and think you'll like too. POPSUGAR has affiliate and advertising partnerships so we get revenue from sharing this content and from your purchase.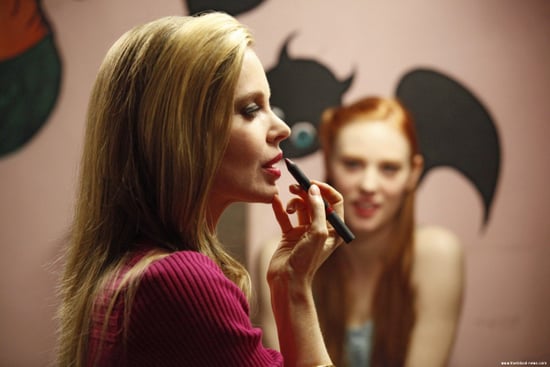 As an obsessive True Blood fan and similarly obsessive beauty editor, the new Tarte Cosmetics collaboration with True Blood is basically my perfect storm — a brand I already like creating makeup with colors and packaging that could in theory make me as preternaturally alluring as a Bon Temps vamp. Before it even came out, my inner panicked fangirl was worried about where I'd be able to get more once it was gone. "Should I start hoarding it as soon as it drops," I wondered, "or wait until it's been out a few months so I can get maximum shelf life?"
It was as unhealthy as it sounds. Fortunately, the collection came, I got my mitts on it, and now I've been restored to a level of sanity that allows me to give a fair review of the products. So to see whether the True Blood line lived up to my (extremely high) expectations, or whether I was left as pouty as King Bill, just keep reading.
On first opening the True Blood makeup, I was pleasantly surprised to see how different the shades in the collection are from Tarte's regular offerings. Too often, limited editions are just slightly amped-up or tinkered-with versions of colors that have been around for years, and it makes them feel less special.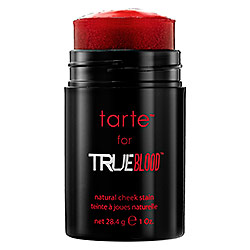 Here, though, the hues are a really cool departure. My favorite item from the line is the Glamour Me cheek stain ($30), a sheer pink-tinged red suffused with sexy white gold shimmer. It's a great color, and the shine is subtle enough to highlight without looking like you have glitz spackled on your face. Glamour Me even smells different than Tarte's other stains; it has a bright citrus-floral scent with just a little bite.
I was also really pleased with the collection's Glamour Me cheek stain ($30), which is just a bit darker than the cheek stain and has some serious pigment payoff. I literally just touch it to my lips instead of applying, and even then I usually have to blot afterward. Of course, I'm the color of copier paper, so this is actually really good news if you're a deeper skin tone. Usually, if a product looks just fine slathered on me, it's completely invisible on anyone who actually possesses sufficient melanin. Plus, it means the tint will last you a long time. I've been using mine frequently for a fortnight now and it basically still looks unused.
Overall, I found that I've ended up liking my TB products not for their connection to the show, but because the colors and finishes are novel and work really well. I'm also really happy they decided to go with a basic red that works on a wide range of undertones. Capsule collections like these usually have an ideal client in mind, and then the rest of us get left out in the cold. This one, though? It's bloody good.
Source: HBO