The Best Makeup Shades For Pale Skin
How to Wear Bright Shades on Cool, Fair Skin Tones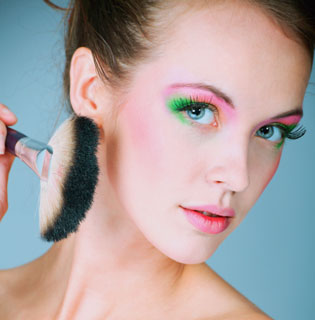 For those of you with cool undertones and pale skin, Spring makeup often means a never-ending succession of pastel shades and baby pinks. But it doesn't need to be that way. Fair-skinned women can wear bright color just as well as anyone else — they just need the right shades. To help you break away from babydoll colors and into fresh, vibrant hues that'll have you looking lively, I've put together tips for choosing the right stuff. You'll be well on your way to a great bright look if you just keep reading.
Transparency is key. Bright hues are easy to wear if they're less opaque, since the color won't show up harshly on fair skin. Lip sheers and glosses, cream or gel blushes, and loose or cream eye shadows are your friends.
Since you have cool undertones, look for shades with blues or violets in them. Blue-toned pinks, violet-inflected reds, teals, and emerald greens are all bright, seasonable shades that will also look great on you.
Since all color shows up well on pale skin, choose one feature to showcase, and keep the rest pretty but natural. Do a gorgeous teal eye, an amazing pink cheek flush, or a bright pink lip, all of which are trendy right now, but don't do them all at the same time.
Check out the widget below to see examples of the shades that suit you best.