Beyoncé Knowles to Launch Line of Temporary Tattoos
Beyoncé Tattoos Are About to Be Big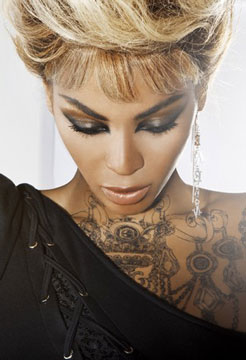 Temporary tattoos are becoming fancier than ever these days, and Beyoncé Knowles is joining in on the action. Beyoncé, along with her mother, Tina Knowles, is set to launch a limited-edition line of Temptu temporary tattoos through their Deréon label.
The line's Fall 2010 ad campaign featured images of Beyoncé sporting some serious ink, and the mother and daughter duo wanted to make the intricate designs available to fans. "With a sixties-pinup-girl meets-futuristic-biker-chick theme, Beyoncé and I really wanted to give our Deréon Fall 2010 campaign a tough edginess," Tina told WWD. The tats, which launch Nov. 1 at sephora.com, temptu.com, and dereon.com, will feature Deréon's signature fleur icon, spider designs, jewel baubles, and rocker chains and bolts.
The basic kit ($16) will include two prints of each design, and the deluxe edition ($34) also comes with a photo "signed" by Beyoncé (and the opportunity to win a trip to NYC for a photo shoot). What do you think about B's latest adventure?