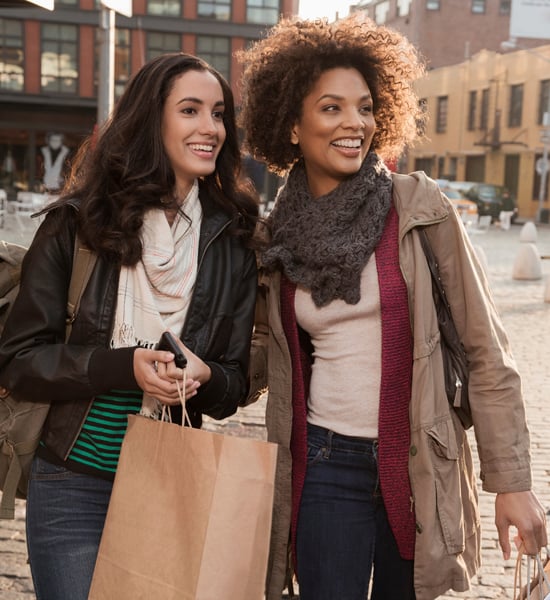 Thanksgiving: it's the time of year to visit family, eat delicious food, and strategize your Black Friday attack. Well, before you get out your camping gear, review our list of must-shop beauty deals. The list includes gifts with purchase, 24-hour sales, and more! Just remember to pass this link along to your friends, so they know what to get you this season, and check out our list of Cyber Monday sales [1], too. Start your holiday shopping off right with the discounts below (some you can even shop from the safety of your home).
Ahava [2]: From Nov. 27 to Dec. 2, you'll get 40 percent off sitewide. You can also get a hand cream gift set for $18 (originally $42).
Alba Botanica [3]: When you enter the code ALBATHANKYOU, you can get a buy two, get one free deal.
Alterna [4]: Get the 3 Steps to Flawless Hair Kit with shampoo, conditioner, and CC cream for only $10 (originally $26) at Sephora only.
Avalon Organics [5]: Get 20 percent off your entire cart when you enter the discount code AVALONTHANKS.
BareMinerals [6]: At Ulta stores only, you can find two exclusive BareMinerals Kits for just $10 (originally $44).
Bath & Body Works [7]: Spend $40 to get a limited-edition tote filled with the brand's bestsellers for just $20.
Blowpro [8]: Get 25 percent off you shopping cart with the code BLOWPROTHANKS.
The Body Shop [9]: With every purchase of $30 or more, you can get a Community Fair Trade tote filled with products.
Benefit [10]: Purchase a set of three lipsticks for only $18 in Ulta stores.
Bliss [11]: Save 20 percent on full-size bottles of Elemis and Remede products.
Bobbi Brown [12]: Get a free full-size mascara and mini makeup remover with any purchase.
Butter London [13]: You can get the special Fashion Size Duo With Slapper and Knackered polishes for just $10. On the site, you'll also be able to get 20 percent off and 50 percent off all last-call items. Just use the code CYBER2013.
Cargo [14]: Get 50 percent off limited-edition Let's Meet in Paris Mini Lip Gloss Kits at Ulta.
Chantecaille [15]: Get a free Tiger in the Wild palette when you spend $225.
Clarisonic [16]: Pick up the new Mia First for only $99 from Nov. 26 to Dec. 5 as well as on Dec. 9, Dec. 26, and Jan. 5.
C.O. Bigelow [17]: Save 25 percent online if you type in the discount code TURKEY1838.
See more Black Friday beauty steals when you keep reading.
Decléor [18]: From 9 a.m. to noon, you can get 40 percent off and free shipping when you buy $75. Just enter the code THREEHOURS. The rest of the day you'll still get 30 percent off a $75 purchase with the code SPECIAL30.
Desert Essence [19]: Buy $25 of product, and get free shipping, plus you'll get 30 percent off your order no matter how much you spend.
Dr. Brandt [20]: You'll get 40 percent off your purchase from midnight on Nov. 27 to midnight on Nov. 29.
Drybar [21]: Joy to the Hair gift certificates are on sale for $40 (originally $50). Each coaster can be redeemed for one blowout and a scalp massage.
Fekkai [22]: Get 20 percent off the site, free shipping, and a full-size product with purchase. You can also get this deal before Black Friday by visiting Fekkai's Facebook page [23].
Fresh [24]: Head to any Fresh store to get a free Life Rollerball with a purchase of $100 or more.
Go Smile [25]: Buy the Smile Whitening Light System for only $69 (originally $129).
H2O+ [26]: With any purchase of $100 or more, you'll get $25 off. Plus, receive a miniature Sea Salt Skin Smoother when you shop from 6 to 10 a.m.
John Masters Organics [27]: Get a 25 percent discount on the entire site with the code HOLIDAY13.
Lorac [28]: Get the Pewter eye shadow plus a waterproof eyeliner for just $10 at Sephora.com and JCPenney.
MAC Cosmetics [29]: Visit the Macy's counter or website to get the new matte black lipstick Hautecore.
Make Up For Ever [30]: Get two full-size Aqua Shadows for $10 at Sephora.
Manna Kadar Cosmetics [31]: Enter the code MANNAB150, and get 50 percent off the entire site.
Miss Jessie's [32]: The entire site is 40 percent off.
Nordstrom [33]: If you shop at a Nordstrom store and spend $150 on women's fragrance, you can get a snow globe gift with purchase.
Nourish Organic [34]: Nourish is painting Black Friday green with 50 percent off all its products. Just type in GREEN50.
Ole Henriksen [35]: The Clean Sweep Kit, which includes the African Red Tea Foaming Cleanser and the Truth to Go Wipes, will be on sale for $10 (originally $16) on Black Friday only.
OPI [36]: The special four-piece polish set Cheers to the Holidays will only be $8 on Black Friday at Ulta stores.
Ouidad [37]: On Black Friday, you can get 20 percent off all orders and an extra 5 percent off if you spend $60.
Pangea Organics [38]: All items are buy one, get one free. Plus, you'll get free shipping if you spend more than $100.
Pearl [39]: Pearl Ionic Teeth Whitening System is 40 percent off on Black Friday.
Peter Thomas Roth [40]: The entire site is 20 percent off on Friday, Nov. 29.
Philosophy [41]: Get the limited-edition holiday scents of the 3-in-1 Shampoo, Shower Gel, and Bubble Bath for only $10 (originally $17) in Ulta stores.
Prescriptives [42]: Shop this brand on Black Friday to get a special seven-piece gift set and free shipping with your purchase.
Red Carpet Manicure [43]: In Ulta stores, get the Red Carpet Manicure Pro 45 Starter Kit for $50 (originally $80).
Scotch Naturals [44]: You can get the Detox Package for 25 percent less using the code BLACKFRIDAY.
StriVectin [45]: You'll receive a four-piece gift with purchase that includes samples of the brand's top antiaging sellers and a cosmetics bag free with any purchase of $89 or more. Use the code TREATX4.
Tanda [46]: You can finally try out the LED devices from Tanda, since they're 40 percent off.
Tria [47]: Save 20 percent on deluxe kits and pairs on Black Friday and Cyber Monday.
Ulta [48]: Get the Starry Lights Light-Up Blockbuster kit for just $17 (originally a $200 value).
Urban Decay [49]: Purchase a six-shade Revolution Lipstick set for $50 (originally $132), or get a special travel set with setting spray, mascara, shadow primer, and pencils for just $35 (originally $72).
Vapour Organic Beauty [50]: With the code BLACKFRIDAY13, you'll get 30 percent off your shopping cart.
Weleda [51]: Enter the code FRIDAY to get 25 percent off your shopping cart.
Yes To [52]: Get 40 percent off everything on the site for 24 hours only.
Zoya [53]: Get a 12-polish gift set and free shipping with a purchase of $72 or more using the code DREAMBIG.
Note: please check with retailers prior to shopping to verify deals.