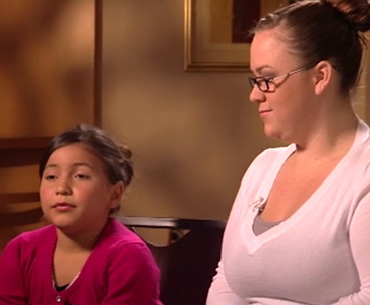 For the past few weeks, the Internet has been abuzz with stories of the so-called Botox mom — aka Kerry Campbell, the San Francisco mother who claims to be injecting her 8-year-old daughter, Britney Campbell, with Botox.
We first heard of the Campbells in March, and while some of the details have remained a little sketchy since then, it turns out as the San Francisco Chronicle discovered, Kerry might not even be who she says she is, with ABC News reporting that Britney (if that's even her name) has been taken away from her mom. To see a timeline of events, just keep reading.
March 23
British tabloid The Sun reports that Kerry, a supposed licensed esthetician who is allegedly from the UK, had been injecting her daughter with Botox and giving her "virgin" waxes in preparation for kiddie beauty pageants. We smelled a hoax, as a search for a Kerry Campbell living and working in the San Francisco area yielded no results.
May 6
An eerily similar story pops up in The Sun a few weeks later. But this time, the British mom is named Sharon Evans, is currently living in San Diego, and is not just injecting her 7-year-old daughter, Bree, with Botox, but giving her eyebrow tattoos, as well. This leads Jezebel to note the number of odd similarities between the stories.
May 12
The Campbell story picks up momentum, as ABC's Good Morning America talks to the mother and daughter duo of Kerry and Britney (who strangely, at this point, wouldn't give out their last name). "We were getting into the pageants," Kerry told the news outlet. "I knew she was complaining about her face, having wrinkles, and things like that. When I brought it up to Britney she was all for it." It's also interesting to note that the allegedly British Kerry does not appear to have an accent.
May 12-13
Later that day and into the next day, outrage sparks regarding the potential emotional and psychological ramifications of childhood Botox, prompting Kerry to be investigated by the San Francisco Human Services Agency.
May 16
ABC News reports that Kerry had lost custody of her daughter over the weekend, although some sleuthing by the San Francisco Chronicle reveals the mother's name isn't Kerry Campbell in the first place, and the woman doesn't even reside in San Francisco. Trent Rhorer of San Francisco Human Services told the paper that the agency has "completed our investigation, and we are no longer involved in the case." He declined to offer further information, noting juvenile confidentiality laws.
May 18
The Sun, who initially broke the story, has now interviewed Kerry about the recent string of events. "I cannot put into words the remorse I feel," Kerry told the publication, adding, "I will not use Botox on her ever again." She further explained, "I honestly felt I was helping her. I regret doing it and remain committed to being a good mother and being reunited with my daughter." As for little Britney, word is that she's staying with relatives, and her mom has been banned from contacting her until an investigation into the matter is over.
Obviously there's more to be told with this story, particularly when the majority of it just doesn't seem to add up. How much do you think this story is a hoax, and how much bears any resemblance to the truth? Chime in at the comments below and tell us what you think.