Bridal Beauty: Wedding Lipstick and Blush Ideas
Bridal Makeup: Choosing a Flattering Lip and Cheek Color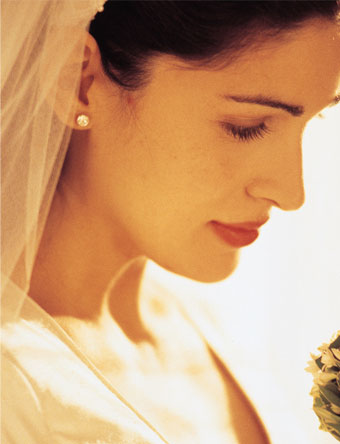 "For brides, I think one of the most important things is to define the eye without it looking too heavy, and to also define the lips and the cheeks," says Stacy Pearson-Gleason, Becca Cosmetics' national makeup artist. Be sure to check out a few of her tips for keeping wedding foundation long-wearing, but for some great advice on wedding-day cheek and lip color, just keep reading.
Layer to create last-all-day lips: First, create a base by lining the lips, following up with a highly pigmented, water-resistant lip color, like the brand's Beach Tint ($25). Bonus: the tint can also be used on the cheeks.
Gloss it up: For extra splash of color, top the lips off with a gloss. For longer-wearing results, choose a product that's not too balmy and has plenty of pigment. Pearson-Gleason recommends Glossy lip tint ($23) in Sangria, a strawberry pink.
Picking a color for the cheeks and lips: While it all depends on a woman's skin tone, Pearson-Gleason says she usually starts by asking the bride whether she has a preference for pink or neutral. When in doubt, "You can [always] do a dusty rose on the lips and cheek or a peachy pink, which goes nicely with most skin tones," she explains. Pearson-Gleason recommends Beach Tint in Watermelon, a flattering bright pink.