Broadway Nails Nail Wraps Review
We Try More Stick-On Nail Wraps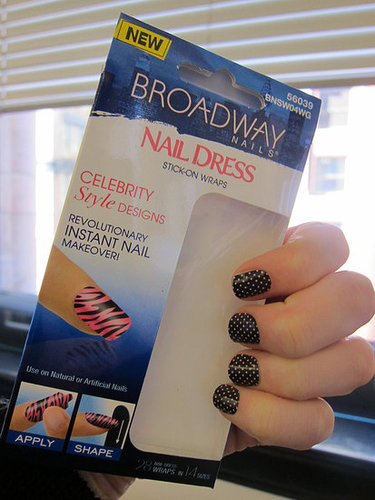 Here's the picture, and here's the full review.

Despite writing about beauty for a living, I hardly ever have manicured nails. I like to think this is me challenging rigid patriarchal grooming standards, but it's really more about finding the time to let polish dry for an hour. Any shortcut to better-looking hands, therefore, is worth a try in my book. This past weekend, I came across Broadway Nails Nail Dress wraps (about $6) and had to have a look.

Similar to Nail Fraud, these wraps are easy to apply. You just stick them on, then file off the excess. The package includes 28 wraps in 14 sizes, but unfortunately, most were slightly too wide or too slim to fit my nails. (The wraps can be trimmed, but since the whole point of this exercise is for lazy me to conserve time, I passed.) Once on, the wraps' staying power was decent, but I would recommend using a different pattern; the polka-dot pattern screamed, "I'm wearing stickers on my digits." For a quick and easy way to cover nails, these get the job done. But for an actual manicure, I'm afraid there are no shortcuts to a polished look.