Bronzer For All Skin Tones
Bronzer Tips For Every Skin Tone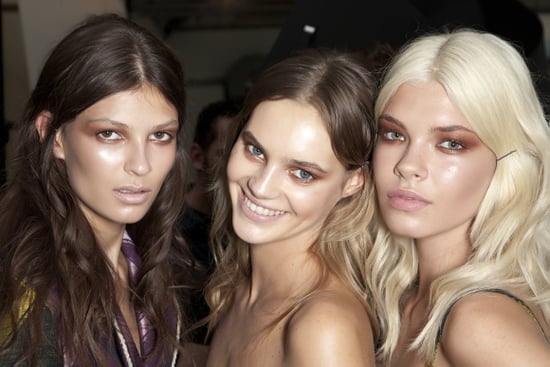 Bronzer may be a Summer essential, but every skin tone should look for something different. From alabaster skin to the more tawny tones, we've got tips to finding your perfect fit.
For Fair Skin Tones
If you're on the paler side, bronzers can often overwhelm your complexion. Don't worry, though; you don't have to look like an Oompa Loompa to get a sun-kissed glow.
One step up: The key to finding your perfect shade is to go just about one to two shades darker than your natural complexion. Any darker than that and you're crossing into the unnatural zone.
Hue knew? Fair-complected women look lovely in sheer beige-browns or in honey-toned bronzers with hints of peach or shimmery pink. The point is to add a touch of golden warmth that seamlessly blends into your skin. Better yet? Use a mosaic-style bronzer that contains several light-reflecting pigments for a customized fit.
To shop bronzers for fair complexions, click here, and get more tips for medium and dark skin tones when you keep reading.
For Medium Skin Tones
Do you have medium-toned skin? Do you happen to be shopping around for a bronzer, but aren't exactly sure what kind to pick? Women who lie somewhere between fair and dark have different needs. To get started, the golden rule is to only go one to two shades darker than your natural skin tone.
Color options: If you have olive undertones, look for shades of soft copper, bronze, brownish-pink, or sheer amber. For yellow undertones, go with tan, gold, soft coral, or shimmery peach. And even if you have some coolness to your skin, the goal is still to get a warm, sun-kissed glow. Use a peachy- or rosy-toned bronzer for a brightening touch.
Avoid: Light pinks and too-soft peaches, which have a tendency to wash out medium-toned skin.
To get more tips and shop bronzers for medium complexions, click here.
For Deep Skin Tones
Bronzer is considered a safe way to "sun," and it gives the complexion an instant look of warmth. But for those who have a deeper skin tone, have you ever felt that instead of leaving you with a sun-kissed glow, your bronzer disappears or otherwise falls a little flat? All it takes is a few tricks and the right color choice, and you can make a bronzer work for you.
Picking your shade: Too light of a color can look ashy, but too dark of a color can look muddy. The best bronzer will be anywhere from one to two shades darker than your natural complexion — one that's not wimpy on pigment. Keep your eyes peeled for descriptors like dark, deep, or higher-numbered labels. As far as tones go, bronzed, golden, amber, tawny, or copper hues are typically the most flattering.
The formulation: If you have normal to oily skin, then try a powder formulation. For dry skin, a cream or gel bronzer is probably the way to go.
To get more tips and shop bronzers for dark complexions, click here.