California-Scented Candle Launches, With Ideas For More State Wax
What 15 States Would Smell Like If They Were Candles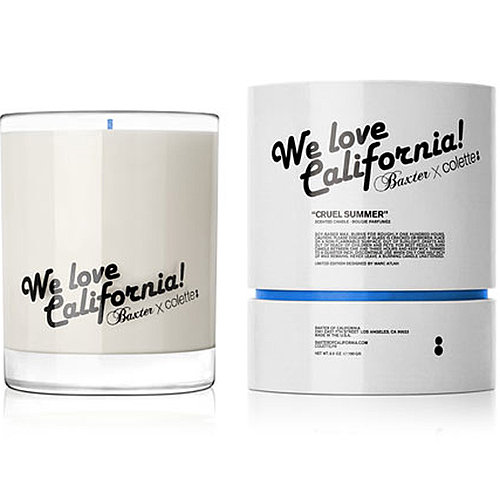 Baxter of California and original Parisian cool-girl boutique Colette have teamed up to give California its very own honorary candle: Cruel Summer ($30). While it's fittingly scented with a green floral accord "inspired by the scent and ambience of California," this definitely sounds a little bit more like So Cal to this Northern California girl. But still, it got me thinking about what other states' candles would smell like. Do you have any state candle suggestions? To read my stereotype-laden ideas, just keep reading.
Mississippi: Magnolia (obviously),

hush puppies

, William Faulkner's mustache pomade, and piney woods.
New Jersey: Gardens and the angry tears of any resident who's ever watched Jersey Shore.
Florida: Sunscreen, orange groves, salt air, and a splash of Gatorade.
Minnesota: Cheese curds, ambient scent from the Abercrombie & Fitch inside the Mall of America, and a base of wood from little houses on the prairie.
Vermont: Maple candy, snowboard wax, and Cherry Garcia.
Pennsylvania: Philly cheesesteaks, Quaker Oats, and Amish pastries.
Illinois: Chicago dogs slathered in relish, Abraham Lincoln stove pipe accord, and Saint Lawrence Seaway salt.
Colorado: Rocky Mountain oysters from Coors Field, fresh air, and dust from the Continental Divide.
Canada: Rage because it's actually a country, not a state, polite disgust at tired American jokes, and utter resignation rounded out with sighing.
Georgia: Peach blossoms, chicken and waffles, and 'possum fur.
Michigan: Motor oil, Motown record wax, and fresh cherries.
Ohio: Cincinnati salt boxes, Buckeye cookies, sweet cream, and Lake Erie driftwood.
New York: Buffalo wings, big apples, and Sleepy Hollow pumpkin pie.
Texas: Yellow roses and hand-tooled leather in a base of Rio San Antonio water.
North Carolina: Carolina jasmine, Blue Ridge meltwater, and Wake Forest football jerseys.