Carol's Daughter Launches Campaign With Solange Knowles, Cassie, and Selita Ebanks
Carol's Daughter Launches Multiracial Ad Campaign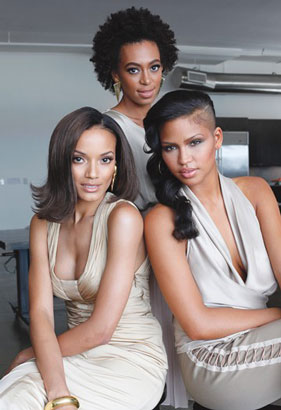 In developing its new promotional approach, Carol's Daughter took a look at the latest US Census data, which reveal that more people are checking the "other" box (or multiple boxes) when it comes to race. To reflect the diversity of the population, the beauty brand has launched a polyethnic campaign. "When I say polyethnic, I mean women who are made up of several ethnicities," the brand's Steve Stoute told WWD. "If you ask them what they are, they're going to use a lot of different words to describe themselves."
The new campaign will feature Selita Ebanks, who is of African, Indian, Irish, and Jamaican heritage; Solange Knowles, who is of African-American and French Creole descent; and Cassie, who is of Filipina and black ancestry. "Today, people are blended, and I think the three of us are a prime example," Selita explained. "Women in my family range from vanilla to the deepest chocolate."
Expect to see the models' ads out in June, along with a complete repackaging of the line rolling out by next year. Also, Mary J. Blige, who enjoyed much success with her Carol's Daughter-aligned My Life fragrance, is set to follow up with a flanker scent, My Life Blossom, slated for an August release.