Castle's Makeup Artist Talks About Where She Finds Inspiration
Castle's Makeup Artist Talks About Where She Finds Inspiration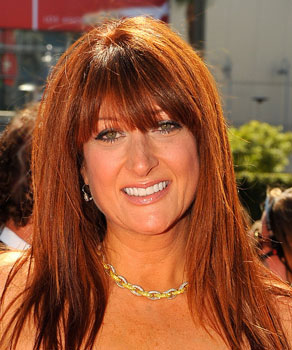 Hollywood makeup artist Debbie Zoller is a wealth of makeup information. (See more here.) Not only has she worked behind the scenes on shows like Mad Men and popular movies such as Kill Bill and The Sweetest Thing, but she's currently the makeup department head on ABC's Castle. I recently talked with Debbie about the ins and outs of her job, from the craziest looks she's done to the every day styles she creates for the characters. Find out the unusual ways in which she finds inspiration when you read more.
BellaSugar: Out of all of your episodes that you've done for Castle, what do you think the craziest makeup look or technique is that you've done?
Debbie Zoller: I think the craziest one that we did was the last episode of the first season ["A Death in the Family"] where they had a woman come in who was supposed to have had too much plastic surgery. We had to pull her really tight and we put on these prosthetic lips.
There is an actress by the name of Bree Walker, she was actually a newscaster that has these amazing lips, but I always remember thinking in the back of my mind, "I want to use that look at some point." And this was the perfect character to bring that to life. . . But, I have to say that was one of the most fun makeup looks to design because I got to pull from her and I got to pull from some other things. There is a commercial on where they have those chickens and they are getting plumped up and that always reminds me of that episode.
BellaSugar: Plumped up chickens; you never know where you get your inspiration! I know you do all sorts of crazy techniques, but then you have your main characters that have that urban city look. What do you use to get that urban vibe?
DZ: Because it takes place in New York [and] depending on the characters that come in, I'll say, "Are they uptown or are they downtown?" Then, I kind of go from there. The uptown ones wear very clean makeup; very polished and not a tremendous amount of color. It's more neutral tones, smoky brown, and a little gold or something with a little more of a shimmer. When I go to the downtown, I try and pull in more black, smoky grays, blue smoky looks, and focus a little bit more on their eyes. For uptown, I just try and focus on a very polished lip, where downtown. . . we use more gloss and things like that.