You may have dyed your hair every shade imaginable: red, brunette, blond, etc. But have you gone rainbow yet? Celebrities can't stop testing out this hot hair trend, taking on colors like navy (Nicole Richie [1]), green (Katy Perry [2]), and blue (Demi Lovato). Whether you add a sharp shade to your bangs, into your braid, or over your whole head, it's the perfect way to stand out in a crowd. So what are you waiting for? Start scrolling and get some serious Crayola hair inspiration! Then watch our video on this must-try trend [3].
— Additional reporting by Lauren Levinson and Emily Orofino
Karlie Kloss
Karlie gave fans a sneak peek [4] behind the scenes of a particularly colorful photo shoot.
Kesha
Kesha debuted ombré denim hair [5] on her Instagram shortly after hearing the heartbreaking verdict of her lawsuit [6].
Ruby Rose
Ruby revealed her new turquoise mane in this pouty selfie.
Zayn Malik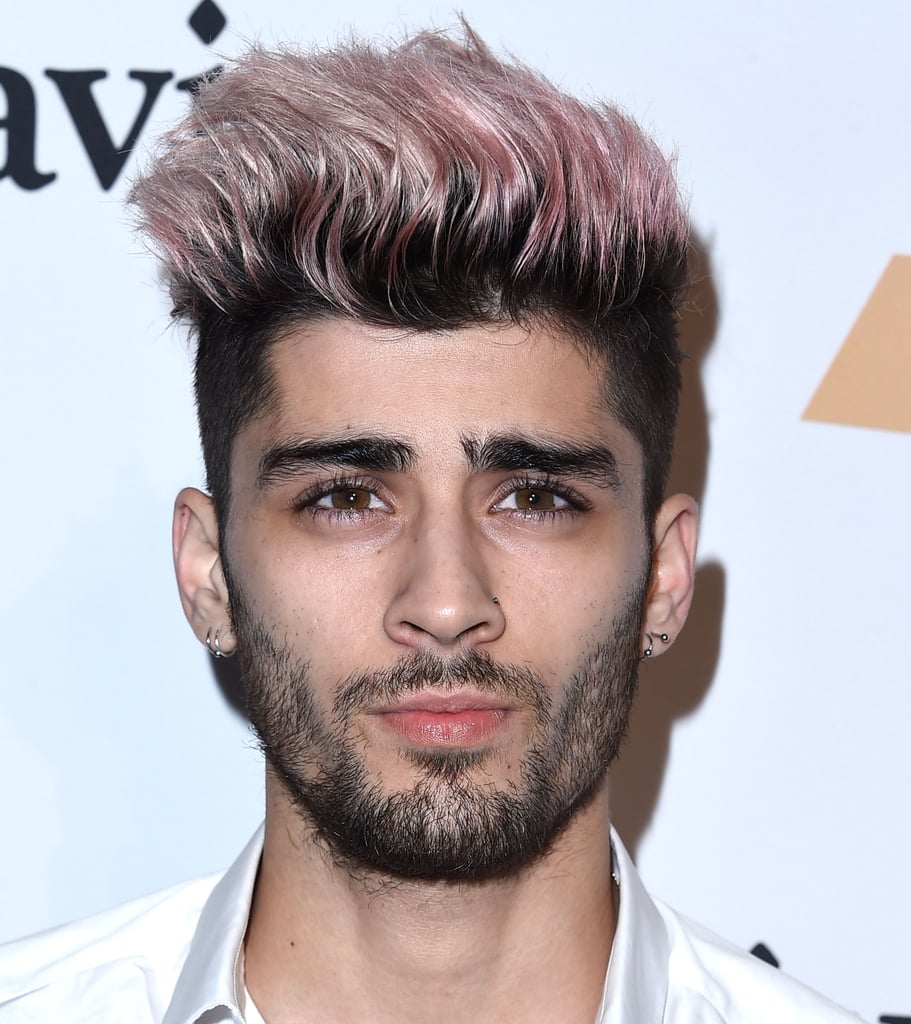 Zayn attended a pre-Grammys gala with pastel-pink dye on his bleached tips.
Nicole Richie
Nicole is known for switching up the color of her strands. She gave us a sneak peek at her new cadet blue hue on Instagram.
Joe Jonas
The singer showed off technicolor tresses in a quick selfie, using the lollipop emoji as a caption.
Tyra Banks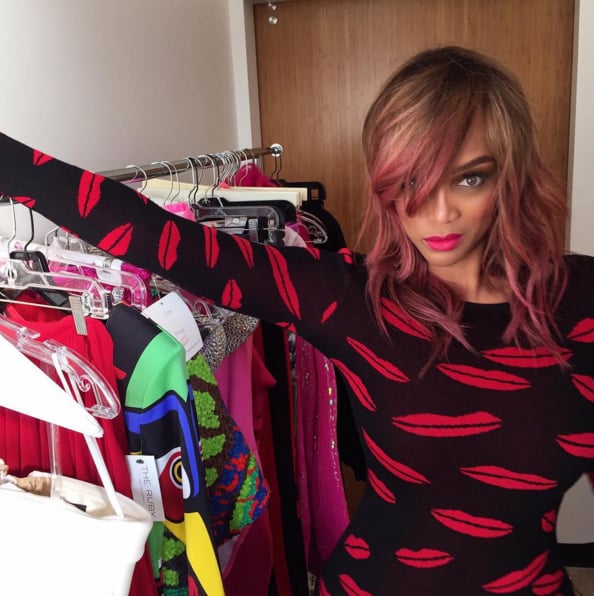 In honor of her birthday, the model added bright pink dye to the tips of her strands.
Rihanna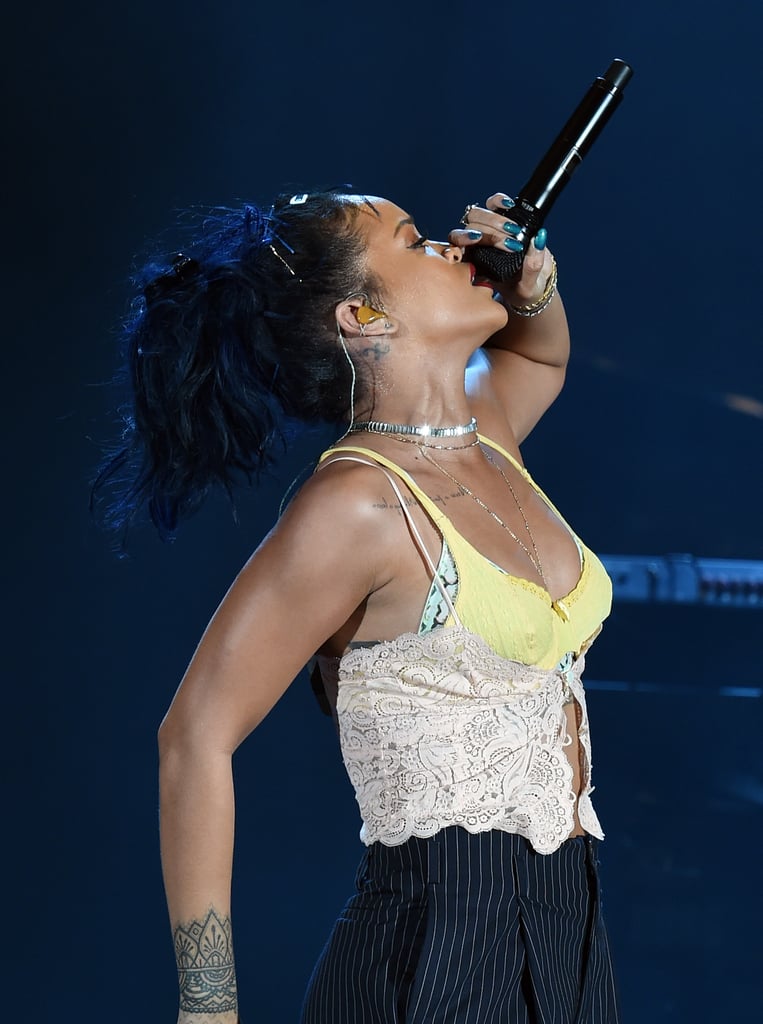 At CBS Radio's We Can Survive concert, Rihanna [7] debuted a new navy-blue hair color that could barely be spotted on stage.



Ellie Goulding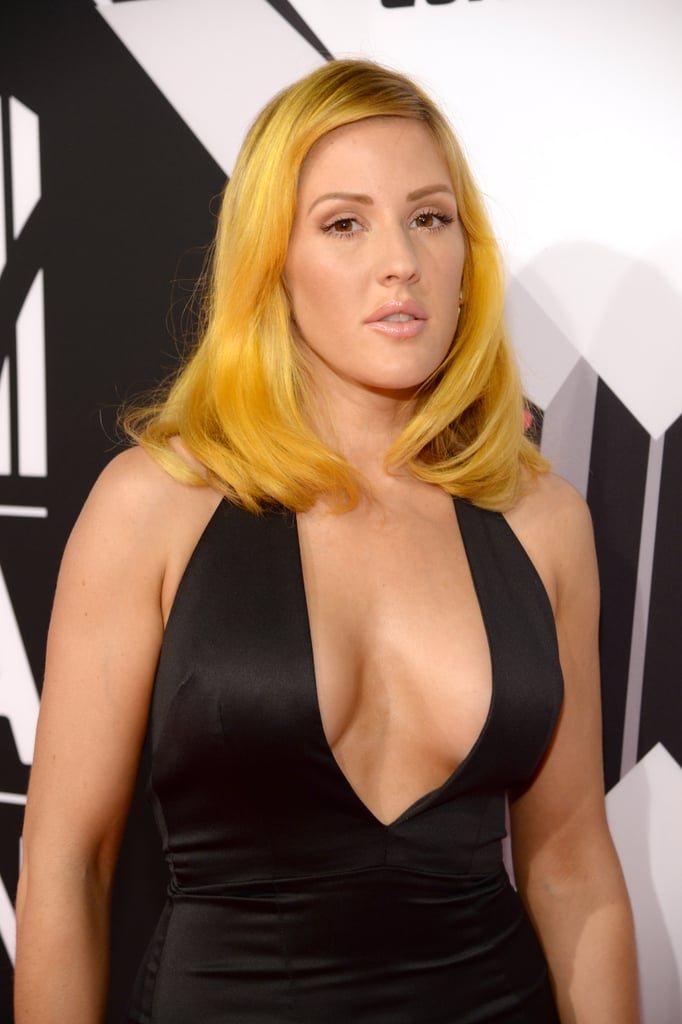 Ellie is not shy when it comes to coloring her strands. This yellow hue can't quite be considered blond, but it glowed next to the singer's tan.



Gwen Stefani
The singer performed in New York City with blue dip-dyed strands. We have a feeling this is a clip-in style, because we've seen it on her before!



Dascha Polanco
The Orange Is the New Black star debuted a peachy rose-gold hue during New York Fashion Week.



Gwen Stefani
Gwen showed off her new dip-dye hair in this fierce selfie. Breakup hair looks good on her!



Poppy Delevingne
Poppy showed off her new peach-blond shade on Instagram. "I can assure you; the carpet does not match the new drapes," she wrote.



Rebel Wilson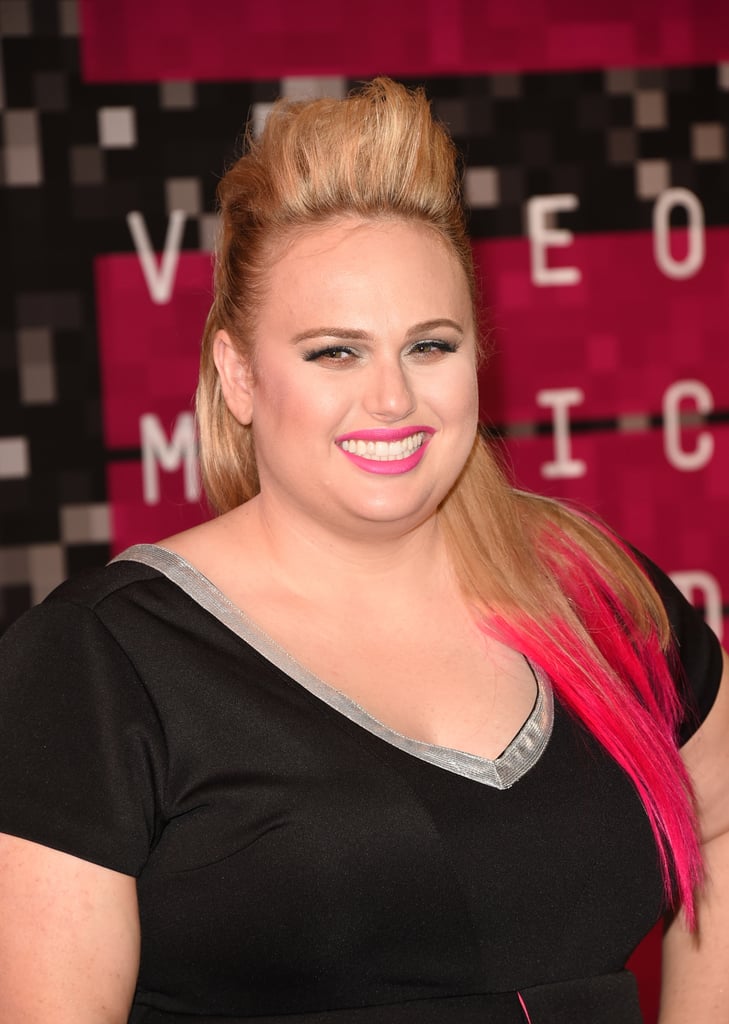 The hot-pink tips that Rebel Wilson debuted on the 2015 MTV Video Music Awards red carpet perfectly matched her lipstick. Love it!



Britney Spears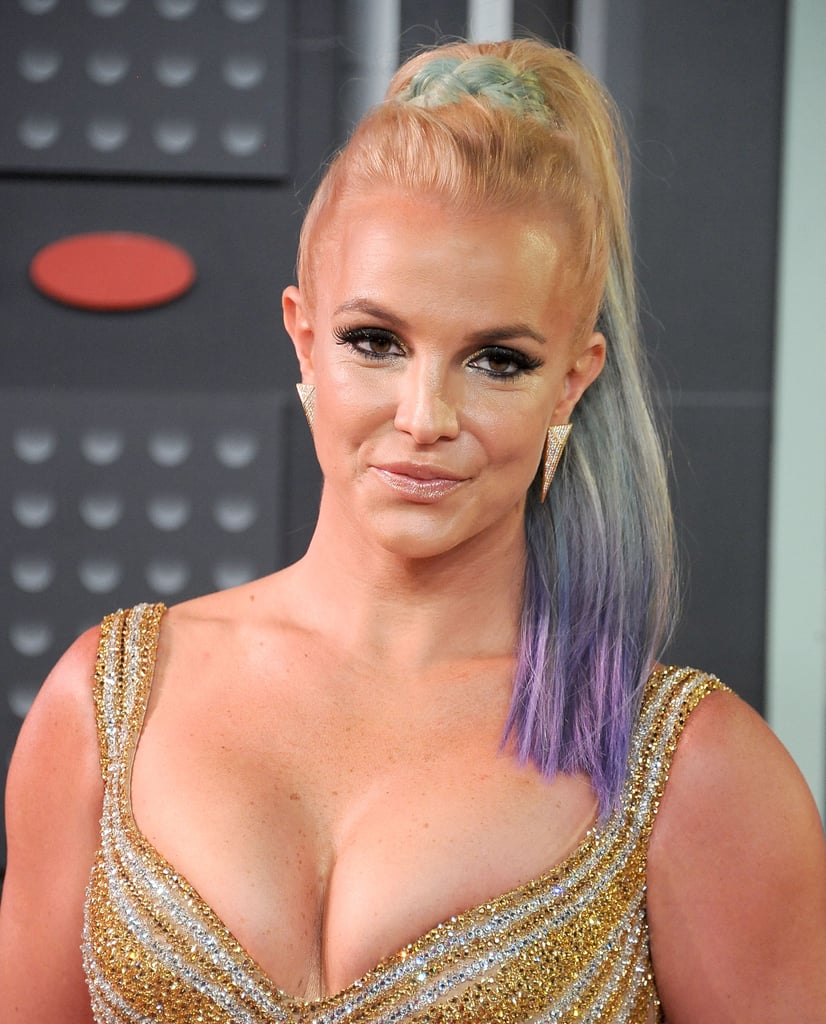 Britney's teal and lilac ponytail turned heads at the 2015 MTV Video Music Awards.



Rita Ora
Just days after Rita walked the Teen Choice Awards [8] red carpet with pink hair, the singer switched it up and added some blue to her tips.



Miley Cyrus
Miley tested out the rainbow hair trend with colorful clip-ins.



Britney Spears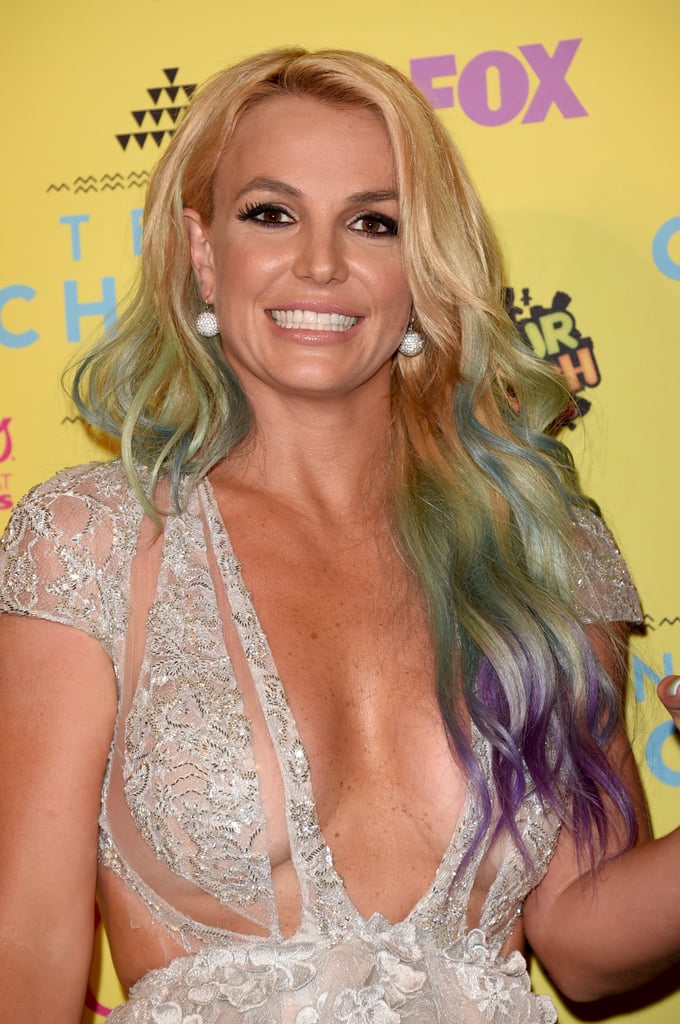 At the 2015 Teen Choice Awards, Britney hit the red carpet with mesmerizing watercolor-inspired mermaid hair. Swoon.



Kacey Musgraves
The country crooner took to Instagram to reveal dreamy lilac strands.



Rita Ora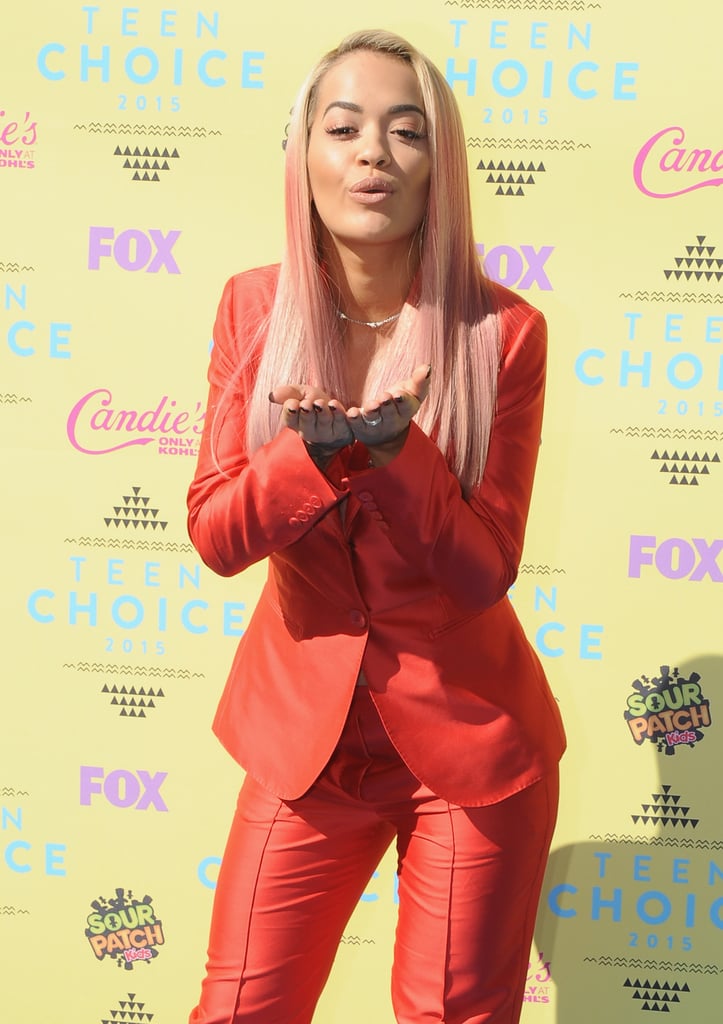 Rita showed off her sleek pink ombré hair at the 2015 Teen Choice Awards.



Raven-Symoné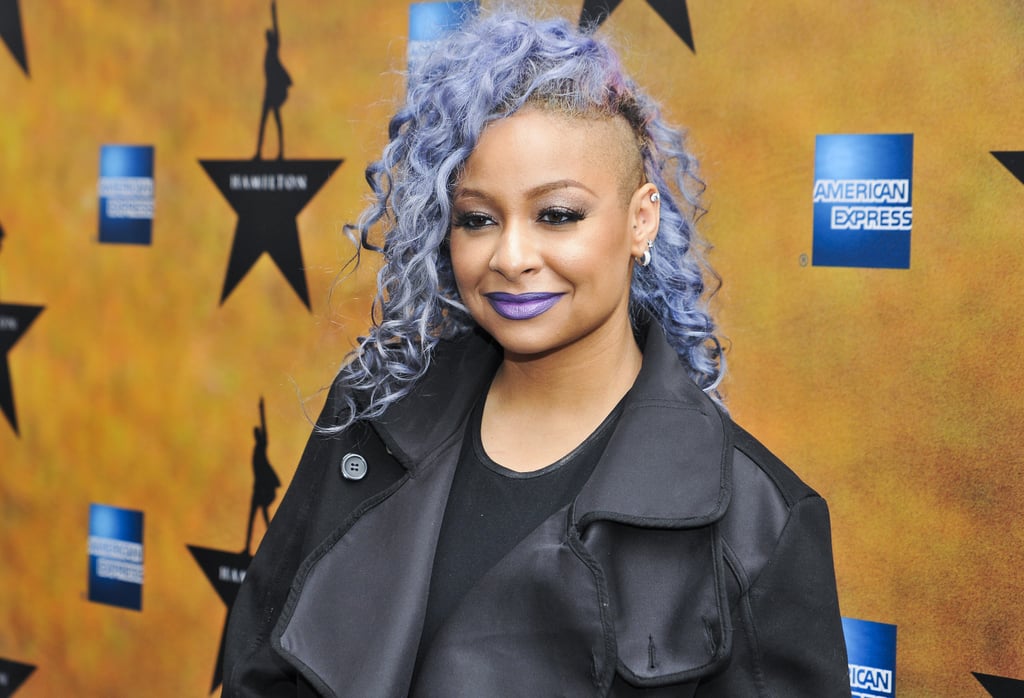 The star showed off a bold lilac style at the opening night of Broadway's Hamilton. She even matched her makeup to her new hue!



Gigi Hadid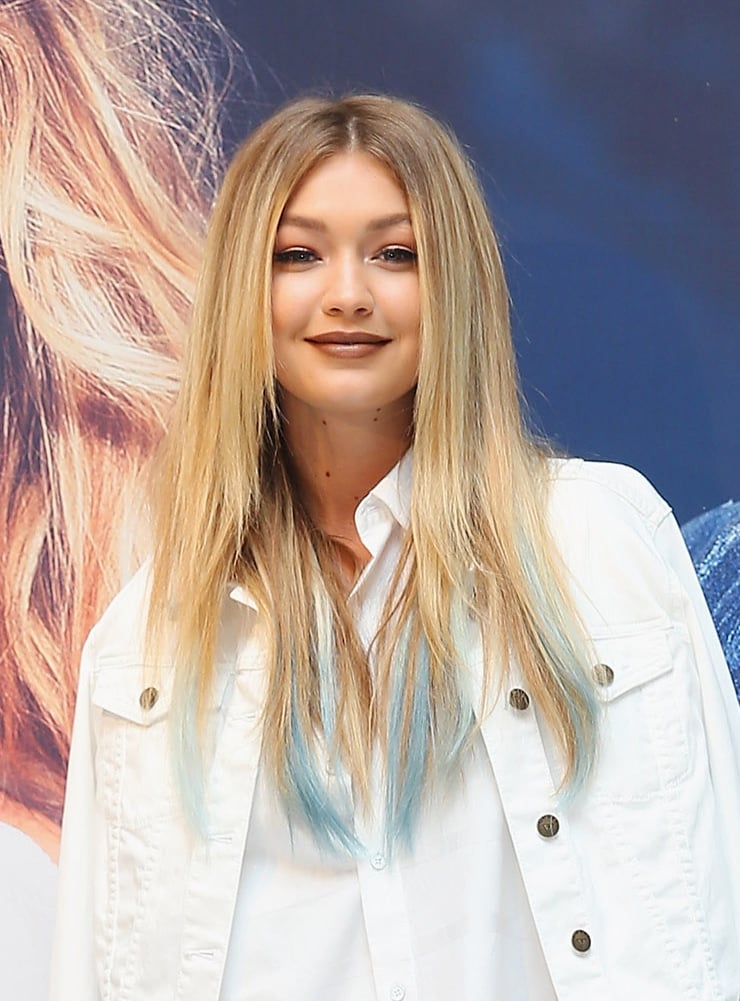 The blond bombshell appeared at an event in Australia with soft blue tips. We'd love to see her strands wavy with her new hue – she'd look like a mermaid!



Cara Delevingne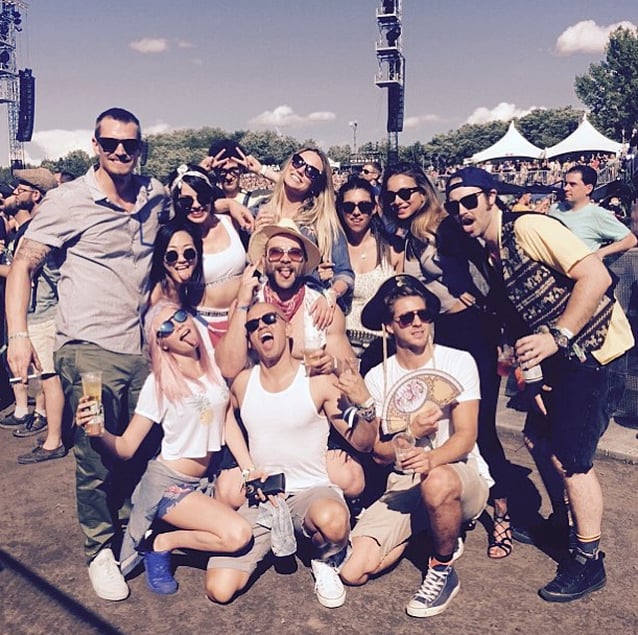 In a picture with her crew on Instagram, Cara showed off soft pink strands. Her new look turned out to be a wig, but she's proven that she can seriously rock rainbow hair!



Georgia May Jagger
After a visit to Bleach London [9], Georgia May shared a selfie showing off strands fit for a unicorn.



Kelly Ripa
Kelly's colorist, Ryan Trygstad at Sally Hershberger, created a blend of five different shades of blue to get this custom "superhero" shade.



Taraji P. Henson
Celebrity stylist Marcia Hamilton used Pravana Vivids hair color [10] to achieve Taraji's purple-to-silver rainbow shade. There are also a few blue streaks peeking out from the lower layers.



Kaley Cuoco
Kaley revealed pastel pink strands on Instagram, along with a new rosy brow shade, too. Vanessa Spaeth of Andy Le Compte Salon is responsible for the paint job.



Kesha
"Slimey" was the only thing Kesha said as she posted a snapshot of her new chartreuse strands. We have to say, the color is reminiscent of Nickelodeon slime . . .



Hilary Duff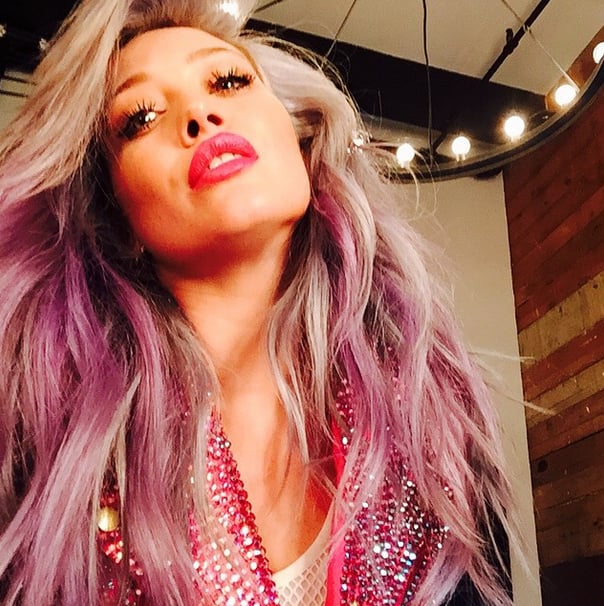 Shortly after transforming into a blue-haired mermaid goddess, Hilary switched up her strands to this gorgeous, faded fuchsia hue.



Lily Allen
In anticipation of turning 30, Lily went to colorist Alex Brownsell at Bleach [11] for a watermelon-hued dye job. Do you think it glows under black light?
Julianne Hough
Julianne dubbed this pastel pink hair color a "unicorn" shade. The hair color update comes just in time for this weekend's music festival.
Zosia Mamet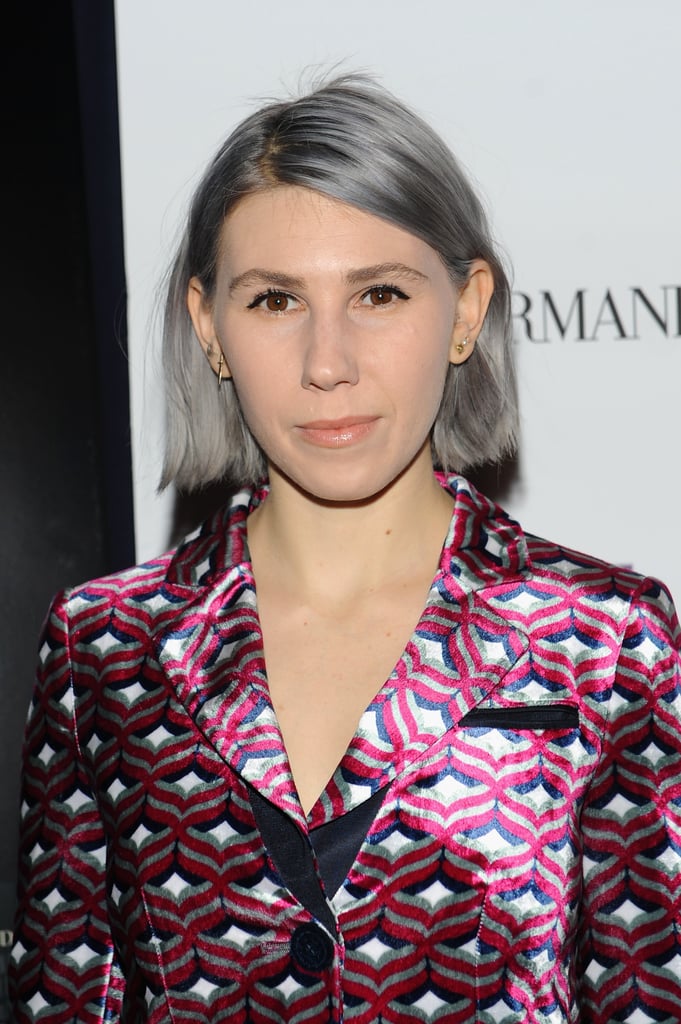 Girls star Zosia Mamet traded her platinum blond locks for silvery strands and showed off the new look at an appearance last night in New York for A Most Violent Year.
Raven-Symoné
The That's So Raven star revealed this pastel hue on Instagram with the caption "Yes, peach for the holidays . . . #unicorn #5thelement #holidaypumpkin."
Tori Spelling
Tori shared a sneak peek of her new platinum-gray dip-dye job on Instagram before debuting it on the Today show.
Kylie Jenner
Coif chameleon Kylie Jenner showed off her new teal tresses with a pensive photo on Instagram.
Nicole Richie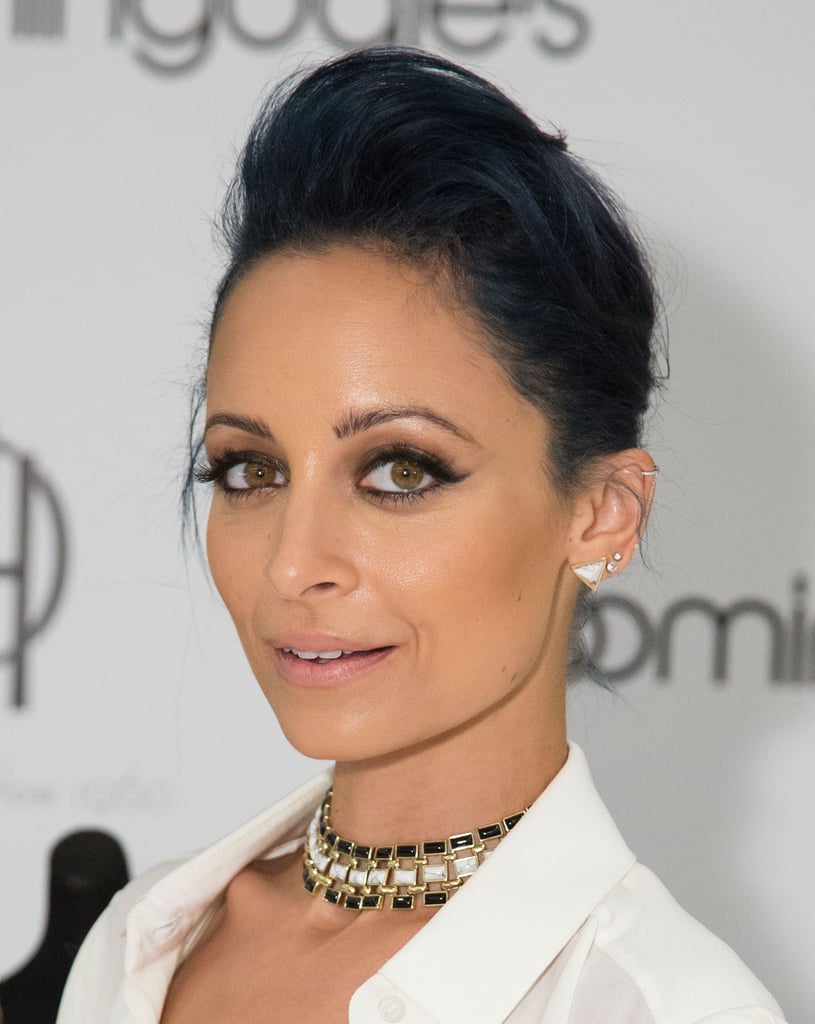 At her House of Harlow 1960 jewelry launch, Nicole's navy mane was a stark contrast to her white blouse.
Lena Dunham
Lena celebrated the Canadian segment of her book tour with a new hair color. The mint green will likely bring her good luck along the way.
Kate Hudson
To show her support for friends and family with breast cancer, Kate is wearing her pink proud this month.
Source: Instagram user katehudson [12]
Jennifer Hudson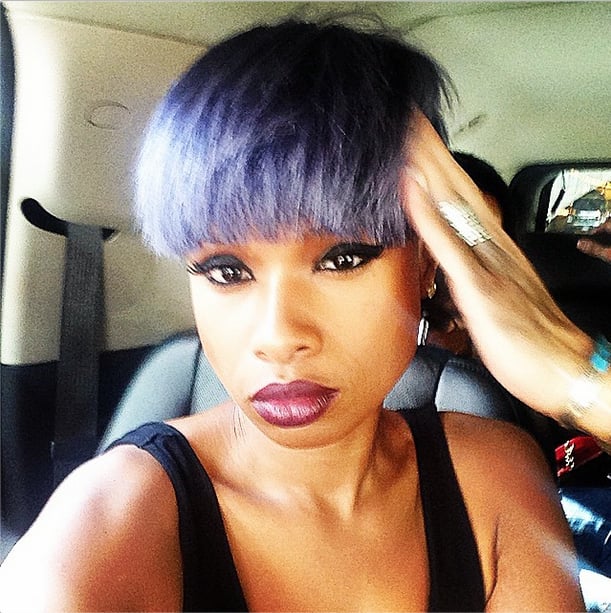 Jennifer posed with her new lilac locks for an Instagram selfie.
Source: Instagram user cesar4styles [13]
Vanessa Hudgens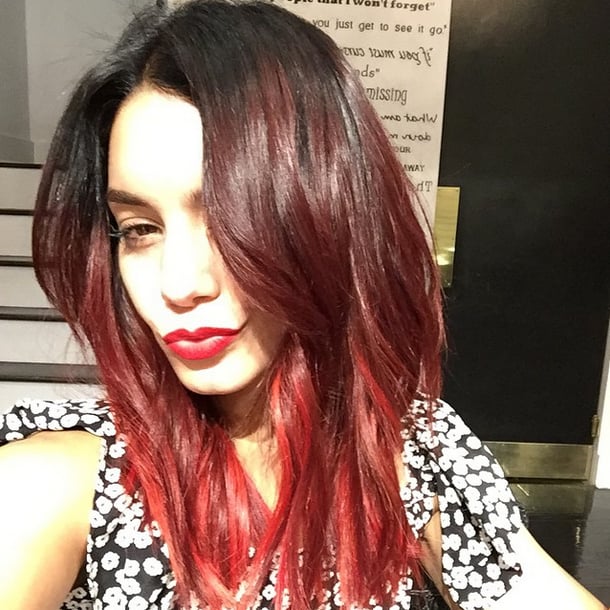 Vanessa regrammed the photo her colorist Riawna Capri posted to Instagram, claiming she dyed her hair in honor of Halloween [14].
Source: Instagram user riawnacapri [15]
Ashley Tisdale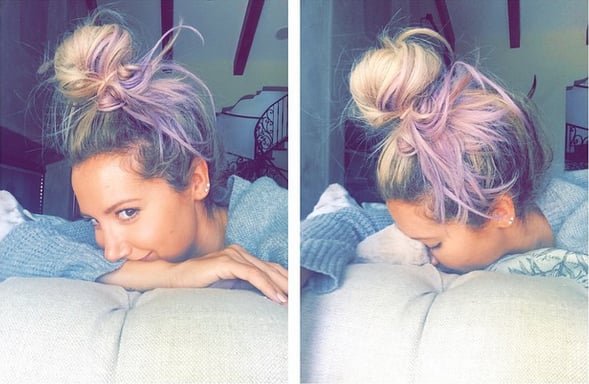 Just a few weeks after flaunting blond hair at her wedding [16], Ashley coyly showed off new lavender locks on her Instagram account.
Source: Instagram user ashleytisdale [17]
Kylie Jenner
Kylie's ever-changing locks have yet again switched gears — she added a sea blue ombré to her long extensions.
Katy Perry
Katy showed off her hot-pink hair and her sense of humor by comparing this new dye job to Animal from The Muppet Show.
Rita Ora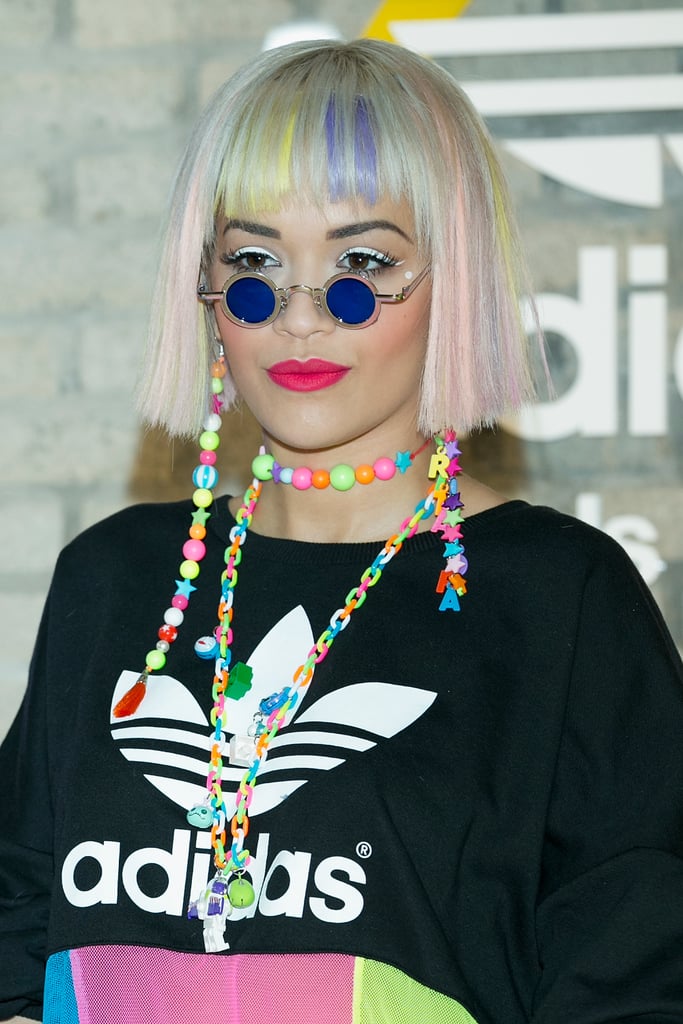 Rita attended the launch of her new line for Adidas in South Korea rocking pastel rainbow accents in her platinum locks.
Jemima Kirke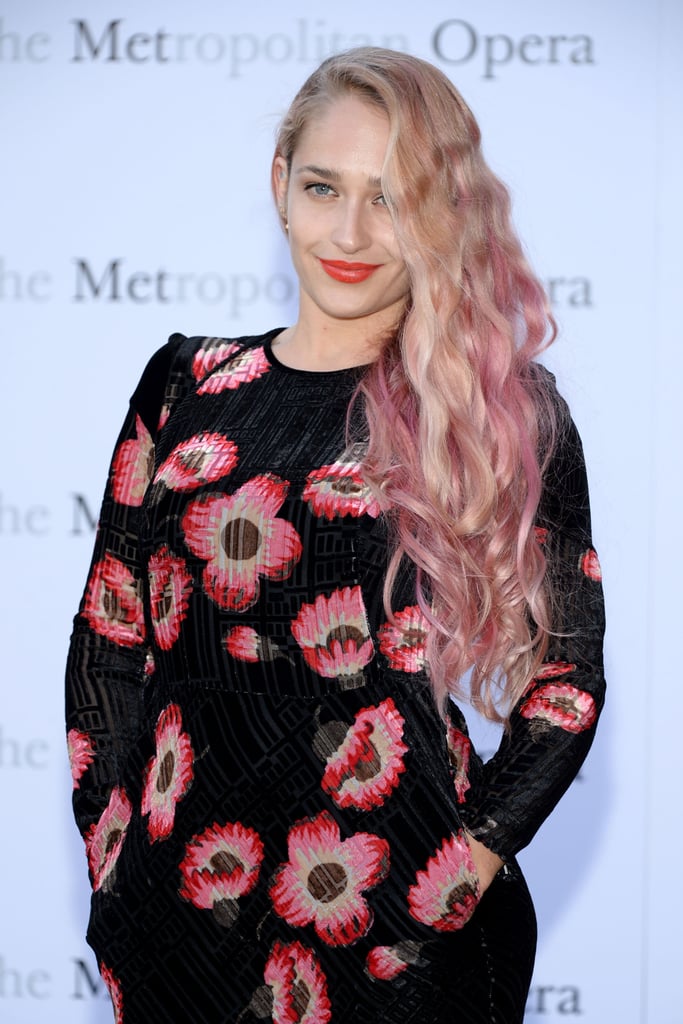 Girls star Jemima rocked strawberry strands to opening night at the Metropolitan Opera.
Dascha Polanco
Orange Is the New Black's Dascha Polanco attended Spring 2015 New York Fashion Week with absolutely stunning gray and lilac ombré locks.
Kesha
This Summer, Kesha has tried just about every hair color under the sun — blue, pink, purple, turquoise, green — and now she's combining them all in a rainbow hue. But the question is: how long will this mermaid mulitihue look last?
Anna Paquin
Now that Anna's no longer baring fangs on True Blood, she headed to Aura Friedman at Sally Hershberger [18] to live out her mermaid-hair fantasies.
Source: Twitter user AnnaPaquin [19]
Debby Ryan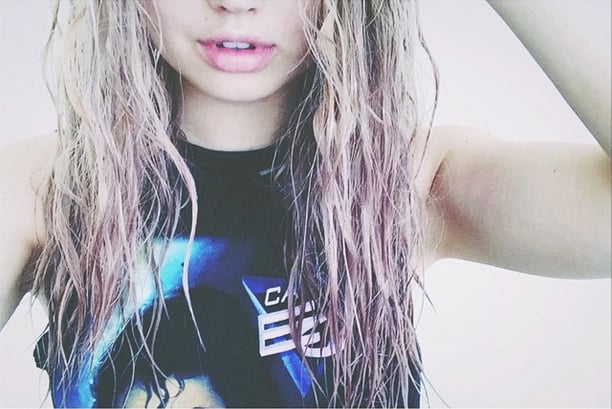 Disney star Debby took to Instagram to show the world her hair-dyeing experiment with grape Kool-Aid.
Source: Instagram user debbyryan [20]
Demi Lovato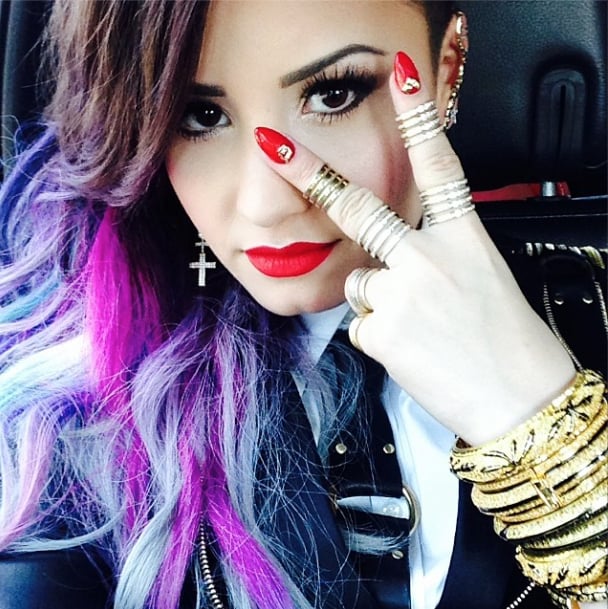 Demi has become synonymous with hot hair hues [21]. Her latest dye 'do: 50 shades of purple. She revealed the look on Instagram with the hashtag "ReallyDontCare."
Source: Instagram user ddlovato [22]
Raven-Symoné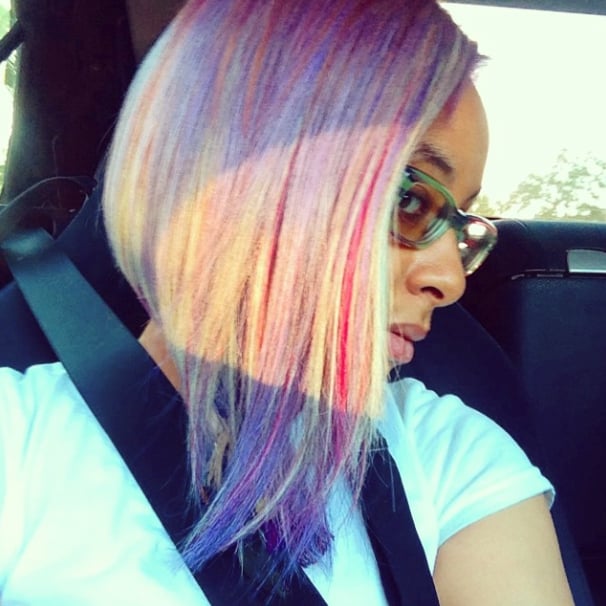 Raven hit the all-in-one warm-hues combo when she mixed pink, purple, and red tones in her lob.
Source: Instagram user ravensymonecp [23]
Demi Lovato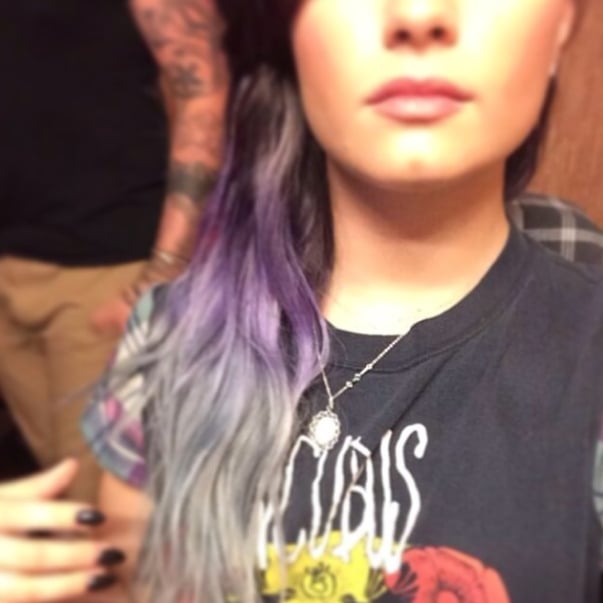 Here's another recent look from Demi: she showed how to fade brunette into purple into gray.
Source: Instagram user ddlovato [24]
Kylie Jenner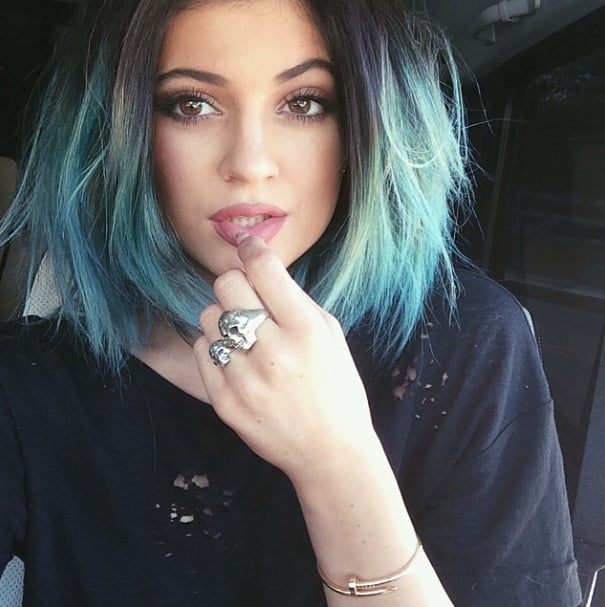 We were convinced Kylie would be Kim Kardashian [25]'s "something blue" when she revealed this aqua hair on Instagram before the wedding [26] of the year!
Source: Instagram user kyliejenner [27]
Vanessa Hudgens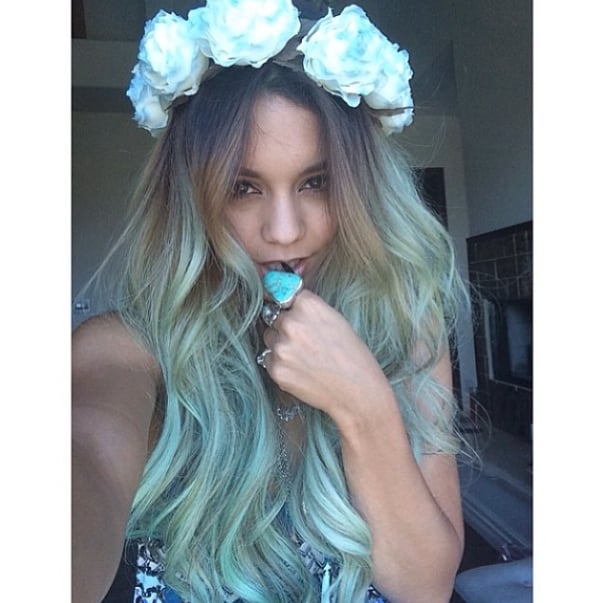 Festival season means floral hair crowns and colorful tresses. Vanessa played that out perfectly when she rocked this mermaid look.
Source: Instagram user vanessahudgens [28]
Lily Allen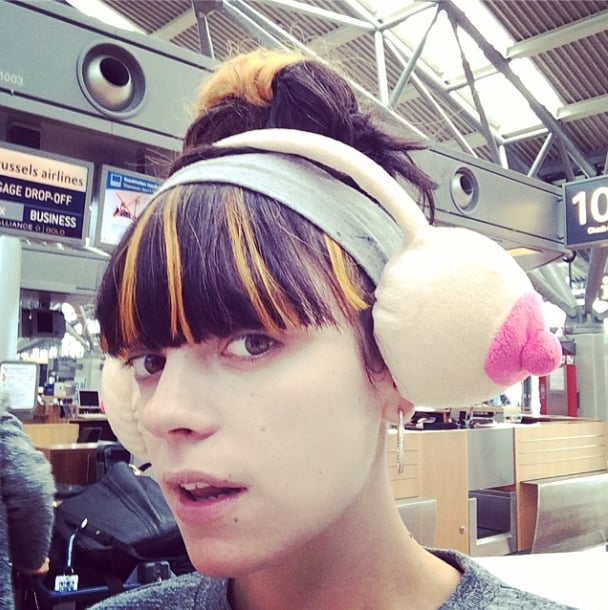 Orange striped bangs looked totally unexpected on Lily.
Source: Instagram user lilyallen [29]
Rumer Willis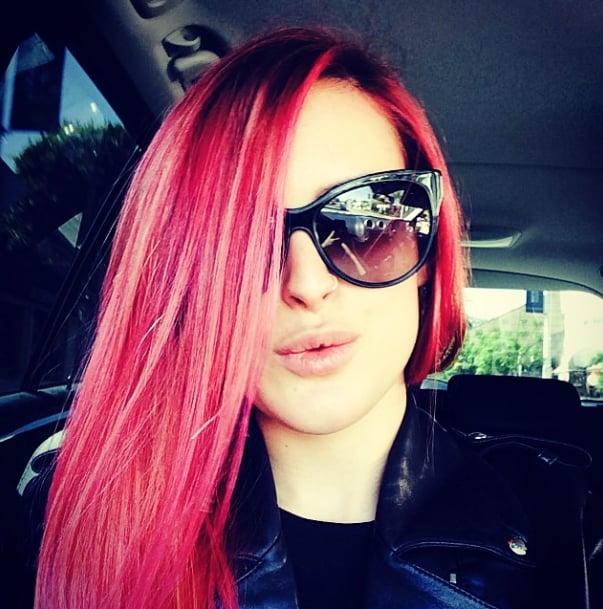 Why wear hot pink lips if you can sport the color in your hair instead? Rumer had the right idea with this one.
Source: Instagram user ruelarue [30]
Barbara Palvin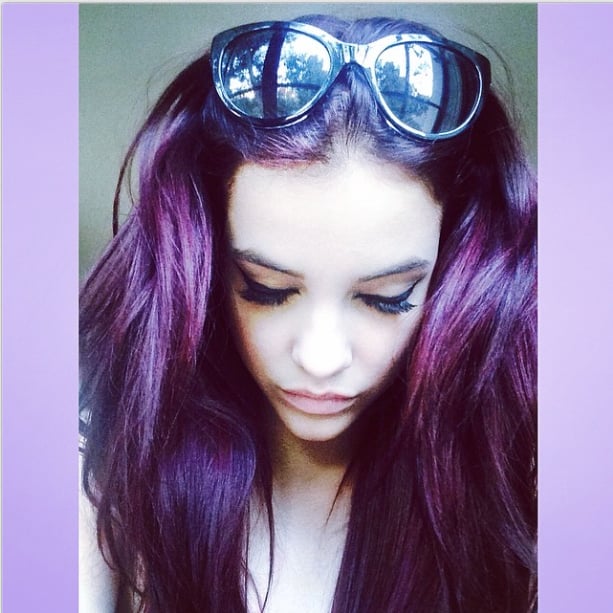 The model showed off dreamy, textured purple locks with a hazy filter.
Source: Instagram user realbarbarapalvin [31]
Rihanna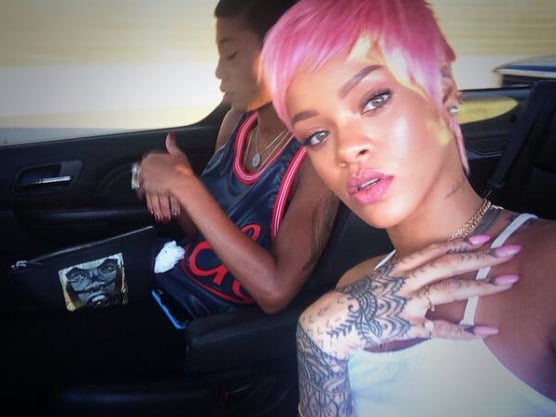 Rihanna [32] was definitely thinking pink when she wore a pixie and nails in the matching hue.
Source: Twitter user Rihanna [33]
Rita Ora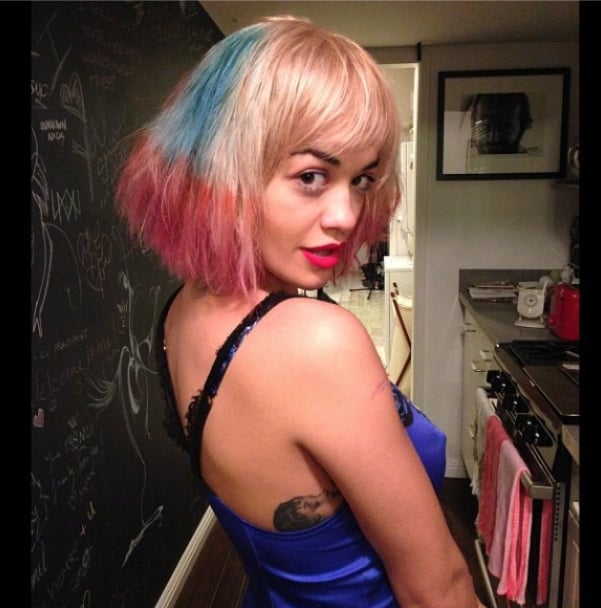 Rita offered the ideal July 4 idea: firecracker-popsicle-colored hair.
Source: Instagram user andylecomptesalon [34]
Demi Lovato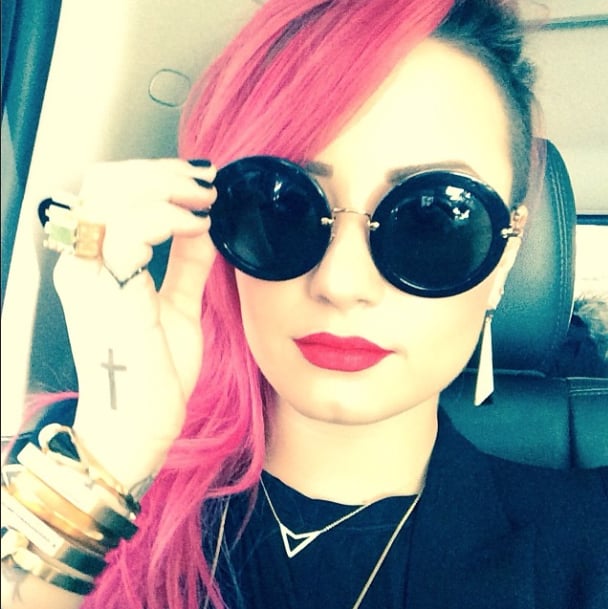 Demi did it again — this time with fierce pink hair and a bold lip.
Source: Instagram user ddlovato [35]
Kesha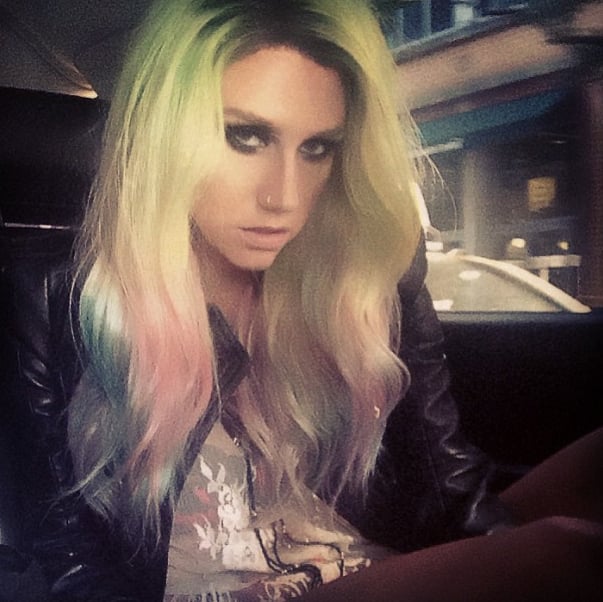 The singer juxtaposed pastel hair with dark, heavy eyeliner.
Source: Instagram user iiswhoiis [36]
Lady Gaga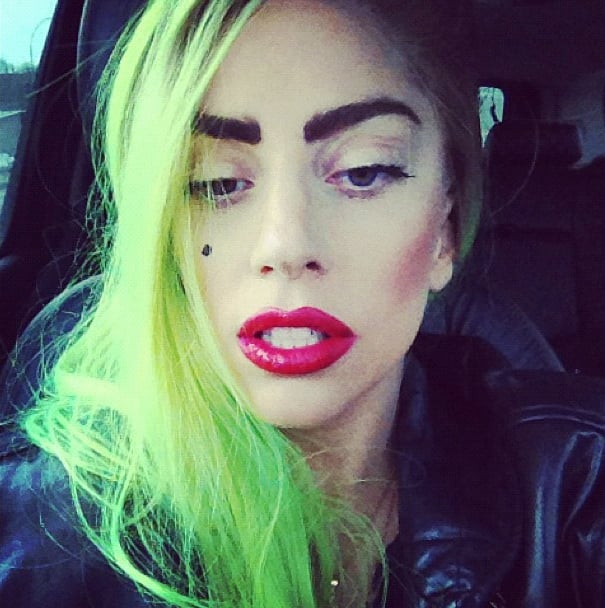 Of course Lady Gaga [37] took the neon route on the hair-color spectrum.
Source: Instagram user Lady Gaga [38]
Alexa Chung
Alexa Chung combined two top trends at once: braids [39] and rainbow hair.
Source: Instagram user chungalexa [40]
Lauren Conrad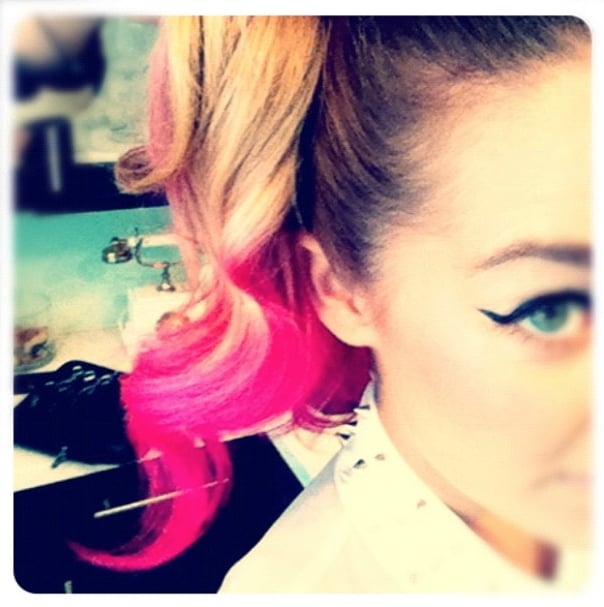 LC caught on to the color craze when she dyed her blond tips bright pink.
Source: Instagram user laurenconrad [41]
Hayden Panettiere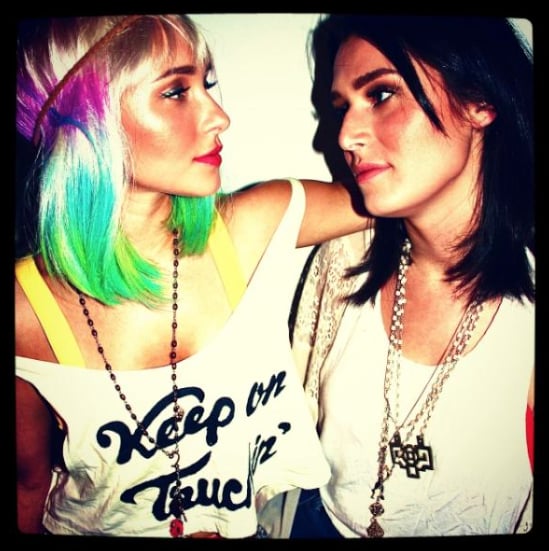 Hayden captured the rainbow in her hair in this 2012 Twitter photo and captioned it, "Me and my BF Allie finally gettin some play time."
Source: Twitter user Hayden Panettiere [42]
Katy Perry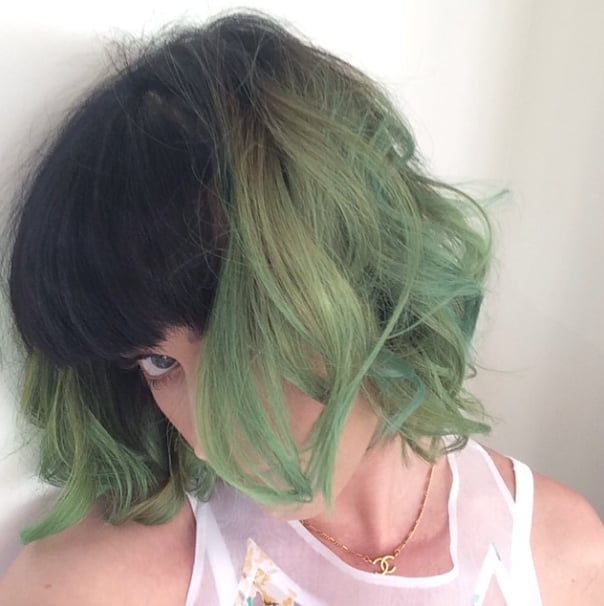 Katy added a sea-green pigment to her waves.
Source: Instagram user katyperry [43]
Nicole Richie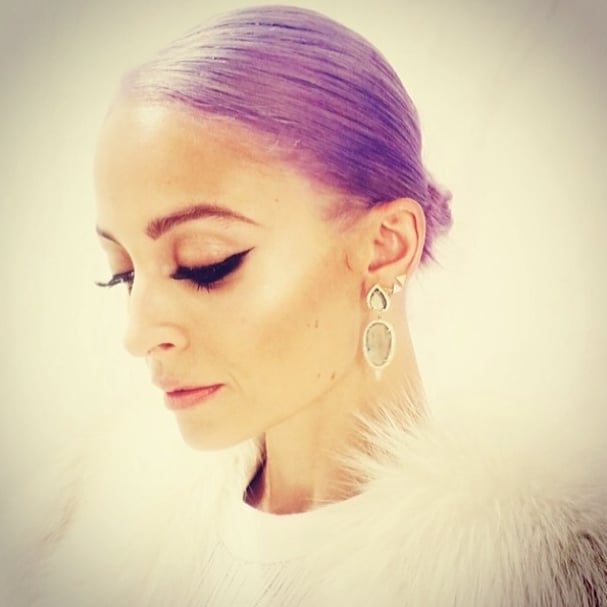 Nicole managed to make purple look totally sophisticated.
Source: Instagram user nicolerichie [44]
Demi Lovato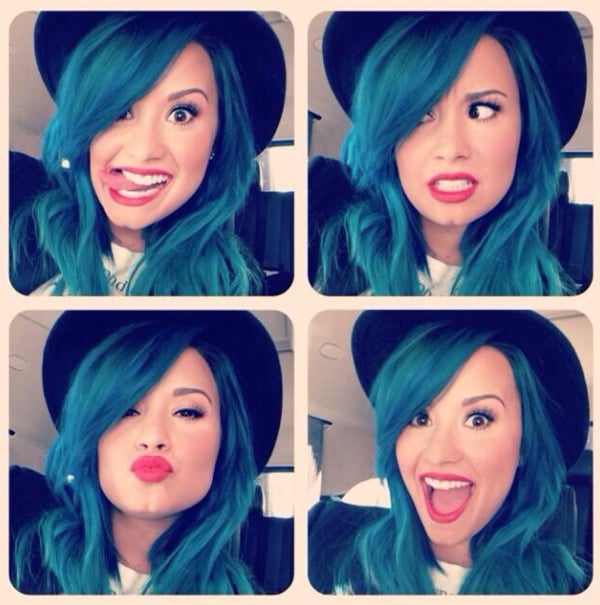 The star showed off her blue hair not once, not twice, but in four different selfie shots. Only Demi . . .
Source: Instagram user ddlovato [45]
Jourdan Dunn
Jourdan showed off new pastel strands on Instagram, dubbing her hair "Coachella ready."