Stars flock to Coachella every year for good music, epic parties, and a dose of downtime. And throughout it all, they do it in the coolest and most casual beauty looks. Braids, beachy waves, and natural makeup took center stage at the festival, where temperatures soared. Take note of these celebrity looks for your next rooftop soiree, pool party, or beachside bonfire.
— Additional reporting by Jaime Richards and Maria Del Russo
Elly Jackson
Elly Jackson of La Roux hit the Coachella stage on the final weekend with an oversize blazer and swept-back style — very '90s chic.
Lucy Hale
Lucy Hale was spotted in the Fruttare hangout with bright orange nails and a wrist filled with arm candy.
Janelle Monáe
Janelle Monáe rocked the stage in Indio with her signature pompadour hairstyle, red lips, and red nails.
Jessie Ware
Performer Jessie Ware channeled a modern Rosie the Riveter with a colorful hair scarf, bold brows, and a bright fuchsia lip.
Jessica Alba
Jessica Alba [1] was cool and casual on the Coachella fairgrounds during weekend two with flushed pink lips and nude nail polish.
Vanessa Hudgens
Vanessa Hudgens [2] went all out beauty-wise for Coachella, with henna designs on her hands, a sparkling manicure, and face paint.
Source: Activate Drinks [3]
Katharine McPhee
At the Guess Hotel pool party, Katharine McPhee paired her trendy ombré hair with a hot-pink lip.
Sophia Bush
At the H&M Loves Music event, Sophia Bush played up her eyes with her heavy fringe and a swipe of black liner.
Source: Getty / Michael Kovac [4]
Alessandra Ambrosio
Alessandra Ambrosio kept cool during the festival with an orange Popsicle and a gorgeous pink head scarf.
Source: Getty / Todd Oren [5]
Hayley Williams
Paramore leading lady Hayley Williams paired her neon-hued hair with a swipe of green under her eyes at the Nylon x Boss Orange Escape House.
Source: Getty / Rachel Murray [6]
Diane Kruger
Diane Kruger [7] was stunning with tousled waves and a bright red lip color at the H&M Loves Music party.
Sophia Bush
At the Harper's Bazaar pool party, Sophia Bush kept it nice and natural with subtle waves and soft pink lipstick.
Whitney Port
Whitney Port [8] styled her long blond waves in a carefree bedhead fashion at the Fruttare hangout.
Teresa Palmer
Actress Teresa Palmer's basic style and flushed lip look at the Diesel + Edun Studio Africa event served to complement her glowing complexion.
Jessica Paré
Natural beauty was key for Jessica Paré at the Diesel + Edun Studio Africa event, where she wore just a touch of pink lip color.
Katy Perry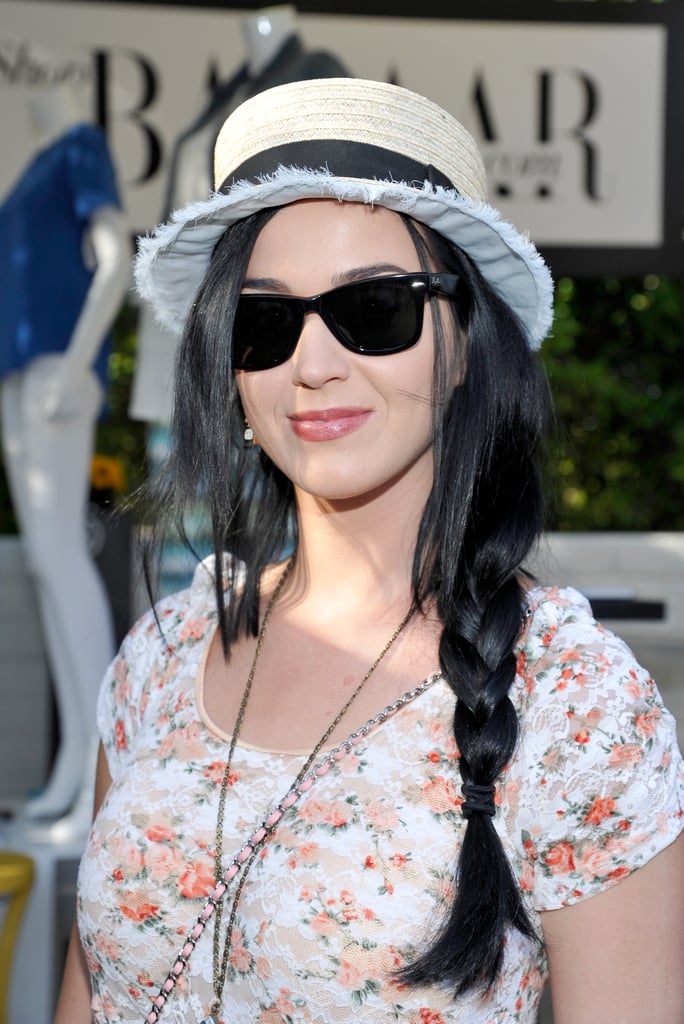 Katy Perry [9]'s side braid and bucket hat combination created the ideal festival style at the Harper's Bazaar pool party.
Solange Knowles
Solange Knowles was spotted with a bright red-orange lipstick and her signature curly Afro at the Diesel + Edun Studio Africa event.
Alessandra Ambrosio
Alessandra Ambrosio showed off a flawless complexion and barely there makeup at the Wildfox and Friends event.
Julianne Hough
Donning a shorter haircut and bronzed skin, Julianne Hough had the whole California-cool look down pat at the Harper's Bazaar pool party.
Karen O
Yeah Yeah Yeahs singer Karen O went all out in shimmery green and yellow eye makeup, bright pink lipstick, and platinum strands.
Santigold
From her eye makeup to her sleeveless top to her stack of bracelets, Santigold showed that green was the name of the game at the H&M Loves Music Coachella event.
Ashley Benson
A buttery blond Ashley Benson opted for a heavily lined eye at the Viceroy pool party.
Katharine McPhee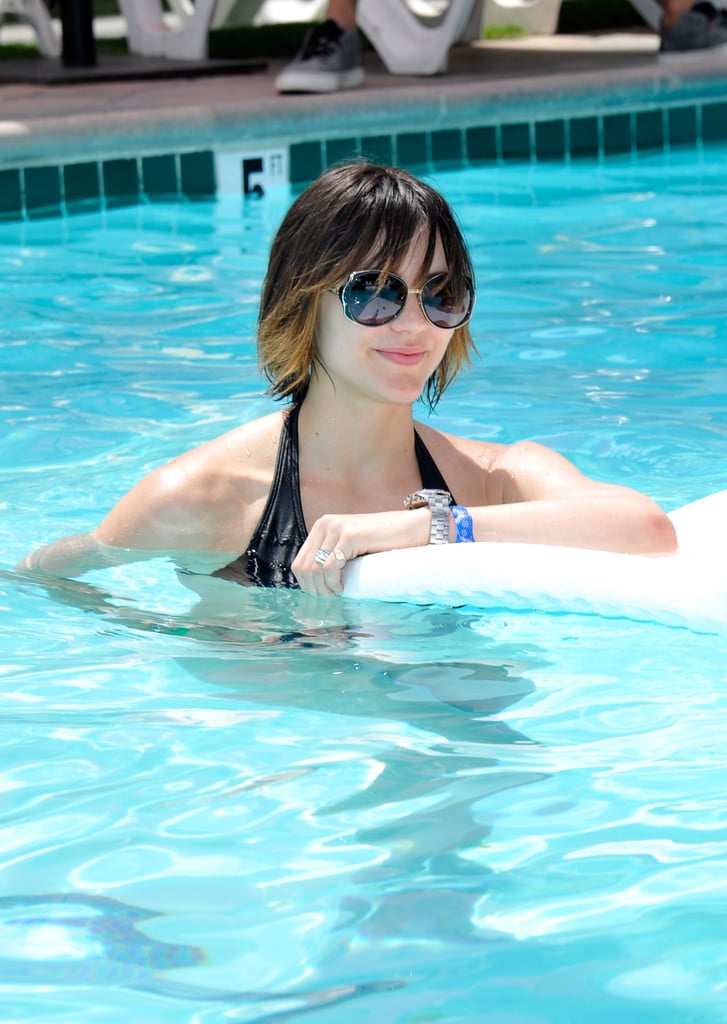 Katharine McPhee and her dip-dyed strands took a dip in the pool at the Viceroy party in Palm Springs.
Chloë Sevigny
Chloë Sevigny [10] went for a rockabilly vibe at the Viceroy pool party, donning an oversize bow in her hair and retro-red lipstick.
Eve
Eve showed off her ultralong hairstyle at the Nylon and Boss Orange event, which she accented with a banded fedora and purple-tinged lowlights.
Rita Ora
A bright red lipstick was all Rita Ora needed to elevate her style at Lacoste's pool party.
Katy Perry
A lover of all things retro, Katy Perry [11] accentuated her beauty look with cat-eye shades and old-school waves.
AnnaSophia Robb and Alessandra Ambrosio
AnnaSophia Robb and Alessandra Ambrosio got into the festival spirit while attending Lacoste's pool party. AnnaSophia topped her casual updo with a floral wreath, while Alessandra sported a couple of star-shaped designs under her left eye.
Keisha
Mickey Mouse-like buns adorned the head of DJ Keisha at the Revolve Clothing event at Coachella.
Stacy Keibler
Stacy Keibler was spotted among the crowd wearing a low-key ponytail and bright green polish.
Source: Getty / Mark Davis [12]