Celebrity Hurricane Sandy Tweets
How 6 Beauty Pros Are Waiting Out the Hurricane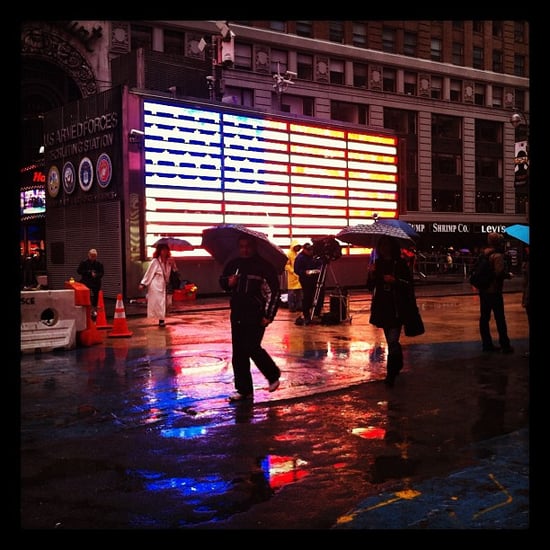 As Hurricane Sandy rages up the East Coast, cities are shutting down for safety's sake, and some of our favorite beauty pros are waiting out the storm. Find out what they're up to — working! resting! crafting! — when you keep reading.
Carmindy is ready for anything with her storm survival kit. She tweeted, "I'm preparing my emergency To-Go bag for Hurricane Sandy ... is it strange that the first must-have item I threw in was my Creme De La Mer?"
Deborah Lippmann is hard at work despite the inclement weather. "On a conference call with my team presenting Spring 2013. Very exciting! Can't wait to show it to the world!" she posted. The manicurist also tweeted, "I'll be watching re-runs of Will and Grace to keep me happy."
Ted Gibson is planning on a bit of pampering while he spends the day indoors. "News all morning finished some cardio now starving and staying glued to news maybe a at home facial zone B here stay safe xo," he tweeted.
Makeup artist Sam Fine knows it's crucial to stock up on water and nonperishable food when a storm awaits. He found last-minute supplies while rummaging in his cupboard. "Whew! I remembered I had meal bars and nuts ... Bring it on #HurricaneSandy, I'm prepared!" he posted.
Manicurist Jin Soon Choi sent her followers rainy-day manicure inspiration. "Stuck inside because of the Hurricane Sandy? Try this nail art at home. It's fun and great for Halloween!"
Makeup artist Gucci Westman's home got a little messy on a day in with kids. "Green slime #hurricanesandy activities," she posted on her Instagram.