Chanel Particuliere Dupes 2010-02-15 07:00:00
Dupe-tastic: Less Expensive Alternatives to the Season's Hottest Nail Polish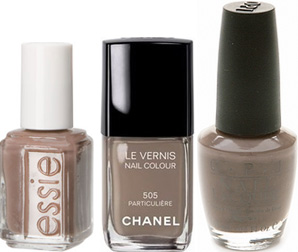 People everywhere are eager to get their hands on Chanel's new Particulière ($23) nail polish, a flattering putty shade that's been generating buzz since the models wore it on the runways in Paris last year. Unfortunately, it's over $20 a pop, so those of us with limited budgets are forced to find our own way to wear the trend. To make things a little easier, I tested out a bunch of shades and found three look-alike polishes that will keep you on the cutting edge without taking your lunch money. To find out what they are, just keep reading.


The best match by far is OPI You Don't Know Jacques! ($8), which really does look like Particulière from a distance. Upon closer inspection, Jacques is a bit grayer than its fancier counterpart, and I could see it being especially flattering for ladies with cool undertones.
Another very close shade is Essie Mink Muffs ($8), which is slightly more brown than the Chanel color. With a gray or white base coat and careful application, though, I think this one can be made into a pretty convincing match.
Borghese Biscotti Beige ($8) is also close, although side by side you can certainly see the difference. It's got all the brown of Particulière, but with a softening dose of mauve. It's a more subtle color than the Chanel, so if you'd like to stay on trend but don't want something harsh, I'd suggest finding a bottle of this. (Find a list of stores that carry Borghese polishes here.)
Have a dupe to share yourself? Be sure to check out and join the Beauty Dupes group in the BellaSugar Community!