Chanel's Temporary Tats Now Available!
Chanel's Temporary Tats Now Available!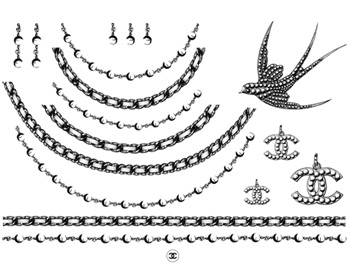 Now you can officially channel your inner Chanel with the luxe brand's much anticipated Les Trompe L'Oeil Temporary Skin Art ($75 for five sheets of 55 designs). The temporary tats, which last a couple of days — or longer, depending how frequently you shower or rub against them — are applied pretty much like any other temporary tattoo, and are easily removed with a washcloth and warm water or by rubbing with a cream or lotion.
Created by Peter Philips, Chanel's global creative director, and inspired by the luxury brand's Spring 2010 ready-to-wear collection (see images from the show below), the skin transfers, featuring decorative designs like pearls, chains, sparrows, blossoms, and the famous Chanel logo, are available now for a limited time at Chanel.com and Chanel boutiques and makeup studios. Considering most of you were initially open to the idea of sporting the decorative designs, do you plan on getting inked now that they're out?