Charlize Theron's Smoky Cat-Eye
Get Charlize Theron's Sexy, Smoky, Cat-Eye Makeup Look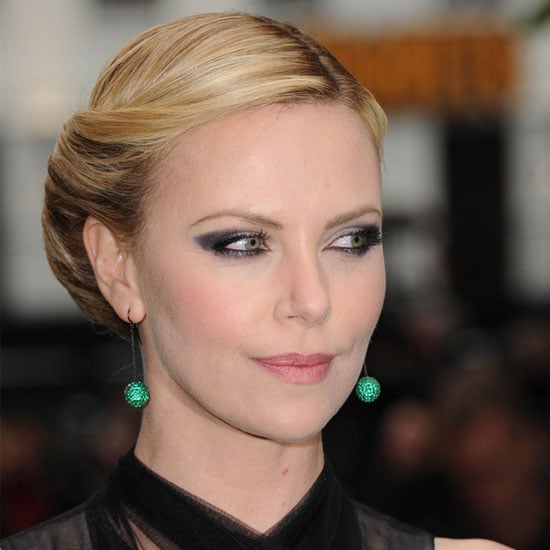 Charlize Theron was a vision in a black, ultrasheer Christian Dior Couture gown at yesterday's London premiere of Snow White and the Huntsman. And it was her deep, smoky charcoal eye makeup that brought her sexy ensemble to a whole other level. Bright emerald earrings kept it from skewing too goth, and a cat-eye makeup effect made it all the more sultry. Get tips for re-creating Charlize's memorable makeup palette when you read more.
Liner: To get a smoky cat-eye akin to Charlize's, start by waterlining the entire lower lash lines with black waterproof liner. Line the upper lash lines, as well, except line just the outer halves.
Shadows: Now, the key is to use two shadow shades in the same color family: one should be light and shimmery (like a glistening, soft taupe in this case), and the other should be dark and matte (such as a muted, deep eggplant). Next, apply the shimmery shade to the inner halves of the lids, and then sweep the darker shade on the outer halves. Be sure to extend the shadow up and away from the outer corners of the eyes to create the classic V shape of a cat-eye look.
The finishing touches: Softly apply the darker shadow along the lower lash lines to bring it all together, smudging a bit of the shimmery shadow on top to blend. Finally, add a bit of brightness by dabbing on a touch of the shimmery shadow on the outermost portion of the cat-eye.