Charlotte Ronson Spring 2012: Beauty Tips
3 Casual-Cool Backstage Beauty Tricks to Try From Charlotte Ronson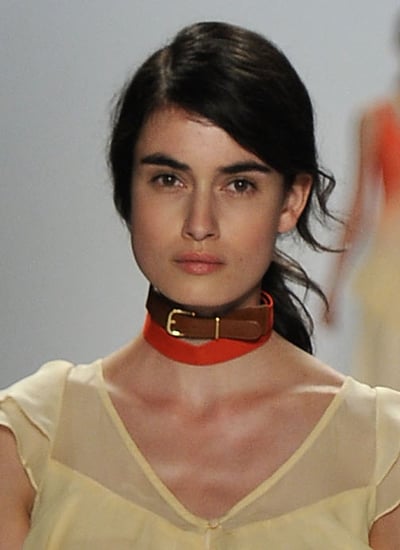 Charlotte Ronson's Spring 2012 clothing collection featured a Victorian-inspired motif of long hemlines and sheer fabrics, and as you might expect, this same old-era theme carried through into the beauty look, as well. Makeup was minimal and made to seem as if it was effortlessly applied; hair was texturized and thrown back into low ponytails, as if they were second-day versions. Want to try this casual-cool approach to beauty yourself? Find out three backstage tricks on how to get a glamorously unglamorous look when you read more.
Tip 1: Fantastic elastics: To secure the low-slung ponytails, stylists didn't use just any old regular elastics. "I like using elastics from the fabric store," Tresemmé celebrity stylist Jeanie Syfu said. "It's easier when someone is doing it for you, but I feel like it gets a tighter grip." Get the look by using the brand's Root Boost spray ($5) if volume is needed. Now curl random sections on the surface using a one-and-a-half-inch curling iron, create a deep part, and pull the hair back into a ponytail, low at the neck. Next, tie the elastic around it to secure, leaving the ends out. "It has more of a casual look to it," Syfu says. Finish with a few spritzes of the brand's Dry Shampoo for an airy, tousled texture.
Tip 2: Warm it up, Kris: At Charlotte's show, makeup artists warmed up lipstick on the backs of their hands, and then used their fingertips to push it into the lips. This technique gives an effect that's neither too drastic nor super-polished; it simply enhances the lips with a touch of color.
Tip 3: Get your glow on: To cheat a healthy glow but still keep your grungy edge, do what Sephora Pro makeup artist Gilbert Soliz did for Charlotte's runway. Use a sheer mattifying powder (Charlotte Ronson's Closer Finishing Powder ($20) was used at the show), which still allows the skin to shine through. Then, instead of applying blush directly to the apples of the cheeks, apply it just under them to get that coveted glowing-from-within look.