Cheap, Easy Tips For Platinum Blond Hair
Get Platinum Blond Hair For $10 Without Using Bleach
I'm no Marilyn, but for the past few months I've been tinkering with box hair color, and I think I've finally figured out a way to get baby blond for $10 without using any damaging bleach or ammonia. So to find out what I concocted, just keep reading.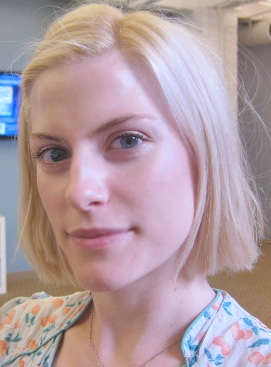 A while back back, I "discovered" a really cheap ammonia-free permanent color, Revlon Colorsilk ($4). Since it doesn't rip open your hair's cuticle like other dyes, there's minimal damage. The downside is that it takes a really long time to process— I have to leave it on for over an hour altogether — and the results for the lightest shades are orange-tinged, since it doesn't have the power of a bleaching agent.
But color casts can be corrected without dyeing again if you use filler, which is basically hair-strengthening protein that carries pigment molecules. So I just mix half a bottle of Colorful Professional Protein Filler #3 Platinum ($6) into my hair dye bottle after I've done my roots for 40 minutes, then massage the mixture into my hair and leave it on for 30 minutes.
The protein filler kills the orange, smooths hair, and helps color last longer. And when/if things start getting a little brassy, you can just grab the rest of the bottle and put it directly on your hair for 20 minutes to repair the hue. Let me know if you have any questions about this stuff, or self-blonding in general, and I'll do my level best to get you the info you need.